Travis Kelce Subtly Confirms He's A Swiftie While Gushing Over Taylor Swift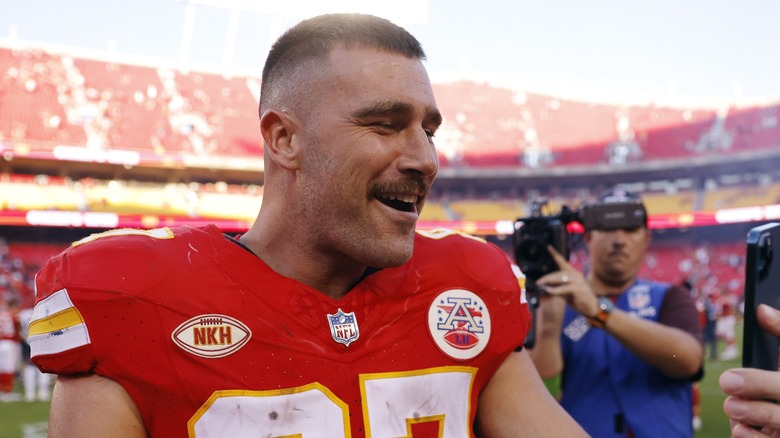 David Eulitt/Getty
Sparks are flying between Travis Kelce and Taylor Swift, and Travis isn't afraid to show his Swiftie side. Swift attended the Chiefs vs. Bears NFL game on September 24, 2023. On the podcast from Wave Sports + Entertainment that he cohosts with his brother, Jason Kelce, Travis briefly discussed it while slipping in a reference to one of Swift's songs. "It was an exciting game," Travis told "New Heights" with Jason and Travis Kelce listeners. "Chiefs kingdom was in attendance, and they were going crazy." Jason then said, "There were some people in attendance," alluding to Swift. The brothers talked about the game itself before diving into what the Swifties wanted to hear.
Jason said that Swift was in Travis' suite at Arrowhead Stadium and quipped, "How does it feel that Taylor Swift has finally put you on the map?" Travis laughed and commended Swift for attending the game, saying, "That was pretty ballsy." He continued on to say that " ... everybody in the suite had nothing but great things to say about her, you know?"
Travis referenced Swift's music when he said, "It was definitely a game I'll remember, that's for damn sure. And then we just slid off in the getaway car at the end. Took my Chevelle to the game and, yeah." The song "Getaway Car" is a track from "Reputation," Swift's 2017 album. Travis later said, "Shout out to Taylor for coming through, and seeing me rock the stage," with a smile.
Travis tried to give Swift a friendship bracelet with his phone number at her concert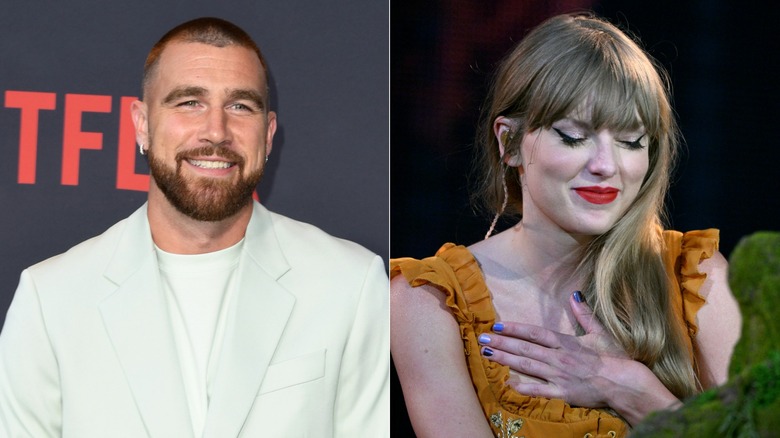 Jc Olivera & Fernando Leon/tas23/Getty
The Taylor Swift and Travis Kelce love story started back in July 2023. In a clip advertising a new podcast episode, Travis admitted he tried to meet Swift at the Eras Tour show he attended. In true Swiftie fashion, Travis made a friendship bracelet for Swift with his phone number on it, but he wasn't able to meet her to hand it over. He joked that he, " ... took it personal," and Jason Kelce teased him a little: "She probably just hasn't gotten over the Super Bowl yet. She's a big Eagles fan. Maybe she just made something up and just didn't wanna talk to you." But thankfully, he didn't lose his chance with Swift.
Many fans are beyond excited at Travis and Swift's matchup, especially after her controversial fling with Matty Healy. A TikToker named Emma shared a slideshow of photos and tweets about Swift and Kelce and captioned it, "WE ARE FINALLY FREE OF BRITISH TYRANNY, Happy Independence Day," alluding to the fact that all of Taylor Swift's exes from the past few years are British. Another TikToker named Sally Darr Griffin shared a video remarking how the joke Swifties on Twitter used to make — e.g., "Can Joe Alwyn fight?" — because they wanted to steal her from her ex-boyfriends no longer works for a professional athlete like Travis.