Melissa Claire Egan Drops Major Hint About Her Y&R Return As Chelsea
Chelsea Lawson (Melissa Claire Egan) has undergone a challenging year on "The Young and the Restless." After struggling with her mental health, a battle that nearly killed her, Chelsea worked tirelessly to rebuild from the ground up. Finally finding her niche at Marketti alongside Summer Newman (Alison Lanier), Chelsea was on the upswing. However, things with her son, Connor Newman (Judah Mackey), became troublesome, and it was evident something dark was bubbling beneath the surface.
Connor wouldn't open up to Chelsea, his father, Adam Newman (Mark Grossman), or even his mother's boyfriend, Billy Abbott (Jason Thompson) — but eventually, the murky situation became far clearer. First overwhelmed by the news of his secret brother Johnny Abbott, Connor was then dealt a subsequent blow when Sally Spectra (Courtney Hope) lost her baby, taking away his future sister. Amid this, Connor was dealing with children at school taunting him for Chelsea and Adam's actions. It all became too much for Connor to handle, setting the stage for his plan to run away from home.
Luckily, Sally caught him in the act and returned him to his parents. Not knowing any other way to handle this, Chelsea listened to Connor's plea to leave town and left Genoa City alongside him. However, this plotline was written in to allow Egan to temporarily depart on maternity leave. But according to her recent tweet, Chelsea is on her way back, and her return is right around the corner.
Chelsea's loved ones need her back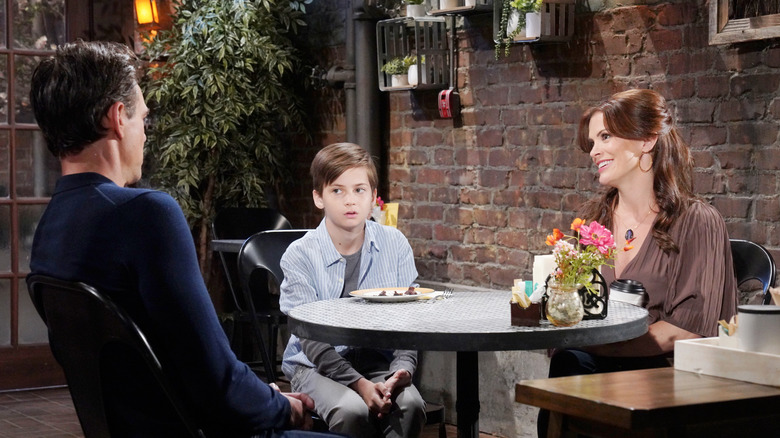 Howard Wise/JPI Studios
Melissa Claire Egan exited the show a few months back to make way for her maternity leave. Egan welcomed her second child, Jake Joseph Katrosar, in July, making the announcement in an Instagram post, writing, "Meet Jake Joseph Katrosar! Born 7/14/23. Welcome to the world sweet boy. A few weeks early, but we're so happy to have you and call you ours and love you forever!"
However, after being asked by a fan on X, the platform formerly known as Twitter, Egan responded with a thrilling update about her status on "The Young and the Restless." The actor tweeted, "Soon! A few more weeks;) Already shot my first episode back." Since Chelsea left town, things have spiraled out of control in the lives of those closest to her. Her ex-husband, Adam Newman, was fired from his family company after squandering an opportunity to build something new. He is attempting to rebuild by taking a lower-level position, but nobody trusts him. Her current beau, Billy Abbott, is also flirting with temptation, toying with the idea of taking over his own family business from his brother, Jack Abbott (Peter Bergman). Chelsea's needed now more than ever.
Fans on social media are also expressing their excitement for Chelsea's return, with one viewer tweeting, "Looking forward to you to light up the screen." Another echoed the statement, saying, "Yay! I can't wait for Chelsea to return. I miss her so much."