Prince Harry Has A Deeper Connection To Africa Than We Knew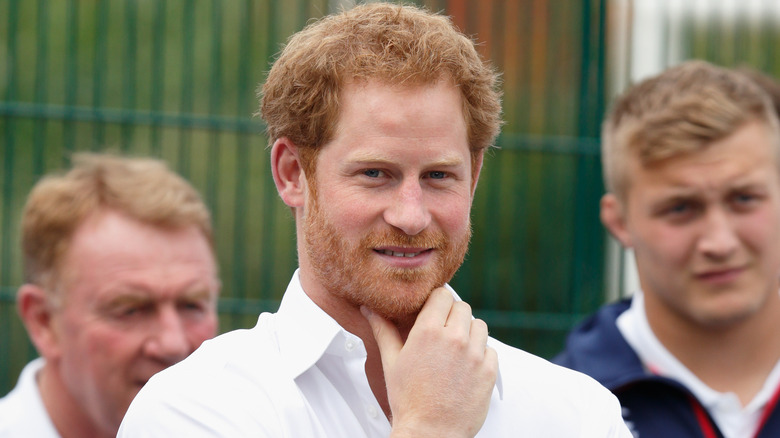 Max Mumby/indigo/Getty Images
For decades, Prince Harry, Duke of Sussex, has accessorized with bracelets that seem to signify his love of Africa. He's sported a colorful variety of beaded bracelets, which appear to be in traditional African styles, as well as a special silver bracelet, which is believed to be a remembrance of his first trip to Africa. 
Harry fell in love with Africa during one of the most difficult times in his life. In 1997, after Princess Diana died due to injuries sustained in a car accident in Paris, King Charles decided to take William, Prince of Wales, and Harry to Africa so they could spend time together as a family. In addition, Diana had spent significant time in Africa, visiting leprosy patients and demonstrating the risks of landmines in Angola, so her sons could also connect to their mother's legacy of charitable work there. 
While Harry had always been a nature enthusiast, the African landscape brought out more profound emotions. Speaking to Town & Country, Harry likened the experience to "being plugged into the earth," explaining, "You leave this place with a real appreciation of what it means to be alive." Part of the trip included a safari in Botswana. Harry was so enthralled by the animals he observed that, as a young adult, he considered a career as a wildlife ranger. Africa continues to be a special place for the duke, and he's forged even deeper connections to the continent over the decades, both for personal and professional reasons.  
Harry honored Princess Diana by creating a charity in Lesotho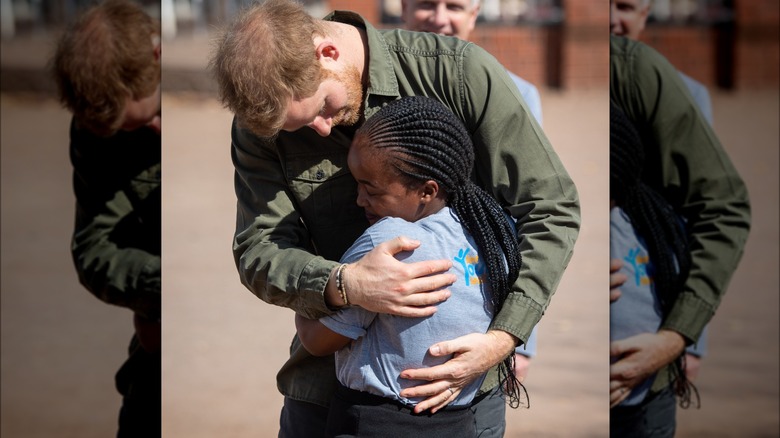 Pool/samir Hussein
In 2006, Prince Harry, Duke of Sussex, partnered with Prince Seeiso of Lesotho to create Sentebale, a charitable organization focused on serving Lesotho's youth. In particular, Sentebale seeks to help children and young people impacted by HIV/AIDS. Besides being created to pay tribute to Princess Diana and Seeiso's mother, Queen 'Mamohato, Sentebale is the Sesotho word for forget-me-nots, a bloom that was reportedly Princess Diana's favorite flower.  Advocating for people with HIV/AIDS was important to Diana, and she helped destigmatize the disease by being photographed holding AIDS patients' hands back in the 1980s.
Harry first met Seeiso in 2004, when he worked in Lesotho during his gap year. The two princes developed a strong bond, and, over the years, Seeiso has been impressed by Harry's ability to connect with children. For Harry, one of the things he enjoys most about working with children is that they relate to him as a person, rather than as a royal. Anonymity while working on causes close to his heart is key to Harry's relationship with Africa. "I have this intense sense of complete relaxation and normality here," the prince explained to Town & Country.
Besides pursuing causes important to Diana, Harry is also following in King Charles' footsteps by promoting wildlife conversation efforts in Africa. In 2017, the prince was named the president of African Parks. A year earlier, Harry traveled to Malawi and worked as part of a team translocating elephants for the 500 Elephants Project. 
Africa was pivotal to Harry's family life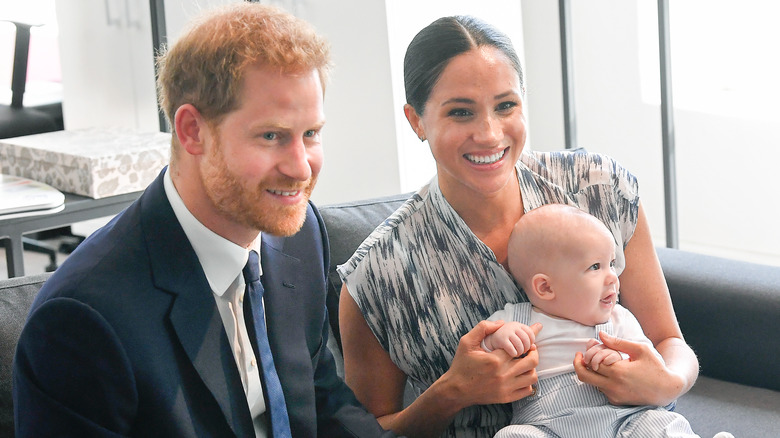 Pool/samir Hussein/Getty Images
Prince Harry shared his love for Africa with Meghan Markle in 2016. As the couple began dating, Harry asked Meghan to meet him in Botswana for a camping trip. During their five-day excursion, romance blossomed as Harry and Meghan spent time together uninterrupted by the outside world. Months later, the royals sent a message with their jewelry, heralding their growing relationship with identical beaded bracelets. When they got engaged in 2017, Africa was represented in Meghan's stunning ring. Harry collaborated with royal jeweler Cleve & Company to create a three-diamond ring that featured a central stone from Botswana, complemented by two stones that belonged to Princess Diana. 
In 2019, the Duke and Duchess of Sussex took 4-month-old Prince Archie on a visit to Africa for a royal tour of the continent.  At one time, Harry reportedly even considered moving to Africa so that Archie could grow up there. While these plans didn't come to fruition, according to Harry and Meghan, Archie was very contented during his visit to South Africa. 
Harry continues to cherish his experiences in Africa and appreciate the significant moments he's experienced there.  "It has been my lifeline, a place where I found peace and healing time and time again," Harry told the United Nations General Assembly in 2022, per People. "It's where I've felt closest to my mother and sought solace after she died, and where I knew I had found a soulmate in my wife."