Ivanka Trump Celebrates Family Milestone With Beloved Grandma Babi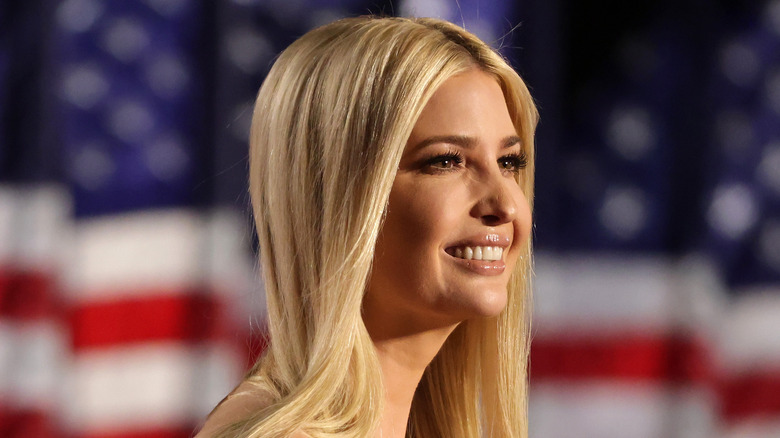 Alex Wong/Getty Images
Things have been messy for the Trump family, lately. While Ivanka Trump was previously listed as a co-defendant along with her father and older brothers in New York's fraud lawsuit against the family, she is walking away scot-free. We may still see her in court, though. She's listed as a witness so she might potentially say something that helps build the case against her father and the Trump Organization — they've been found to have fraudulently overinflated the value of various properties, and the business may have to stop operating in New York and pay $250 million in damages. Ivanka has been distancing herself from her father since he left the White House, and Donald has been attending the civil trial proceedings. So he'd no doubt have a front-row seat to any testimony of his daughter.
But you wouldn't guess any of that legal drama was going on in Ivanka's life if you looked at her Instagram account. Her most recent post is a sweet set of family pictures from the 97th birthday bash for her maternal grandmother Marie Zelníčková, whom Ivanka calls Grandma Babi. It looks like the celebration was just for the immediate family, with Ivanka and Jared Kushner and their three kids in attendance.
Ivanka Trump's grandmother has been living with them in Miami
Ivanka Trump included a sweet tribute to her grandmother for her birthday: "We're so lucky to have Babi living with us in Miami these last couple years ~ I'm thankful for every lesson, every story, and every game night where she still destroys us all at Jenga! It's the simple moments together that define the richness of life. I cherish every second!"
Commenters on the birthday post chimed in with congratulations and well wishes for Ivanka's grandmother's birthday. Ivanka also shared the party pics on her Instagram Stories, along with a throwback picture of herself at the piano being watched by her mother and grandmother. Sadly, Ivanka's grandmother outlived her daughter — Ivana Trump died last year at the age of 73.
Of her siblings, Ivanka was the only one to post anything to social media in honor of their grandmother's birthday. Eric Trump and Donald Trump Jr. are continuing to post about the ongoing fraud trial in New York.