Jennifer Lopez Faced Relatable Concerns After Giving Birth To Her Twins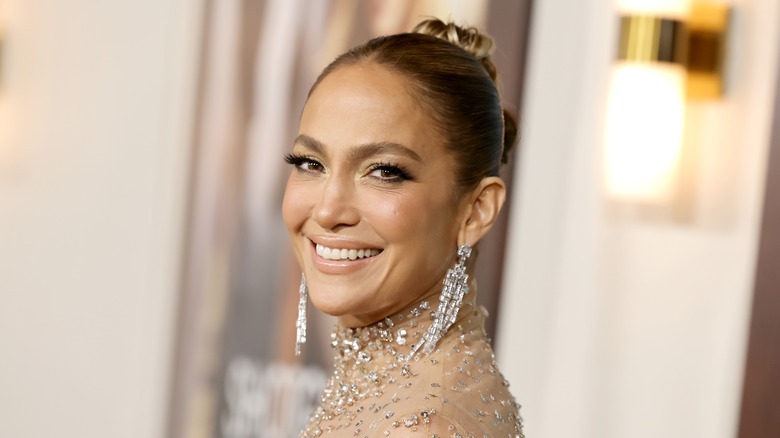 Emma Mcintyre/Getty Images
After giving birth, many people find it difficult to fall in love with their postpartum body. Whether your delivery was smooth or difficult, feeling like yourself again after a baby is a journey. No amount of fame can change this experience that many parents go through. Thankfully, some celebs have been open about their postpartum journeys, helping others feel less alone. 
Royal fans were surprised yet appreciative when Kate Middleton opened up about her "mom guilt" while raising her children. Just as shocking was a revelation from Jennifer Lopez about her struggle to reach body acceptance. The bombshell songstress opened up about her postpartum journey and feeling insecure about her body at the Daytime Beauty Awards while presenting her longtime trainer Tracy Anderson with an award. "I've been doing a lot of reflection lately, revisiting the past versions of myself to fully embrace the me of now," Lopez reflected (via E! News). "And I'm reminded of how much Tracy has inspired and encouraged me to celebrate every version of my body over the years and to continue to elevate as my own life and needs changed." 
Lopez shares twins Max and Emme with her ex-husband Marc Anthony. While the rich and famous seem to have it all together, they experience the same insecurities as the rest of us — especially when it comes to parenting.
Jennifer was insecure about her body after having kids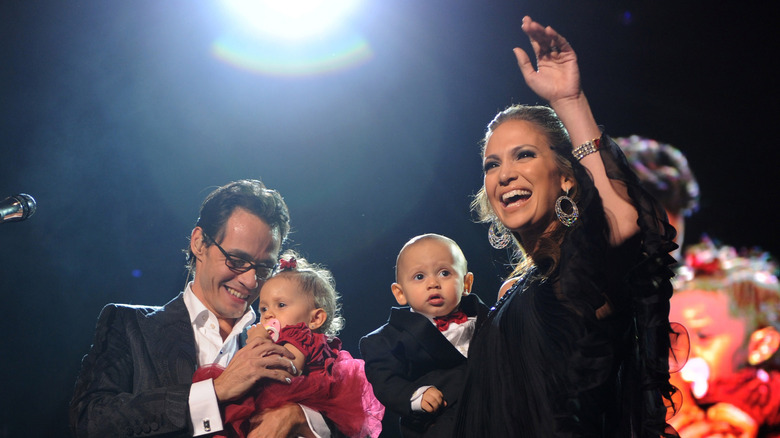 Kevin Mazur/Getty Images
Jennifer Lopez's famous hourglass figure has been praised for decades. Before she was a world-renowned performer, Lopez jumpstarted her career as a dancer on "In Living Color." She was even a background dancer for Janet Jackson before she decided to pursue a career as an actor. Since then, the "Jenny from the Block" singer has dominated the entertainment world as a pop singer and movie star.
In 2004, Lopez decided to settle down and tie the knot with fellow artist Marc Anthony. They welcomed twins Max and Emme in 2008, shortly after going on tour together. Giving birth at a high in her career proved to be a challenge for the singer, and Lopez got candid about dealing with body insecurity during the Daytime Beauty Awards, and how Tracy Anderson helped her during this difficult time.
"I met Tracy right after I had my twins," Lopez recalled during her speech (per E! News). "I called her at a time when I was feeling insecure and uncertain, wondering if I would ever get back to how I was before—as most new moms do after giving birth." After having kids, many people feel extreme pressure to get their pre-baby body back — this stress of course extends to those in the public eye.
J.Lo takes her trainer's advice to stay fit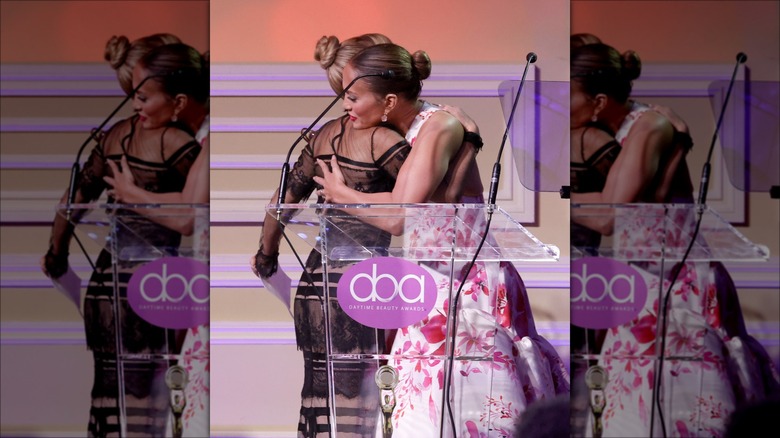 Frazer Harrison/Getty Images
Tracy Anderson is a well-known trainer in Hollywood, with many A-list clients on her roster in addition to Jennifer Lopez. Her trainees include Madonna, Kim Kardashian, and Victoria Beckham. Anderson said that her approach to fitness training isn't centered around reaching traditional standards of beauty. Rather, she pushes her clients to be better in all aspects of their lives.
"It's not about getting to a certain size or having perfect skin ... It's about something so much deeper than that," Anderson explained to E! News. "It's something that lights up behind the eyes and the soul—and not all these superficial things." It's clear that Anderson's friend and client has embraced her fitness mindset.
When it comes to the secret of how J.Lo maintains her killer physique, it's simple — she finds happiness in exercise. As a mother to twins, Lopez said that it's important to find time to move her body via dance or the gym. "I think that for some reason, when you maintain yourself, people are really surprised," Lopez told Redbook. "It's inspiring for women who have kids and take care of themselves to be sexy."