How Kelsea Ballerini Gets Along With Chase Stokes' Ex Madelyn Cline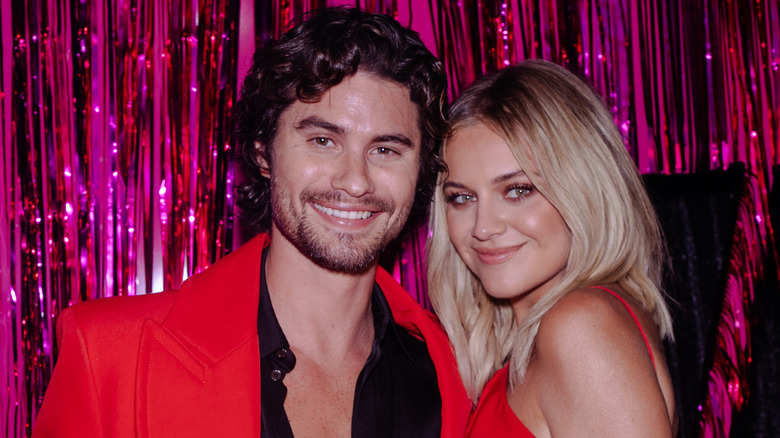 Catherine Powell/Getty Images
Sometimes, Hollywood can feel a little bit like high school. When you tend to move in the same circles, your dating prospects aren't endless. Whether they are a popular face on the big screen, a pop star, or a country singer, chances are their current beau was once connected to someone else famous. Singer-songwriter Kelsea Ballerini knows what we're talking about — her current man, actor Chase Stokes, was once in a relationship with actor and model Madelyn Cline. 
Things could get pretty awkward really fast — or not. Fortunately, Ballerini and Cline fall into the latter category. In case you need a refresher, Stokes and Cline were cast in the beachy drama "Outer Banks," eventually moving their on-screen relationship off-screen by becoming official in June 2020. The pair dated for a year and then called it quits. However, they claim to still be incredibly amicable, as they had more filming to do together for the television series.
Fast-forward to January 2023, and Ballerini and Stokes were spotted out and about looking pretty cuddly. They eventually revealed that they are, in fact, together as Ballerini gushed that she's officially taken after being single for a while post-divorce. Since then, they've been gracing us with too-cute PDA on social media and the occasional red carpet — sometimes right in Cline's line of sight.
How does Madelyn Cline feel about her ex Chase Stokes and Kelsea Ballerini?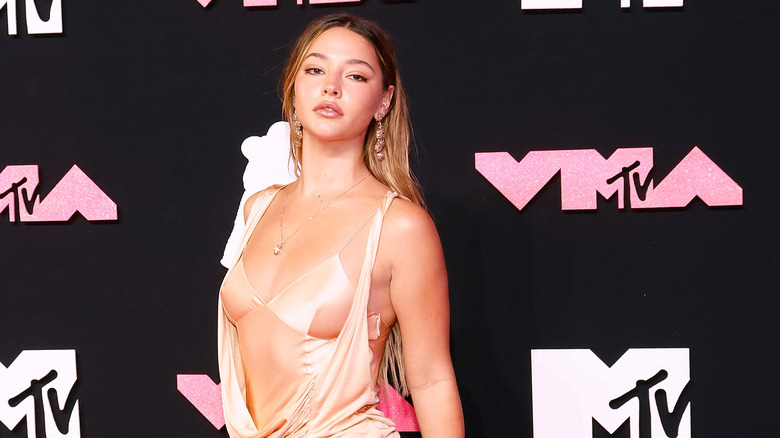 Taylor Hill/Getty Images
Madelyn Cline doesn't seem to mind in the slightest that her former boyfriend Chase Stokes is now smitten with Kelsea Ballerini. In a nice change of pace from the stereotypical vengeful exes, Cline and Ballerini seem to get along great!
The September 2023 Video Music Awards was one of the first occasions the trio attended. Ballerini and Stokes went as a couple, while Cline attended without a plus one. There was no drama on the red carpet. Afterward, the "Peter Pan" singer commented on Cline's Instagram post, "You looked a ridiculous level of stunning and i'm glad i finally got to hug your neck." In a sweet response, Cline posted, "So happy I got to squeeze you gorgeous gorgeous girl." And we all collectively let go of our held breath as it appeared like a beef between the two wouldn't ensue.
Fans commented on the ladies' maturity, saying, "Wow that was sweet, you all are very mature," and "here for this level of maturity 👏 good on you ladies!!" It might be too soon to call them besties, but they certainly aren't sparring with one another.
Madelyn Cline, Chase Stokes, and Kelsea Ballerini have all moved on
When Chase Stokes and Madelyn Cline broke up, the Netflix actor moved on to country star Kelsea Ballerini a little over a year after the split. Stokes' former girlfriend didn't take long to move on, either. Cline was spotted hanging out with DJ Zack Bia in January 2022, but both said they were just enjoying each other's company and were hesitant to label their casual relationship. By June of that same year, Cline and singer-songwriter Jackson Guthy were rumored to be an item. Their summer fling ended when the "Knives Out 2" actor was linked to Pete Davidson in September 2023.
Speaking to Cosmopolitan about her breakup with Stokes, Cline explained, "I wanted us both to move on and be happy. People see the need for sides. There are no sides — there's no winning or losing in a breakup." And don't forget Ballerini has an ex, too — husband, that is. After almost five years of marriage, she divorced fellow country music artist Morgan Evans in 2022. He hasn't been officially linked to anyone after his divorce, which had gotten slightly messy as the ex-lovers began to air their grievances about their relationship. Leading us to believe that an interaction between Stokes and Evans probably wouldn't be as cordial as the exchange between Ballerini and Cline.