Meet Savannah Chrisley's New Boyfriend, Robert Shiver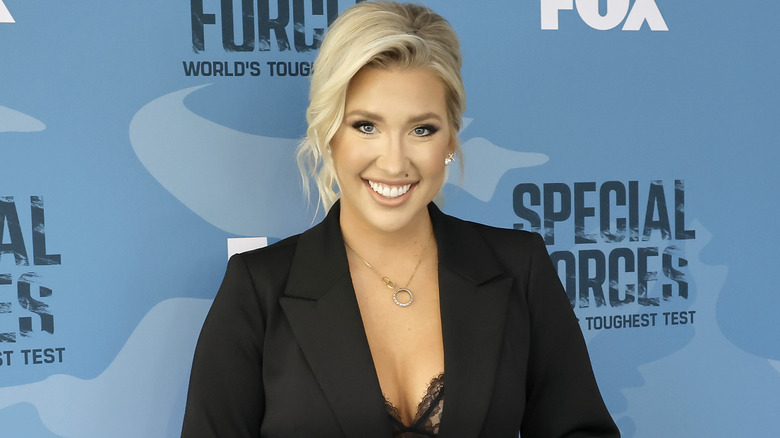 Kevin Winter/Getty Images
Savannah Chrisley's relationship history has been a hot topic since her days on "Chrisley Knows Best." After several suitors that fizzled out, it seemed the reality star had found her prince charming in hockey player Nic Kerdiles. The pair began their romance in November 2017, going public with their relationship months later in January 2018. Kerdiles popped the question in December 2019, and it seemed the couple were living their happily ever after. Sadly, by September 2020, the pair had parted ways, with Chrisley feeling that things may have been moving too fast. They remained friends until his death in September 2023. After her parents, Todd and Julie Chrisley, were sentenced to federal prison for fraud charges, Chrisley turned her attention to raising her younger brother, Grayson, and niece, Chloe. However, it seems the podcaster is ready to give love another shot — this time with insurance company executive Robert Shiver.
Back in March 2023, Chrisley revealed that she was dating someone but was choosing to keep their identity private at that time. While it didn't seem that Shiver was the mystery man, insiders told People in September 2023 that Chrisley and the former football player were an item. Around that time, the realtor was spotted smiling alongside Shiver shortly after arriving at Los Angeles International Airport together. Unlike some of Chrisley's other famous exes, Shiver appears to be an everyday guy with a very regular job, though he was recently thrust into the spotlight for something terribly sinister.
Robert Shiver was nearly an NFL pro after college
Robert Shiver seemed to have a promising career in football. After earning a scholarship, he went on to play at Auburn University in Alabama from 2006 to 2008. In April 2009, Shiver landed the opportunity of a lifetime when the Atlanta Falcons brought him on as a free agent. Unfortunately, in August 2009, Shiver was let go during the team's initial cuts.
Shiver had earned his bachelor's degree in marketing before leaving Auburn University. This likely allowed him to transition into the workforce, landing a job selling insurance with Senior Life Insurance Company. He has since been named executive vice president of the company. Per the agency's website, Shiver now "focuses on agent development, recruitment, and the strategic growth of Senior Life." He'd also settled into married life back in 2007 with Miss Houston County, Lindsay Shiver, whom he shared three sons with. However, things between the two would turn deadly years later.
Shiver survived a murder-for-hire plot...allegedly led by his ex
It seemed that Robert Shiver lived a quiet life before his world was turned upside down in July 2023 when it was revealed that his estranged wife, Lindsay Shiver, had allegedly tried to have him killed. Lindsay, her alleged lover, Terrance Bethel, and another man, Faron Newbold, were arrested in the Bahamas for supposedly planning the murder. Robert filed for divorce shortly after learning of Lindsay's affair with Bethel, which reportedly started after they met near the home she shared with Shiver in the country. It seems that Lindsay wanted to eliminate Shiver for good, as they were fighting over custody of their sons and property, such as their Thomasville, Georgia, home and private plane. WhatsApp messages reportedly revealed that Lindsay sent "Kill Him" to Bethel and Newbold, the hired killer. The trio has since been released as they await trial for the devious conspiracy.
Even with such a heinous series of events, Savannah Chrisley is unphased by his drama with his estranged wife. During a September 2023 interview with "The Viall Files" podcast, Chrisley confirmed that she was seeing Shiver after writing him on social media. She reached out to him after learning about the attempt on his life and found him attractive, telling host Nick Viall, "He was too hot to die." Chrisley maintained the two are still in the early stages of their courtship. Still, the television beauty seems to be enjoying learning more about Shiver.