Details About Jennifer Garner's Relationship With John Miller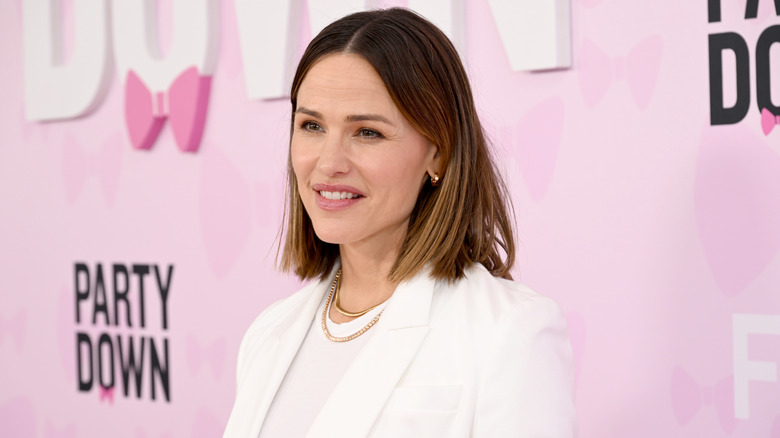 Michael Kovac/Getty Images
Ben Affleck and Jennifer Garner are living proof that even the strongest relationships can be brought down in one swift strike. On paper, the couple seemed like a match made in heaven. However, despite sharing three children and a nearly decade-long marriage, the couple called it quits in 2015. Thankfully, the exes have managed to remain on good terms to co-parent their kids. 
Everybody knows Affleck got into a high-profile relationship with Jennifer Lopez and tied the knot in 2022, but few know that Garner found a new love of her own with John Miller, the CEO of CaliBurger and its parent company, the CaliGroup. Garner unsurprisingly boasts an impressive fortune after all her years in the industry, but Miller's own stunning net worth may surprise you. Affleck and Garner reportedly finalized their divorce in October 2018, and in the same month, rumors of Garner's new love began flying around. Soon after, a source confirmed their relationship to People but claimed that things weren't too serious since both were focusing on their families after their respective divorces.
Miller was previously married to violinist Caroline Campbell, with whom he has two children. Their divorce was reportedly finalized around the same as Affleck and Garner, so it's safe to assume that Miller and Garner found a support system in each other. Following their first public date at a "Dear Evan Hansen" showing, an insider told People Garner isn't labeling the relationship, adding, "But she loves getting attention from John. They have fun together and it's easy."
Jennifer Garner and John Miller split up for a bit
In November 2018, a source close to the pair told Us Weekly things were going well for Jennifer Garner and John Miller. They shared, "Jen has been thankful for John's stable love and support during issues she has faced with [ex-husband Ben Affleck's] sobriety. He isn't jealous and understands Jen's commitment to helping Ben." In August 2019, another source told the outlet that Affleck isn't opposed to the relationship and trusts Miller with their kids.
After their first appearance, John Miller and Jennifer Garner retreated from the public eye until September 2019, when they were spotted enjoying dinner at an Italian restaurant. But in an unexpected turn of events, the couple broke up in 2020. An insider offered some insight into the split to Us Weekly, revealing, "He was ready for marriage and she just couldn't commit. They parted on very amicable terms." 
But the break didn't last very long, as Garner and Miller were papped on a coffee run in September 2021. However, things seemed to be getting serious this time around. After nearly three years of dating, Garner and Miller finally got all their kids together for her 50th birthday with some of her closest family members. Despite this seeming like a huge milestone, a source told InTouch that the gathering went rather casually because all the kids had previously met. They added that the couple didn't have to think too hard about meshing their families since it seemed like a natural next step.
The couple has reportedly taken their relationship to the next stage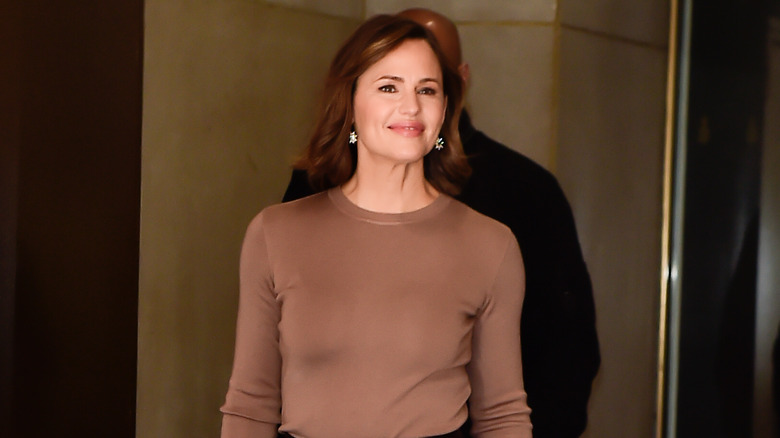 Raymond Hall/Getty Images
It seems like Jennifer Garner and John Miller ironed out the issues that caused their split because their relationship only seemed to get stronger. An insider told Us Weekly that Garner loves how Miller doesn't make a big fuss about her celebrity status. Another source explained that although the couple likes to keep their relationship low-key, they couldn't be happier behind the scenes. They shared that Miller couldn't be a better match for Garner because he cares for her and shows up when she needs comfort, but he also respects her need for space.
Given all this, it's unsurprising that things got more serious in January 2023. "There's no desire on her part to slow things down, spend less time together or anything like that," an insider spilled to Us Weekly. "She's just decided after a lot of thought that she's just not in a hurry to rush down the aisle just yet and that she feels perfectly happy cherishing and enjoying what they have — for now — without a formal label." 
In July 2023, Life & Style learned that Miller had popped the question a while ago, and Garner had, of course, said yes. The couple is reportedly keeping things under wraps as they plan their wedding. An insider told the magazine that the wedding wouldn't be a grand affair but a simple backyard celebration where Garner's kids would walk her down the aisle. They added that Garner wanted Ben Affleck and Jennifer Lopez to attend the ceremony.