Behind-The-Scenes B&B Photoshoot Hints At More Dark Romance For Deacon And Sheila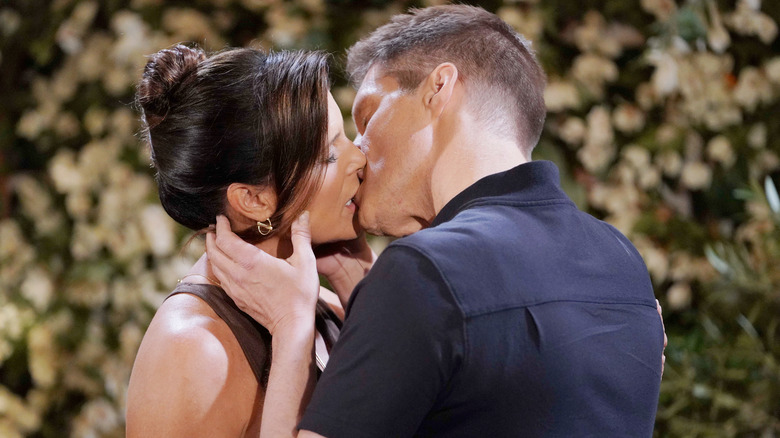 Howard Wise/JPI Studios
When Deacon Sharpe (Sean Kanan) and Sheila Carter (Kimberlin Brown) made their respective returns to "The Bold and the Beautiful" in 2021, their paths looked quite different than they do today. Deacon was on a mission to win over the women in his life — daughter Hope Logan (Annika Noelle) and ex-lover Brooke Logan (Katherine Kelly Lang). Sheila on the other hand was desperate to forge a relationship with her son, John Finnegan (Tanner Novlan), and grandson, Hayes. 
Deacon and Sheila crossed paths and devised a plan to aid each other in their respective battles to acquire these familial connections. Eventually, in Sheila's quest to lure Finn and Hayes into her tangled web of madness, she committed a heinous act of violence against her son. Sheila shot Finn and his wife, Steffy Forrester (Jacqueline MacInnes Wood), leaving them for dead in an alley. With nowhere else to turn, Sheila sought refuge with Deacon, using his place to avoid apprehension from law enforcement. During her stay, they developed a sexual and romantic relationship, but it was forced to end when she was finally caught and faced life in prison. 
However, recently it was revealed that Deacon had pulled some strings with the judge to have the charges against Sheila dropped. After learning this information, Sheila was stunned when Deacon proposed marriage. While initially hesitant, she ultimately accepted. Even though Sheila is a pariah in Deacon's family's eyes, a new behind-the-scenes photoshoot for "The Bold and the Beautiful" proves their romance has lasting legs. 
Viewers are torn on Deacon and Sheila's twisted love affair
Things are heating up for former jailbirds, and current lovebirds, Deacon Sharpe and Sheila Carter. After several months of engaging in a secret relationship, they'll soon be living out in the open since the pair are engaged. Actor Sean Kanan, who plays Deacon, took to Instagram to share a behind-the-scenes look at a photoshoot featuring the couple headed toward (un)holy matrimony.
Sheila's considered a threat by most of the people Deacon claims to care about, so the news of their betrothment likely won't go over well. Brooke Logan was shot by Sheila in the past, making her forbidden in the eyes of both Brooke and Hope Logan. The characters on the show aren't the only ones with strong opinions on the idea of Deacon and Sheila being an item either. Several fans flocked to social media to express their bewilderment or excitement about the ongoing plot. 
One viewer commented on Kanan's Instagram post, writing, "I hope this is a set up & deacon dumps her cuz he will lose everything when hope finds out." Not everyone sees it as a negative step though, with another of the soap star's followers admitting, "If you told my teenage self in a few decades I'd be cheering for Deacon and Sheila I would've said you're crazy. They deserve a second chance. Only normal ones on the show."