All About The Bold And The Beautiful Star, Jacqueline MacInnes Wood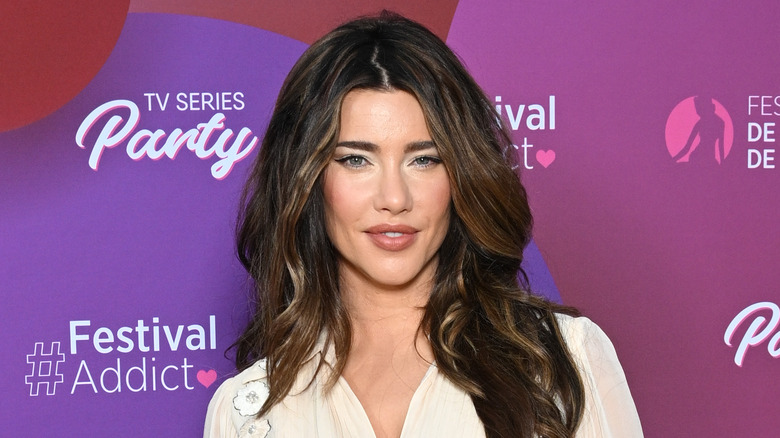 Stephane Cardinale - Corbis/Getty Images
In June 2008, Jacqueline MacInnes Wood made her debut performance as Steffy Forrester on "The Bold and the Beautiful." Just 21 years old at the time, Wood joined the cast of the most-watched U.S. soap opera in the world. This was a lifetime opportunity for the actress to get her start in the industry. Not only was she a part of this production, but she was an integral character. As Steffy, Wood plays the daughter of legacy characters Ridge Forrester and Taylor Hayes. The stunning fashion mogul has been a critical figure in the show's drama.
Since Wood first appeared on the show, her character has participated in a longtime feud with Hope Logan, affairs, blackmail, dramatic slaps, and pre-meditated sabotage. Upon celebrating 15 years as B&B's Steffy Forrester, the actor had gathered 4 Daytime Emmy Award nominations. In 2019, Wood won the Emmy for Outstanding Lead Actress in a Drama Series. However, her work with "B&B" is just one of her impressive accomplishments.
How Jacqueline MacInnes Wood made her way to The Bold and the Beautiful
Born in Windsor, Ontario, Canada, in 1987, Jacqueline MacInnes Wood grew up far away from the Hollywood spotlight. But as a natural-born talent with a competitive work ethic, she was determined to find it. Once she turned 18, Wood decided to take her dreams seriously and moved to the bustling metropolitan city of Toronto in hopes of becoming an actor. There, she began studying acting at Ryerson University, Centre for the Arts, and the Armstrong Acting Studio.
Beginning to build her portfolio, Wood participated in smaller, Toronto-based projects, starring in a successful hair commercial and hosting a reality tv series. At 21, she decided to level up and took the bold leap of moving to Los Angeles, California. That same year, she was cast as Steffy Forrester.
For Wood, this was a dream come true. In an interview with Michael Fairman TV, the actress revealed, "I'm being real when I say I've watched this show growing up... When I was younger, whatever situation I was in my life at the time, 'B&B' was always a place that I could go back to watching. ... Now I can say that this is my home."
Jacqueline MacInnes Wood keeps herself busy outside of The Bold and the Beautiful
While you would think starring in one of the most famous TV series in the world would be enough to fill an actor's plate, this isn't the case for Jacqueline MacInnes Wood. Since 2008, she has continued to push herself in her craft outside of the daytime drama. In 2011, Wood starred in "Final Destination 5," a feature film that made critical and commercial achievements. In addition, she has appeared in the movies "Nightmare at the End of the Hall," "Skyrunners," "Turn the Beat Around," and "Her Husband's Betrayal." Furthermore, Wood can be seen as a guest actress in the shows, "Arrow," "Anger Management," and "Castle."
On top of all of her acting work, Wood has also managed to grow a family of 6. Shortly after marrying her now husband, Elan Ruspoli, in 2018, she became a mom. And she hasn't made the demands of childcare any easier by keeping her family small – Wood thinks her family is the perfect size after her fourth pregnancy. You might wonder how she could possibly manage all of her responsibilities, but in addition to being an award-winning actor, she is also the definition of a "supermom."