A Look At The Time Jackie Kennedy Took Alec Baldwin On A Date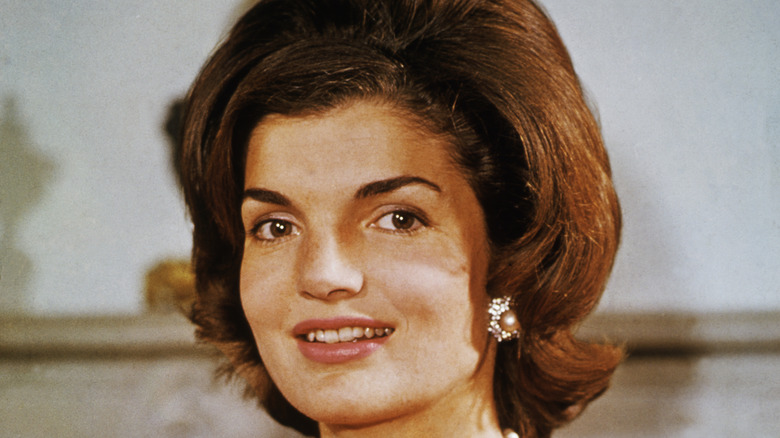 Bettmann/Getty Images
Jacqueline Kennedy Onassis was a woman of great prestige — and at the same time, a woman of great mystery. As a certified fashion icon and former first lady to President John F. Kennedy, Onassis was known to keep a close circle of fellow elites. In the years following her death in 1994, more details have been unveiled about her elusive life.
One of her dear friends, Carly Simon, opened up about their friendship in "Touched by the Sun: My Friendship With Jackie." Simon released the intimate memoir in 2019, and the book revealed that Onassis had an unexpectedly fun night out with Alec Baldwin, complete with disguises. Simon wrote that one night in the 1990s, Onassis was left without a date to go see the Broadway play "Dancing at Lughnasa" as her then-companion, Maurice Tempelsman, wasn't available. She didn't want to be a third wheel alongside Simon and her then-husband, pro footballer Jim Hart. After two male friends turned down Onassis, Hart recommended the "30 Rock" actor.
Of course, the opportunity to go out on the town with a historical icon left Baldwin awestruck. "Alec, who had never met Jackie, was in a state of hyper-disbelief," Simon recalled in "Touched by the Sun" (via People). "'Jackie Kennedy wants to go on a date with me?' he said. 'Are you kidding?' Alec's incredulity gradually gave way to 'What should I wear?'"
Jackie and Alec went incognito on their date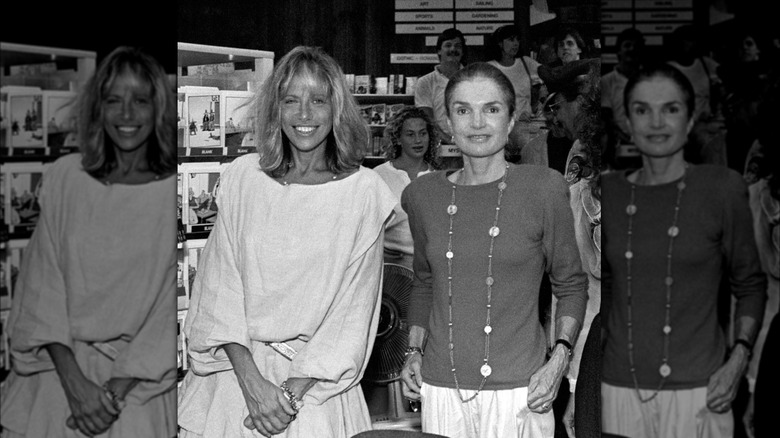 Stephen Rose/Getty Images
It's no surprise that Jacqueline Kennedy Onassis was dedicated to having a fun night out — even if it meant cold-calling a younger actor. In "Touched by the Sun: My Friendship With Jackie," Carly Simon wrote about her fun double date alongside her husband Jim Hart, Alec Baldwin, and Onassis. After Hart invited his friend to join them, the foursome decided to go incognito for the night by wearing one of Simon's many wigs. As a notoriously private person, Onassis was especially excited by the idea of going unnoticed in public. "She was fully in the moment ... She told me how much she would love to see Alec Baldwin in a Madame de Pompadour wig," Simon recalled in her memoir.
Not only was Baldwin's invite a surprise, but it would also be his first time meeting the former first lady. As she was 29 years his senior, Onassis worked overtime to make sure Baldwin was comfortable. "As anticipated, Jackie doted on Alec, and Alec, despite his been-there, seen-everything show business poise, occasionally revealed the lightest possible slick of sweat on his brow," Simon wrote in her boom (via People). Afterward, Onassis told her friend that she had a wonderful evening with her date — even though Baldwin was already taken by his soon-to-be wife, Kim Basinger.
Jackie took risks in her dating life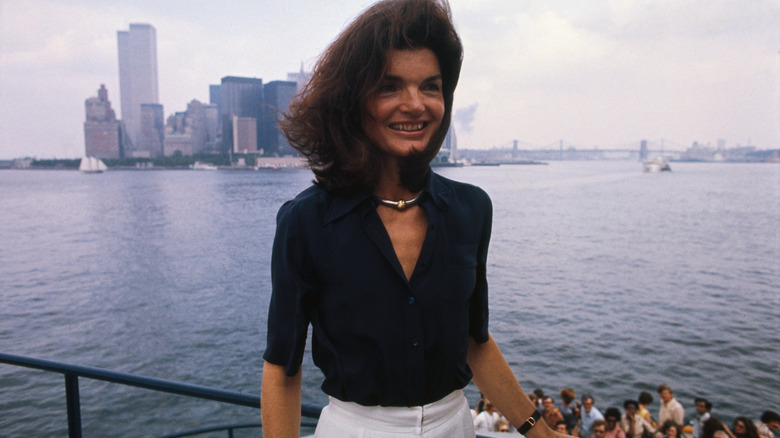 Bettmann/Getty Images
Despite her famous tenure as First Lady of the United States from 1961 to 1963, Jacqueline Kennedy Onassis went on to lead a glamorous life after her time in the White House. A true testament to Onassis' lengthy dating history, it turns out she was a fan of fun flings. Outside of her two marriages, Jackie dated an array of recognizable actors, singers, politicians, and businessmen — from Frank Sinatra to Marlon Brando.
A woman who moved to her own tempo, Onassis was dating Maurice Tempelsman — her last official partner — when she went on a date with Alec Baldwin and married Aristotle Onassis just five years after the world-shattering assassination of her husband, John F. Kennedy. A far cry from a former president, the style icon apparently jumped into her marriage with the flashy shipping tycoon — who was also her sister's ex-boyfriend. "She knew marrying him was the bad-girl move," Carly Simon explained of Onassis' judgment in her book "Touched by the Sun: My Friendship With Jackie" (via Town & Country). "In a way I never knew whether she was sticking up for her own decision or whether she really loved him."