Malia Obama Inherited Her Dad's Worst Habit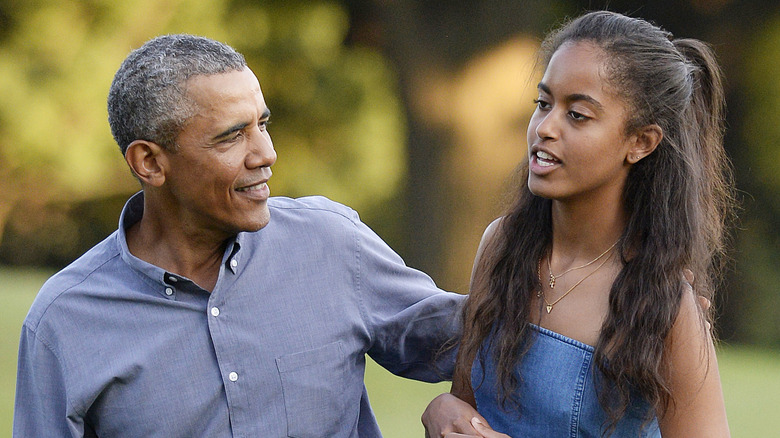 White House Pool/Getty Images
Malia Obama and her sister Sasha Obama are undoubtedly two of the coolest first daughters. The Obama sisters' lavish lifestyle in the White House was one that kids across the world could only dream of, and now as adults, they are carving out their own paths. But in the move to adulthood, there are certainly mistakes to be made — for Malia, it turns out to be one that she may have picked up from her father, Barack Obama.
In 2016, Malia dealt with a marijuana scandal after photos of her smoking at Lollapalooza went viral. From then on, the new college student was spotted smoking on many occasions — once even ironically wearing a "Smoking Kills" tee. In 2020, the paparazzi also snapped the former first daughter taking a cigarette break alongside her boyfriend while at Harvard. In October 2023, she was spotted indulging again outside of a convenience store in Los Angeles, where she now resides, per PageSix.
While old habits die hard, it appears that smoking runs in the family, as Sasha was spotted with a cigarette just a week before. Their father has been open about his struggles with nicotine while serving as president of the United States.
Malia Obama convinced her father to quit smoking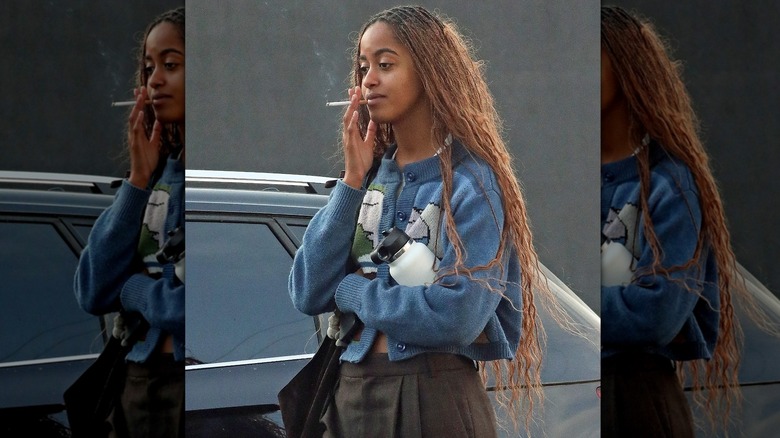 Backgrid
During the beginning of his presidency, Barack Obama admitted that he had a bad cigarette habit that he just couldn't kick. Finally, in 2011, he decided to quit smoking cold turkey. In his memoir "A Promised Land," Barack revealed that it was actually his eldest daughter who inspired him to end his addiction. All it took was Malia frowning after she smelled tobacco on his breath (per CNN).
Michelle Obama agreed that their two daughters were a large part of her husband's lifestyle change. "I know that his ability to ultimately kick the habit was because of the girls, because they're at the age now where you can't hide," the former FLOTUS told iVillage (via NBC News). "I think that he didn't want to look his girls in the eye and tell them that they shouldn't be doing something that he was still doing."
Enjoying her new life outside of the White House, the Harvard graduate is pursuing a career in Hollywood. Now an Angeleno, Malia is working her way up in the world of film and television. She is set to make her directorial debut in one of Donald Glover's upcoming projects (per NBC News).
Malia and Sasha Obama are very close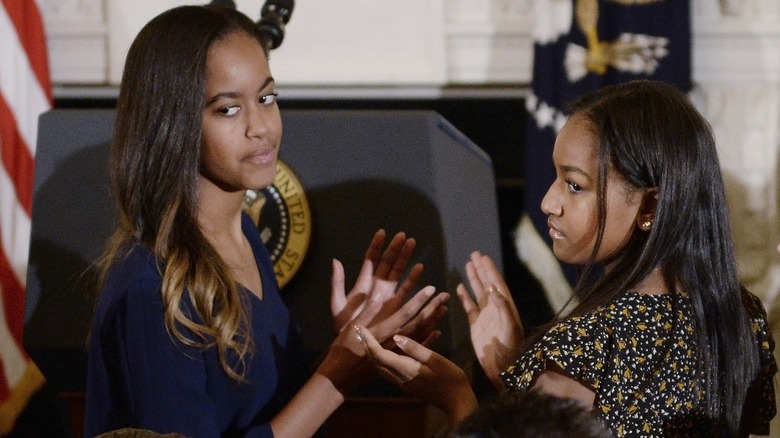 Pool/Getty Images
As sisters, Sasha and Malia Obama have shared a lot over the years, and we're guessing that means they've also shared a cigarette or two. After all, the sisters are super close, according to their mom Michelle Obama. "The thing that I love the most is that those two girls are each other's best friends," Michelle said on the Today show in 2022. "To see them in that place where they're one another's support systems and they've got each other's backs, it's the thing that a mother would want."
The two sisters even moved in together in Los Angeles, which has made their mom very happy. "It feels good to know that the two girls you raised find solace at a kitchen table with one another. It's like the one thing you want for them," Michelle told People.
As they are now adults and college graduates, the Obama sisters can certainly make their own choices when it comes to smoking cigarettes or marijuana. If they do decide they'd like to quit, however, we're betting Barack and Michelle would be supportive. After all, since they inspired Barack to quit smoking, maybe he can return the favor.