Breaking Down The Cheating Rumors Surrounding RHOC Star Heather Dubrow's Marriage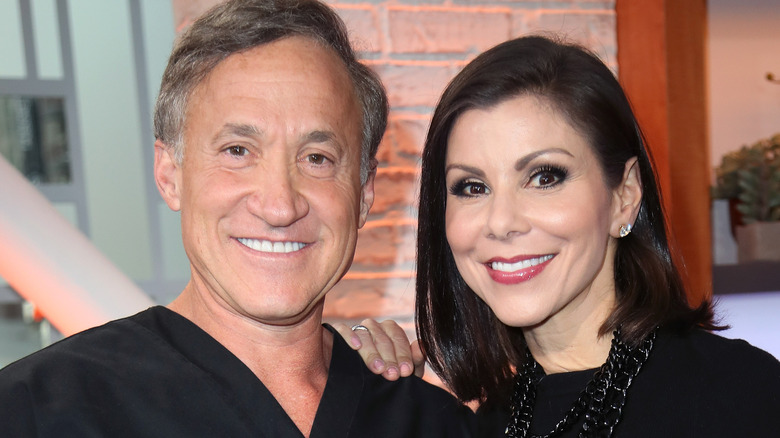 David Livingston/Getty Images
If there is one thing that the "Real Housewives of Orange County" women are familiar with, it's gossip. That is particularly true when it comes to their women's relationships. Tamra Judge was previously accused of cheating on her former husband, Simson Barney, with her current spouse, Eddie Judge. Shannon Beador's ex-husband, David Beador, allegedly had an affair with tech executive Nicole McMackin before their ultimate divorce in 2019.  Now, it seems that Heather Dubrow and her husband, plastic surgeon Terry Dubrow, are the latest victims of infidelity allegations, which have been circulating since at least April 2022.
The couple, who have been married since 1999 and share four children, have been plagued by whispers of extramarital affairs. Each time, the story centers around Terry stepping out on Heather. Though they've continuously shot down the notion that he has been unfaithful to his wife, it has not stopped some from believing such tales. 
Kelly Dodd once accused Terry Dubrow of cheating on Heather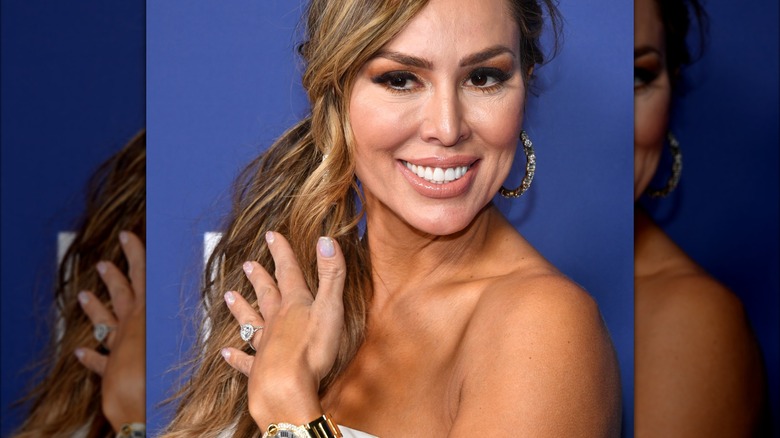 Dimitrios Kambouris/Getty Images
Despite Kelly Dodd being fired from the "Real Housewives of Orange County" before the start of Season 16 in 2021, she still had plenty to say about Heather Dubrow. Dodd once believed that Heather played a hand in her being dropped from the show, something the former actor has denied. However, this did not stop Dodd from launching an attack against both Dubrow and her husband, Terry.
On April 15, 2022, Reality Blurb shared an Instagram Post of Dubrow and Shannon Beador talking on the show, and the caption read, "Heather Dubrow is Claiming She Knew of Shannon Beador's Ex David Beador's Cheating During Dramatic RHOC Reunion as Shannon Fires Back!" Dodd commented on the image, responding: "Don't throw stones at glass houses, HD !! EVERYONE IN NEWPORT BEACH KNOWS TERRY WAS BANGING HIS OFFICE ASSISTANT!! (Allegedly). Don't want to get sued a 3rd time !! It's common knowledge here; ask anyone! HYPOCRITE."
This message, relayed by Dodd, only seemed to lead to others. Months later, Dubrow's friend, Tamra Judge, was thrust into the couple's cheating scandal and accused of fanning the flames. However, she also denied playing a role in the spread of the rumors.
Tamra Judge was accused of telling people about Terry Dubrow's infidelity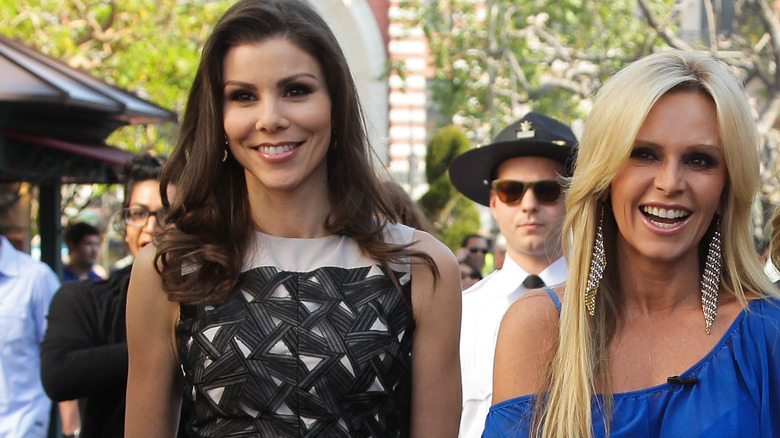 Noel Vasquez/Getty Images
In September 2022, DeuxMoi shared a now-deleted post alluding that Heather Dubrow had been dodging the Bravo cameras following news of her husband's affair. Once the Bravo Housewives fan page reposted the report, Dubrow commented, "This is not true, on any level." Then, during October 2022's BravoCon, Heather blew off the online chatter yet again. However, Tamra Judge addressed the belief that it was somehow her fault for the cheating allegations spreading. According to former housewife Noella Bergener, it was Judge who exposed Terry's cheating.
"[Noella] texted the other day. She said thank you so much for exposing Terry cheating. I said I didn't do that," Judge said during the panel. While it appears Dubrow didn't take this information to heart, just a month later, in November 2022, she and Terry were spotted arguing inside a restaurant. Bystanders captured her yelling and pointing at her husband. Though the fight was reportedly about no tables being available, some speculate that tensions may have been high from the online gossip.
Following the drama, Heather reportedly began eyeing a franchise swap, setting her sights on the Beverly Hills cast. As for Terry, he is preparing for the eighth season of "Botched," which is slated to premiere before this year ends. The Dubrows are keeping busy and aren't allowing the nasty comments to interfere with their bustling careers or marriage.