Get To Know Jason Kelce's 3 Adorable Daughters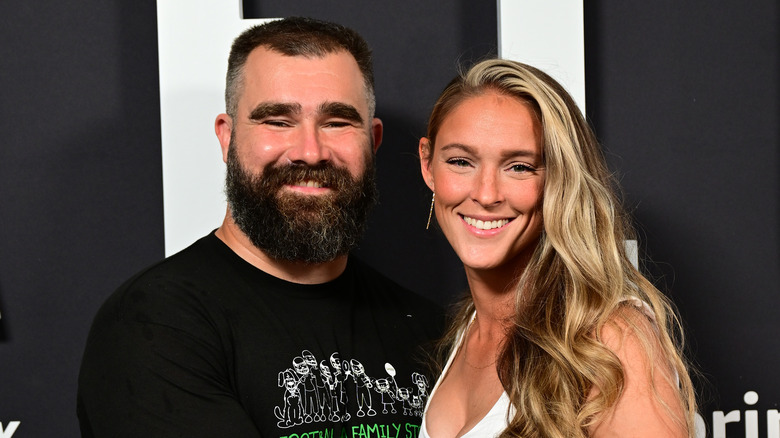 Lisa Lake/Getty Images
Taylor Swift and Travis Kelce's relationship might have dominated the headlines, but the Kelce family is also home to another adorable couple: Travis' brother, Jason Kelce, and his wife, Kylie Kelce. Their love story began in the most unexpected of places: Tinder. Although Jason had been drafted into the Philadelphia Eagles for a few years at the time, Kylie had no idea who he was. Their first date was a bit of a disaster because Jason fell asleep at the bar 45 minutes into it due to having drunk a bit too much.
Nonetheless, he asked Kylie if she would be open to a do-over the following day, and, luckily for Jason, Kylie agreed. The happy couple tied the knot in 2018. In August 2019, they announced their first pregnancy in the most adorable fashion, with Kylie posting a photo of her wearing a green Eagles tee that read "62 did this" with an arrow pointing towards her belly. She captioned the sweet post: "Just giving credit where credit is due ... And to all the people who told me I was glowing ... that was sweat." 
Their first daughter, Wyatt Elizabeth Kelce, was born in October 2019. Despite his impressive track record, Jason told People that nothing trumped being a father. He also shared, "When I had a daughter, I was like, 'I'm not going to spoil her, I'm going to raise her tough. She's going to be hard.' And the moment she came out, I was like, 'Yeah, that's not going to work.'"
Wyatt Kelce is a massive Eagles fan
Jason and Kylie Kelce shared their daughter's arrival through an Instagram post on October 2, 2019. As you can imagine, it didn't take the couple too long to introduce Wyatt to the ways of the family. Just a few months later, Wyatt attended her first Eagles game. Kylie posted a shot from the day with her daughter wearing the cutest Eagles beanie, hilariously captioned: "Wyatt got to experience her first Dallas sucks chant yesterday ... It was a proud mom moment." 
Unsurprisingly, Wyatt has had some adorable moments with her uncle, Travis Kelce, whom she sweetly calls Uncle Travvy. When Travis met his niece for the first time, he naturally struggled to hold her correctly until Jason prompted him to hold her like a football. When the Kansas City Chiefs won the 2020 Super Bowl, Kylie shared a snap of Wyatt in a tiny Chiefs jersey that read "Uncle Trav 87." As Kylie wrote in the caption: "Wyatt is so proud of her World Champion Uncle!" 
But despite everything, Wyatt never forgets where her loyalties lie. In 2023, Jason posted a baby monitor video of his eldest daughter doing the Eagles chant perfectly. He wrote, "Apparently Wyatt is pretty pumped about the Eagles win last night too. Woke up to her singing the entire fight song this morning in her crib." The couple celebrated her fourth birthday in 2023 with a pretty pastel mermaid-themed party that featured a massive balloon house. Wyatt was also extremely pleased with the camera Uncle Travvy gifted her. 
The couple now has three daughters
In September 2020, Jason and Kylie Kelce announced the arrival of their second daughter through an Instagram post featuring Wyatt wearing a shirt that read "Best Sister Ever. Job starts March 2021." As promised, Elliotte Kelce arrived in early March 2021. The couple followed tradition by announcing their third pregnancy by posting a pic of Wyatt and Elliotte wearing matching "Big Sister" tees. For Halloween 2022, Kylie blessed us with an adorable photo of the family dressed as Winnie The Pooh characters. 
Both girls also supported their dad at his 2023 Super Bowl game. The happy couple welcomed their third daughter, Bennett Llewellyn Kelce, on February 23, 2023. Shortly before her arrival, Kylie told People, "We don't have a name, but my husband keeps making the joke that if she does come while we're out there that we'll name her Super, which is one of the most absurd things I've ever heard of in life." She also noted that the couple was considering having a name with SB initials to honor the Super Bowl. 
Eventually, they settled on Llewellyn to carry on Jason's grandmother's name. In 2023, Jason told People that Bennett spends most of her time with her mother while he has the easy job of dealing with two energetic children who run around all day long. He also revealed, "Wyatt is headstrong and very opinionated" while Elliotte "is more go with the flow, kind of just following her big sister."