Celebs Sophie Turner Dated Before Joe Jonas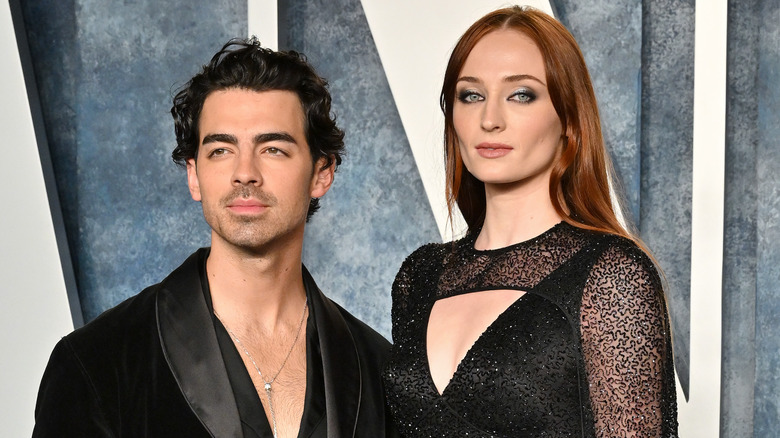 Axelle/Bauer-Griffin/Getty Images
These days, everybody's talking about former it-couple Sophie Turner and Joe Jonas. Their split is rocking Hollywood, and it's clear that this is one difficult breakup, not only for the famous couple but also for their two children. We all love it when two popular celebs get together, so when The Jonas Brothers singer and "Camp Rock" alum, Joe Jonas first started dating the Queen of the North AKA Sansa Stark from HBO's hit series, "Game of Thrones," it was no surprise that this couple had more than a few fans. 
Jonas entered into his relationship with Turner with quite a few high-profile celebrity relationships under his belt. The musician dated superstars Demi Lovato, Taylor Swift, and Gigi Hadid, to name a few. Still, less is commonly known about Turner's dating history before she linked up with the Jonas brother. While her romances may not have been quite as attention-grabbing and publicized as Jonas', that doesn't mean that Jonas is the first celebrity Turner has ever dated. As it turns out, Jonas is joining Turner's own list of famous ex-lovers. 
Thomas Mann
The first celebrity that Sophie Turner was ever romantically linked to was, unsurprisingly, one of the actor's costars. In 2014, Turner was just 18 years old when she met costar, Thomas Mann, on the set of their film, "Barely Lethal." At the time, Mann was 23. Neither Mann nor Turner ever confirmed that they were a couple. Even so, the pair was very open about their friendship on social media. Both Mann and Turner shared photos of each other on Instagram. Turner even posted a black and white photo of her and Mann holding hands with the caption, "dating?" So whether or not the rumors were true, Turner wasn't exactly trying her hardest to squash them. In another post, she called Mann her "favorite human."
Since then, both Turner and Mann have gone on to enjoy extremely successful acting careers. And, while the possibly romantic relationship seemed to fizzle not too long after it began, it's clear there are no hard feelings between these two stars. Turner and Mann seem to be friends to this day. 
James McVey
While Sophie Turner was romantically linked to a few of her fellow stars before tying the knot with now ex-husband, Joe Jonas, there was only one celeb that seemed to have a confirmed relationship with the "Game of Thrones" darling. In 2014, 18-year-old Turner got cozy with The Vamps guitarist, James McVey. At the time, McVey was hardly shy about sharing his life on Instagram. He was also very open about sharing photos of it-girls from Kendall Jenner to Sabrina Carpenter. Turner also graced his Instagram account multiple times, first in July 2014 in a car selfie captioned "Morning road trips are the best."
After the initial Instagram post that seemed to confirm the celeb couple's romance, the pair appeared at a few events as dates. Still, the romance was short-lived, and when it met its demise, a series of heated tweets between the pair indicated that this may have been a bit of a volatile split. 
Tye Sheridan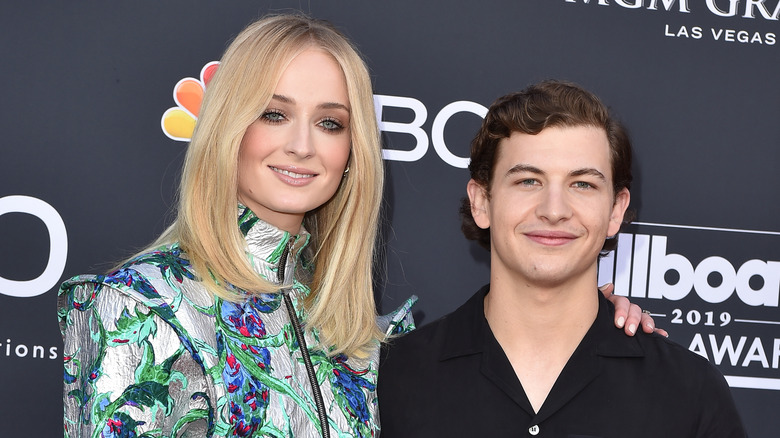 Axelle/Bauer-Griffin/Getty Images
We all know by now that romances that blossom on set are surely one of the most common ways that two stars end up romantically linked. This is exactly how Sophie Turner met her alleged ex, Tye Sheridan. The famous pair worked together on "X-Men: Apocalypse" in 2015. Turner played the famous character, Jean Grey, while Sheridan played Cyclops alongside her. Turner is just a few months older than Sheridan, and they were around 18 and 19, respectively, when they first met on set.
It's important to note that while it's widely believed that Turner and Sheridan were an item while they were costars, they've never confirmed this and have always assured the public that although they became close during filming, their relationship was never a romantic one. Regardless of the nature of the pair's bond, they have remained close since filming and are still good friends to this day.