Tia Mowry Says Dating Troubles Won't Lead Her Back To Ex-Husband Cory Hardrict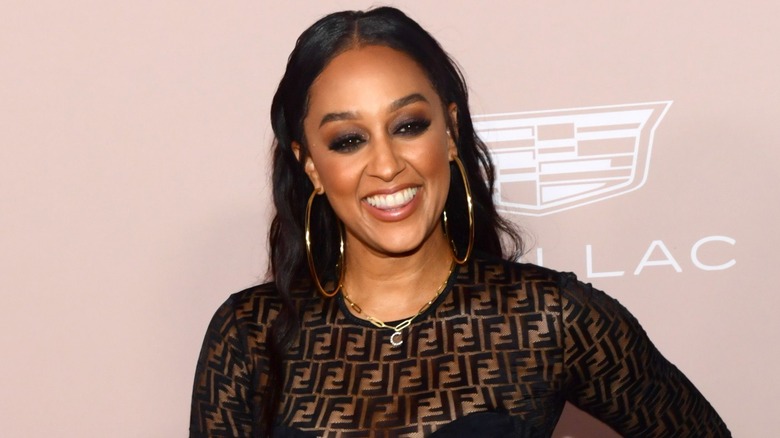 Chelsea Guglielmino/Getty Images
Tia Mowry and her ex-husband, Cory Hardrict, announced their divorce in 2022. If you've heard that these two are now rekindling their romance, you're not alone. A quick scan of Mowry's recent posts on X, the website formerly known as Twitter, shows that the media has been pushing a false narrative about her romantic life. And, it's safe to say, Mowry is over it. 
On October 7th, Mowry took to X to make a serious statement about the goings-on in her dating life. "Just because the dating life is complicated. Doesn't mean I'm going to go back to something that no longer served me," Mowry wrote. She added, "That's like saying if I don't book an audition [or] a part right away I'm going to give up on my dreams as an actor. Please just stop. I ain't that weak. Please move on because I have. Thank you NEXT." Mowry's words make it clear that she's no longer putting up with gossip about her and that she and her ex-husband are never ever getting back together. 
Tia Mowry is setting the record straight
In just two days, Tia Mowry's viral tweet gained 2.5 million views and nearly 32,000 likes. When it came to the comment section, though, folks were split. Some commenters called the post "self-love" while others left clapping emojis. Yet, some encouraged Mowry to "heal" and "get offline," implying that the post indicated that she was hurt by the public perception of her. Even so, Mowry remained steadfast and wasn't afraid to clap back at negative comments, telling folks not to "speak on [her] behalf."
This post gained plenty of traction, but it's clear from Mowry's response that she is standing by her words and wants to set the record straight no matter how people respond. She followed up with another tweet later that day, saying, "I'm no longer allowing the lies and BLOGS creating false information. I create the narrative NOT you for click bait. If you don't hear it from me. It's all LIES." There's at least one thing we can take away from her recent posts: don't mess with Ms. Mowry. Oh, and one other thing: she's single and ready to mingle.