What We Know About Bo Burnham & Phoebe Bridgers' Hush-Hush Relationship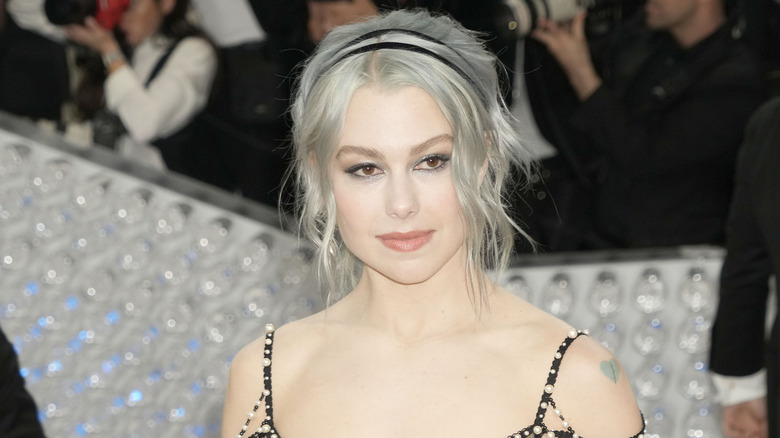 Taylor Hill & Rich Fury/Getty
Although nothing has been officially confirmed, there is speculation that musician Phoebe Bridgers and comedian Bo Burnham are dating. Prior to their possible romantic link, Bridgers was in a relationship (and possibly engaged) to actor Paul Mescal, and Burnham was in a relationship with filmmaker Lorene Scafaria. 
Before the duo potentially became a couple, they had performed together in August 2021. Pete Holmes had Bridgers as a guest at one of his "Living at Largo" live shows at a Los Angeles nightclub (the Largo at the Coronet). After singing a couple of her own songs, Bridgers brought Burnham onstage for them to sing a duet version of his song "That Funny Feeling" from his comedy special "Inside" (via Variety).
Burnham also attended a concert of hers at the Greek Theatre in October 2021, this time staying in the audience and watching as she performed the song again. A fan at the concert recorded Burnham's reaction to Bridgers singing his song and posted it to YouTube.
A country music star accidentally shared a video of Bridgers and Burnham looking like a couple
Phoebe Bridgers and Bo Burnham were first spotted in public together acting couple-like in late 2022, according to DeuxMoi (via Elle) and Jezebel. Phoebe Bridgers and Paul Mescal's relationship seemed to end around that same time. Bridgers' verse in SZA's "Ghost In The Machine" was also seemingly written in late 2022 and indicates a breakup that could be Bridgers and Mescal's.
A cheeky photo featuring Matty Healy and Bridgers kissing with Burnham standing with them sparked more rumors that Mescal was out of the picture and that Bridgers had moved on. She and Burnham were seen together again in January 2023 at an airport as well, but the biggest proof that Bridgers and Burnham are a potential couple comes from country music star Keith Urban.
Urban and Taylor Swift are friends. In a TikTok Urban posted from an Eras Tour show Bridgers opened at, he and his wife Nicole Kidman are jamming out to "Style." In the background, Bridgers and Burnham are seen close together, possibly hugging or kissing. Urban was clueless, but the comments section was filled with people giddy about the Bridgers and Burnham footage. One commenter said, "Keith Urban being completely oblivious about hard launching Phoebe and Bo was not what I was expecting on a Monday afternoon."
Bridgers seems to be posting Burnham on Instagram now
Keith Urban spoke with Entertainment Tonight at 2023's CMA Fest. When asked about his TikTok featuring Phoebe Bridgers and Bo Burnham, Urban added, "Phoebe, I'm so sorry." He also joked, "Don't be on camera Phoebe! What were you thinking?" However, he then admitted that he felt guilty and that, "I was just digging on the concert! You never know what's gonna happen."
Neither Bridgers nor Burnham have made any confirmations of their relationship or spoken about Urban's TikTok. However, in June 2023, Bridgers' band boygenius combined a concert with a protest against Tennessee's anti-drag show bill. Bridgers' drag name for the show was a silly, raunchy play on the country singer's name.
Urban isn't the only one accidentally taking photos of Bridgers and Burnham. TikToker @lights_camera_accion claimed to have done the same at a Renaissance Faire. Bridgers also shared a photo on her own Instagram story in August 2023 that seemed to be a sweet picture of her and Burnham sitting at a piano (via Vanity Fair). Another photo posted to her Instagram account in October 2023 shows a man holding up Bridgers while giving her a big hug. This could be Burnham as well, with some fans in the comments thinking so. Only time will tell if this secretive, hush-hush rumored relationship will officially go public.