Are Taylor Swift And Keith Urban Friends?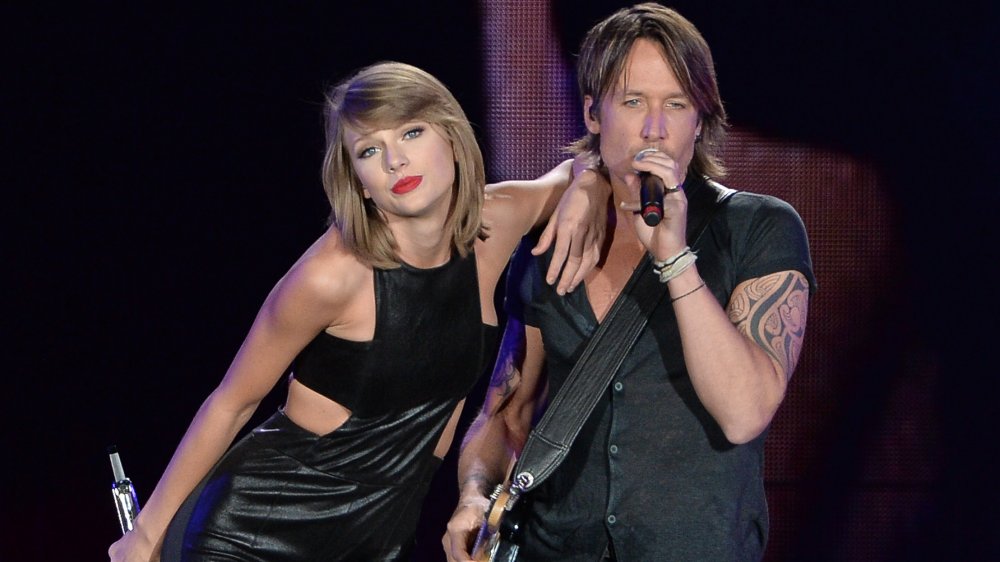 George Pimentel/lp5/Getty Images
They're two of the biggest stars in the world: She's the country icon turned pop sensation; he's the guitar-slinging Aussie with an A-list wife. But are Taylor Swift and Keith Urban actually friends, or do their paths just cross by necessity sometimes? Swift has been close to Urban's other half, Nicole Kidman, for years with the actress infamously taking her daughters to see the Folklore hit-maker in concert on the same night her hubby was also playing a show, as reported by Express Digest.
Although Swift may not technically be a country star anymore, there was a time, particularly at the start of her career, when she and Urban were in direct competition with each other. The "Bad Blood" writer is known for making her grievances public, so it'd probably be clear by now if she and the Aussie powerhouse had beef, but are they buddies or just civil colleagues?
Taylor Swift and Keith Urban go way back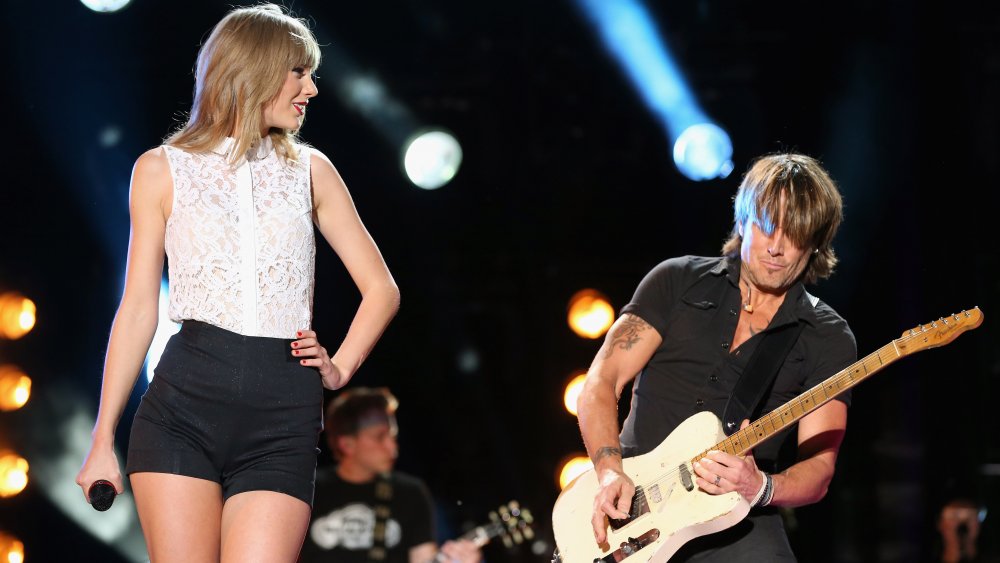 Christopher Polk/Getty Images
As it happens, Swift and Urban have been close for quite some time. The singer-songwriter was his supporting act all the way back in 2009, on Urban's Escape Together world tour. They had tons of fun on the road, particularly when Swift pranked Urban during one of his shows. Urban was performing his hit song "Kiss A Girl" with his band, all of whom were decked out in full Kiss regalia, alongside dancers in Hershey's Kiss candy costumes (via YouTube). Then, as the performance ended, Swift pulled off her wig to reveal she'd been playing guitar alongside the rest of them without Urban even realizing it.
The Aussie country icon later rocked up to the Toronto stop of her 1989 world tour in 2015, and the duo performed Urban's song "Somebody Like You," paying homage to Swift's country roots. They also collaborated on Tim McGraw hit "Highway Don't." 
The country icons are each other's biggest fans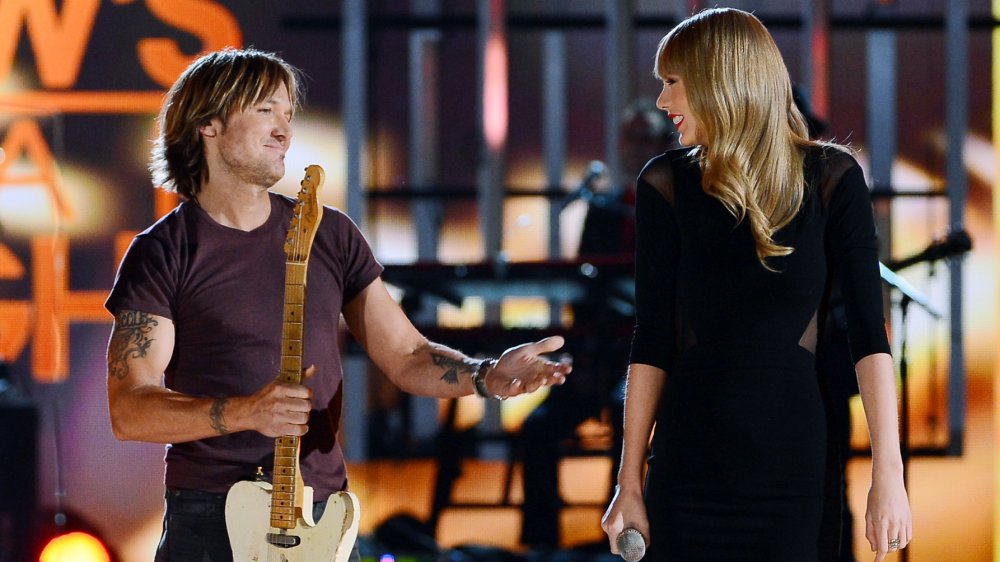 Ethan Miller/Getty Images
Ten years after he first took her out on tour, Urban paid homage to Swift in a big way when he covered her song "Lover" at a show. The Aussie shared a clip of his performance on Instagram and wrote: "Every now and then you hear a song that you love and wish you'd written," alongside it. Swift retweeted the video, gushing, "MY HEART EXPLODED INTO CONFETTI HEARTS THANK YOU." Urban had previously praised his buddy's single, describing it in a tweet as "SUPERB" and sharing, "When a song so exquisitely written becomes a record so gorgeously crafted I feel such a deep sense of gratitude for the 'art' of making music."
Swift naturally lost her mind over Urban's compliments, writing on Twitter: "ARE YOU KIDDING ME THIS IS THE NICEST THING ANYONE HAS EVER SAID — you're just the best and so kind to say this." Clearly, theirs is a friendship based on mutual respect and genuine love for each other.