Celebs That Anna Wintour Can't Stand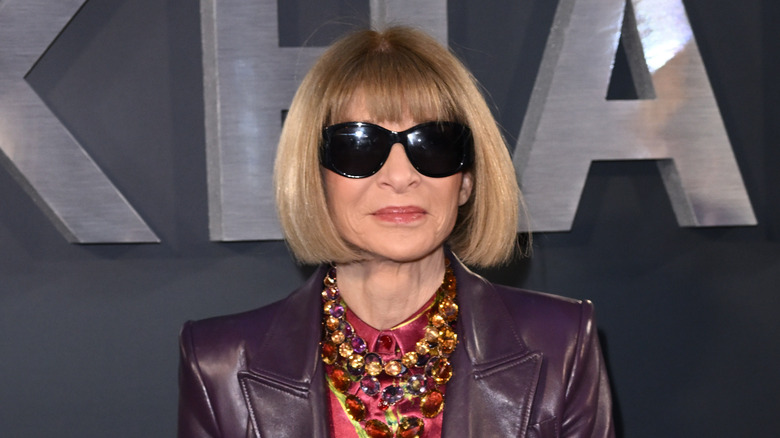 Karwai Tang/Getty Images
As the longstanding staple at Vogue magazine, Anna Wintour, known for her famous sunglasses, is arguably one of the most respected figures in fashion. She joined the highly respected publication in 1983, first as a creative director, before becoming editor-in-chief of British Vogue in 1985. However, in 1988, she rejoined the American leg of the magazine, being crowned Vogue editor-in-chief, where she remains today. With such a high-ranking position, it's no surprise that Wintour has made a few enemies in her day.
Alleged tensions between Wintour and former British Vogue editor-in-chief Edward Enniful is reportedly the reason for his departure, with his last issue arriving in March 2024. In another unlikely feud, Drake seemingly trolled Wintour since November 2022, which saw him and rapper 21 Savage release a faux Vogue cover with their pictures on it. The fake magazine issue was even sold as part of the rollout for their joint album, "Her Loss." This sparked a lawsuit by Vogue's parent company, Condé Nast Publications, which was settled in February 2023. In August 2023, "Pose" star Billy Porter boldly called Wintour the "B-word" for overlooking the LGBTQIA+ community and placing Harry Styles on the December 2020 cover of Vogue, where he notoriously wore a dress. Naturally, Wintour isn't everyone's cup of tea, but there are a few celebrities she supposedly can't stand.
Anna Wintour allegedly stripped several opportunities away from André Leon Talley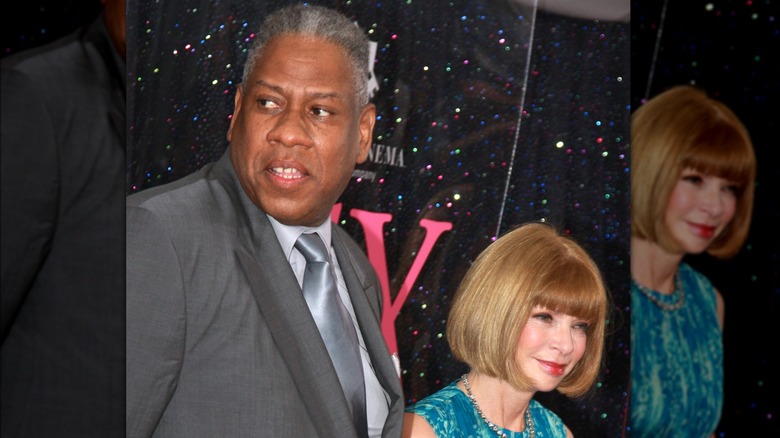 Bruce Glikas/Getty Images
Anna Wintour and André Leon Talley seemed to have a great relationship to those on the outside. Since his start at Vogue in 1983 as fashion news director before being promoted to creative director in 1988 and finally editor-at-large, Talley was considered Wintour's chief lieutenant. However, that did not stop her from treating Talley coldly and stripping away opportunities from him, such as his Vogue podcast and, most notably, his Met Gala hosting job in 2018, which he held for five years. Talley detailed this in his 2020 memoir, "The Chiffon Trenches."
"This was clearly a stone-cold business decision. I had suddenly become too old, too overweight, and too uncool. After decades of loyalty and friendship, Anna should have had the decency to call or send an email saying, 'André, we have had a wonderful run with your interviews, but we are going to try something new,"' Talley wrote.
Though he was never officially fired from the publication, Talley slowly fell into the shadows and began to speak with Wintour less and less. However, sources say Wintour was unhappy with Talley's depiction of their relationship. Nevertheless, they reportedly made amends shortly before his 2022 death.
Anna Wintour has seemingly snubbed Kim Kardashian multiple times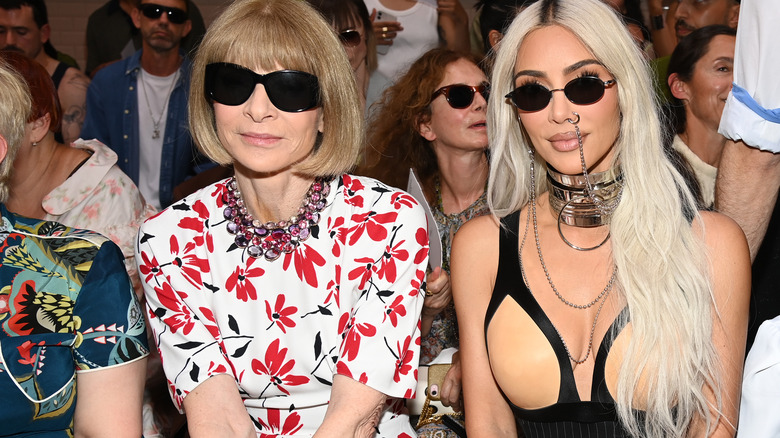 Pascal Le Segretain/Getty Images
Anna Wintour has never cared for Kim Kardashian, according to several reports. Even after Kardashian landed on the cover of Vogue in 2014, Wintour hinted that Kardashian wasn't precisely "tasteful." Still, it seems that Wintour recognizes Kardashian's draw in the fashion industry, which is why the Skims founder has landed 10 Vogue covers. Even though Kardashian is a staple at the company, Wintour apparently snubbed her multiple times. The first appears to be in September 2022 during New York Fashion Week. While at the Fendi show, Wintour walked up to Sarah Jessica Parker, who was standing next to Kardashian. She hugged Parker but seemed to completely ignore Kardashian, as seen in a video shared on Madame Figaro's TikTok.
Then, another snub occurred at the end of September 2023 during Victoria Beckham's fashion show. Kardashian embraced David Beckham while Wintour sat next to him with her arms crossed so as to avoid contact with Kardashian. Moments later, it appears Wintour switched seats so that she would not be next to the KKW beauty boss. Neither has commented on these awkward moments, but it seems Wintour may have a personal issue with the influencer. In fact, Wintour does not really speak much about any of her alleged beefs. Therefore, it may never be known how she truly feels about her adversaries.