A Look At Taylor Swift & Sabrina Carpenter's Close-Knit Friendship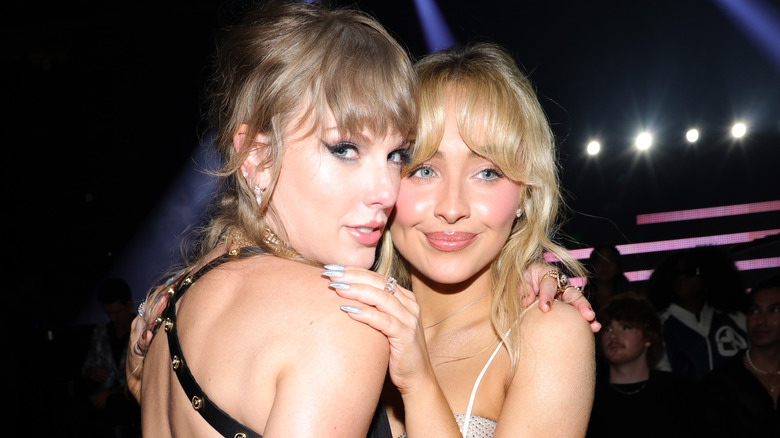 Kevin Mazur/Getty Images
Throughout her career, Taylor Swift has been incredibly supportive of new and emerging artists. Swift has fought for them to own their work and pulled her catalog off streaming services to help others gain fair compensation for their art. Swift has also encouraged her fans to listen to newer artists like Girl In Red, Griff, Troye Sivan, and Sabrina Carpenter, whom she enlisted as an opener for the international leg of her record-breaking Eras Tour. 
In the announcement on X, formerly known as Twitter, Swift wrote, "Sweet angel princess @sabrinacarpenter will be joining us on all of the shows!" Carpenter gushed, "Trying to process this but alas I shant CANT WAIT TO JOIN THE ERAS TOUR IN LATIN AMERICA thank u @taylorswift u the 1 :') this is a dream come true." Naturally, this would be a big moment for any singer, but for Carpenter, it meant even more because Swift was one of her childhood idols. 
When the former Disney star was 10, she posted a cover of Swift's 2006 track, "Picture To Burn" on YouTube. Little did Carpenter know, she'd have a stunning transformation, and that same cover would be the introduction for her performance at The Eras Tour. Likewise, after then-11-year-old Carpenter attended Swift's 2010 concert, she tweeted about how amazing it would be to play her own sold-out shows someday. That dream also came true when she joined Swift's tour in Mexico City and played four sold-out shows to a crowd of 65,000 people each night.
Taylor Swift helped Sabrina Carpenter with tour anxiety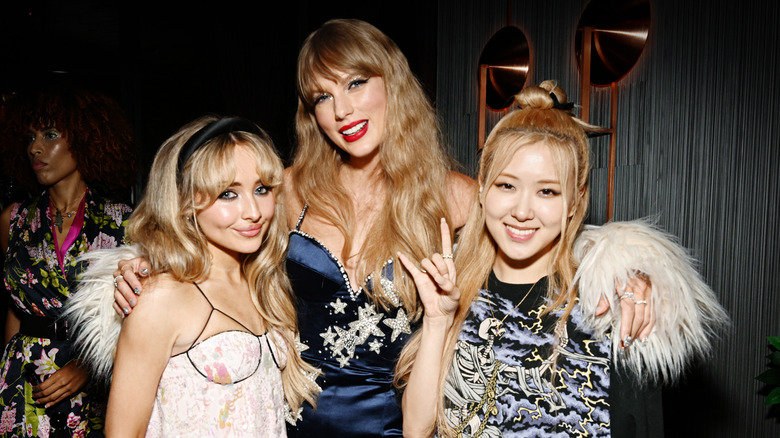 Slaven Vlasic/Getty Images
Although Sabrina Carpenter has played several international shows during her career, The Eras Tour was a beast of its own due to its sheer scale. Luckily, the emerging pop star found that having Taylor Swift around made things easier. She gushed in a Rolling Stone interview, "Watching her is a masterclass in itself." Carpenter continued, "Obviously, she's very good with words. So I feel a lot more comfortable that I'm going into a situation with someone that I admire so much and I'm just gonna, like, study." 
She also shared that she held "1989" in high regard, but "Midnights" and "Folklore" were her favorite Swift albums, and for good reason. When the singer-songwriter released "Folklore" as a surprise, she penned a note that explained how she didn't overthink its release because the pandemic made her want to embrace every moment without delay. In a 2021 interview on "The Travis Mills Show," Carpenter revealed that Swift's letter helped her view her own music in a fonder light by seeing it as a reflection of her past and present emotions. 
Following the release of her second record re-recording, "Red (Taylor's Version)," Swift sent out care packages to her closest friends. When Carpenter received hers, she posted an Instagram Story of her sobbing out of pure joy (via X). Alas, we had to wait until 2022 for the duo's first photo together, which was taken at the VMA afterparty. 
They love hanging out at award shows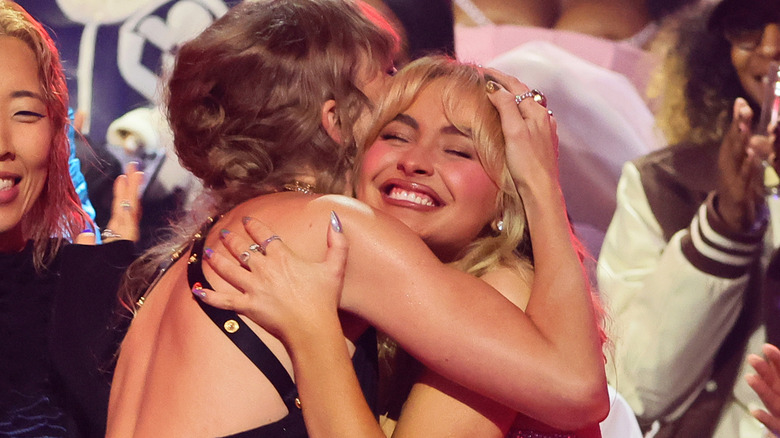 Theo Wargo/Getty Images
Following her Mexico shows, Sabrina Carpenter did an interview with Vogue where she shared her feelings about being on the road with Taylor Swift, "It's a great privilege," Carpenter confirmed. "Getting to tour with someone I love that greatly inspires me, and also has the kindest and most welcoming fan base ever — I feel so lucky to be part of such an indelible tour." When Swift took the stage on Carpenter's first night at the Eras Tour, she said that she was one of Carpenter's biggest fans and loved her album. 
Additionally, the chart-topping star gushed that she was incredibly proud of Carpenter and even considered her a friend. The two unquestionably share a great relationship because they hang out whenever they get the chance. Swift may have had a chaotic night at the 2023 VMAs, but she made the snoozy show memorable several times, with Carpenter by her side for a lot of it. As she walked on stage to present an award, fans captured a video of Swift encouraging her by seemingly saying, "Hey, have fun, baby!" 
When the "Bad Blood" hitmaker showed up to the afterparty wearing a denim dress that Carpenter had previously donned, fans were convinced she'd raided her closet. Hilariously, after Carpenter presented Swift with an American Music Award in 2022, she continued her tradition of terrorizing short people by petting the top of her head after hugging her, suggesting they were already super comfortable together.