Meet Goldie Hawn And Kurt Russell's 4 Kids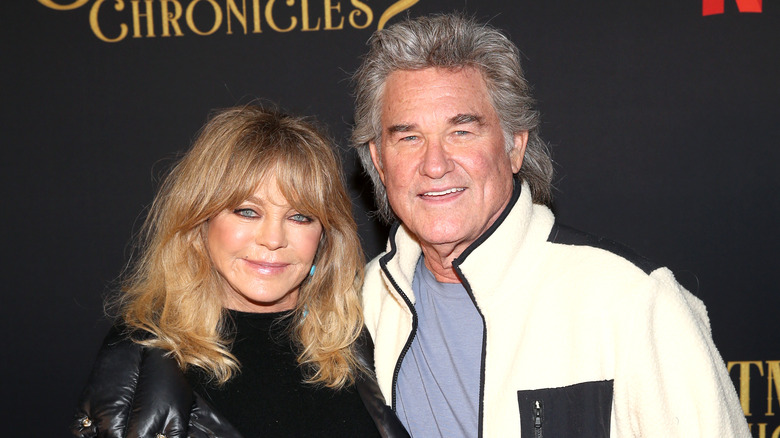 Jesse Grant/Getty Images
Goldie Hawn and Kurt Russell have a blended family made up of kids Kate Hudson, Oliver Hudson, Boston Russell, and Wyatt Russell. The Hawn-Hudson-Russells prove that it's not DNA that makes a family; it's love. And there's a whole lot of it between them. "We're a very tight family. We all live very close to each other. They're amazing people, amazing grandparents, amazing parents," Oliver told Us Weekly in 2021.
And it sure seems like the admiration is mutual. "You're always proud of your kids," Kurt said in an interview with Family Entourage's Kelli Gillespie. "As they get older and, they actually take it into their livelihood and, in Kate's case, so quickly become extremely good at it." Kurt and Hawn have plenty to be proud of: Three of the kids have found success in the entertainment industry, and the fourth has enjoyed a peaceful life out of the spotlight.
Given Hawn and Kurt's combined Hollywood legacies, it shouldn't come as a surprise that almost all of their kids were drawn to acting. "We grew up going to movie sets, and so it was sort of a forgone conclusion that this is what we were all going to do, and essentially that is what we are all doing," Oliver told ET. Kurt Russell and Goldie Hawn's kids may be nepo babies, but they've hustled hard to get where they are today. 
Kate Hudson says she has 'daddy issues'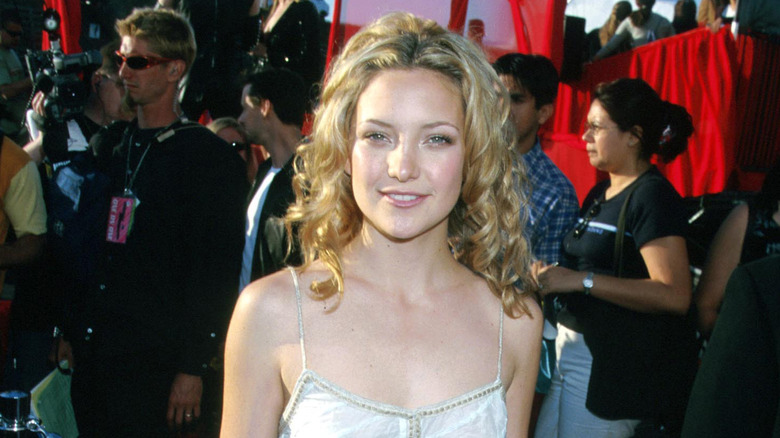 Jeffrey Mayer/Getty Images
In 1979, Goldie Hawn and Bill Hudson welcomed their second child, daughter Kate Hudson. While Kate is close with Hawn, she and her biological father have a complicated relationship. Bill and Hawn were married from 1976 to 1982, but after they split, Bill became estranged from his kids. "He was around when we were young, and then it sort of teetered out," Kate said on "The Howard Stern Show" in 2016.
Like Kate and Hawn, Bill made a name for himself in the entertainment industry. He was part of The Hudson Brothers, a pop-rock outfit he created with his real-life brothers that found success in the '70s. He also has a few acting credits to his name, including "The Love Boat" and "Doogie Howser, M.D."
On a 2023 episode of the "Table for Two with Bruce Bozzi" podcast, Kate opened up about her problems with her father and why she decided against giving music a shot. "Earlier on in my career, I thought I would definitely do music, but then 'Almost Famous' happened," the Oscar nominee said. "But later on, I kind of rejected it because I was like, 'You know what?' As you do when you're dealing with daddy issues. I don't want to connect to that part because that's my dad. That's all Dad. If I put that out in the world and people didn't like it, it would destroy me."
Kate Hudson calls Kurt Russell her 'Pa'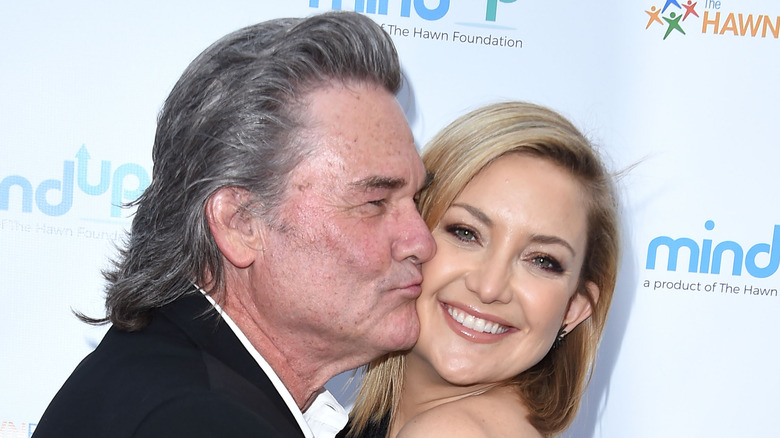 Steve Granitz/Getty Images
When Kurt Russell connected Goldie Hawn in 1983, he became the father figure Kate Hudson needed. "When you have a father like Kurt, who has been there for the hard stuff ... the thing is, he's not a perfect man, no one is, but the trust that I got from him in terms of his dependability was just priceless for me," Hudson said in an interview on "The Howard Stern Show." She echoed these sentiments again in a chat with "Sunday Today with Willie Geist." "I have a great family; I have a beautiful mother. I have a stepfather who stepped in and played a huge, huge part in sharing what it is to have a dependable father figure in our life," she said.
Hudson has a lot of love for Russell, and she's shared a glimpse into their close relationship with her Father's Day tributes. In 2015, she posted a photo of herself and Russell on Instagram and wrote, "Pa, just simply ... Thank you. Happy Father's Day, I love you to the moon and back." In 2022, she created another touching Instagram post that featured a sweet throwback of her and Russell. "Fun, adventurous, passionate, determined, honest, devoted, amazing father and the best head of hair in Los Angeles!" she wrote. "Lucky us! Love you Pa! Happy Father's Day."
Kate Hudson has followed in her mom's footsteps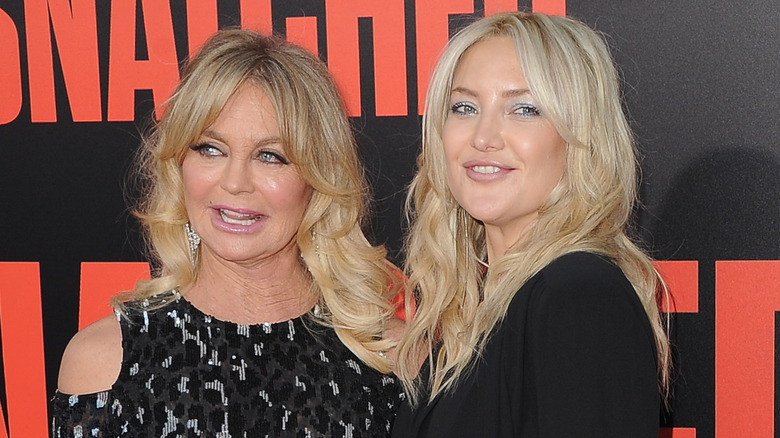 Jon Kopaloff/Getty Images
Goldie Hawn has had an impressive acting career that has spanned decades. Kate Hudson has also enjoyed her own success in the entertainment industry. Thankfully, there's no hint of competition or jealousy between the two. "Contrary to how I guess it seems from the outside in, for me, our family is much more focused on emulating who we are as people," Hudson told E! News in 2022. "There's no emulating Mama's career," she added. "She's an original. She's an icon. It's a different generation."
In 2022, Goldie Hawn and Kate Hudson joined forces for a Stuart Weitzman campaign. Sharing the "dream mother-daughter moment" on Instagram, Hawn gushed, "Love you my baby @katehudson and yes being a shoe lover is genetic." While they're down to model together, as of this writing, the silver screen veterans have yet to act together. It may not be totally off the table, but as far Hawn's concerned, the project would have to be just right. "We would love it, but it's really interesting — unless it's something great, honey, you don't do it," she told the Los Angeles Times. "There's a lot of expectation coming into it."
The mom and daughter duo are close and have a beautiful bond. "I mean really, mom was so available to being my greatest cheerleader." Hudson told PopSugar in 2016. "I pretty much talk to her every day. I can't really go a week. I've gone a week, but it's super rare." 
Kate Hudson has learned a valuable skill from her mom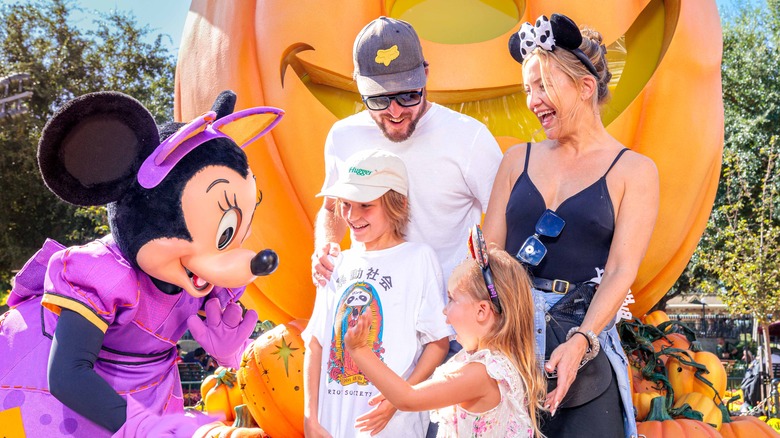 Handout/Getty Images
Kate Hudson has three children with three different partners. She shares her firstborn, Ryder Russell, with her ex-husband, Chris Robinson; her second, Bingham Hawn, with Matt Bellamy; and her third, Rani Rose, with Danny Fujikawa. The "Bride Wars" actor has worked hard to co-parent with her exes.
"When you get divorced, you're still in a relationship," Kate said on a 2019 episode of "Divorce Sucks! with Laura Wasser." "It's just a different kind of relationship. You're going to have good days, you're going to have bad days, you're going to have good weeks, bad weeks." Kate insisted her mother, Goldie Hawn, made a point to never utter a "bad word" about her estranged father, Bill Hudson. And she's following her example, letting her children determine their own relationship with their fathers. "I think the one thing that I learned from my mom is that no matter what you're feeling and no matter what — when I see my friends talking s*** about their ex-spouses in front of their kids, I get so upset because they don't recognize how much that affects their child and how resentful their child will become of them," she said. 
Oliver Hudson reconnected with his biological dad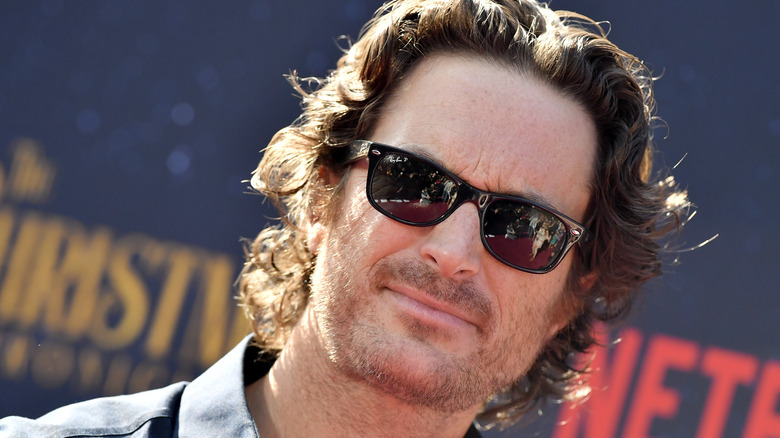 Axelle/bauer-griffin/Getty Images
Like his younger sister, Kate Hudson, Oliver Hudson has a complex relationship with their father. Born in 1975, Oliver is the eldest child of Goldie Hawn and Bill Hudson. In 2015, things reached a boiling point when Bill publicly disowned Oliver and Kate.
"I had five birth children, but I now consider myself a father of three. I no longer recognize Oliver and Kate as my own," Bill told the Daily Mail. "I would ask them to stop using the Hudson name. They are no longer a part of my life." His harsh words came after Oliver shared a childhood photo on Instagram on Father's Day in 2015 and wrote, "Happy Abandonment Day." The same Father's Day, Oliver also posted about Kurt Russell on Instagram. Alongside a selfie he snapped with his stepdad, Oliver wrote, "Happy Father's Day, Pa."
While Bill and Oliver's remarks about one another suggested there was no hope for reconciliation, the opposite proved to be true. "Well, we're trying right now," Oliver said on "Larry King Now" in 2018. "We've shot some texts back and forth." It turns out his post from three years earlier was the catalyst. "There was an incident that happened via my Instagram," the "Splitting Up Together" actor said. "I had posted something that was darkly comedic, and it blew up into something, and actually, it helped us with our relationship. So now we're kind of keeping in touch."
Oliver Hudson was arrested as a teen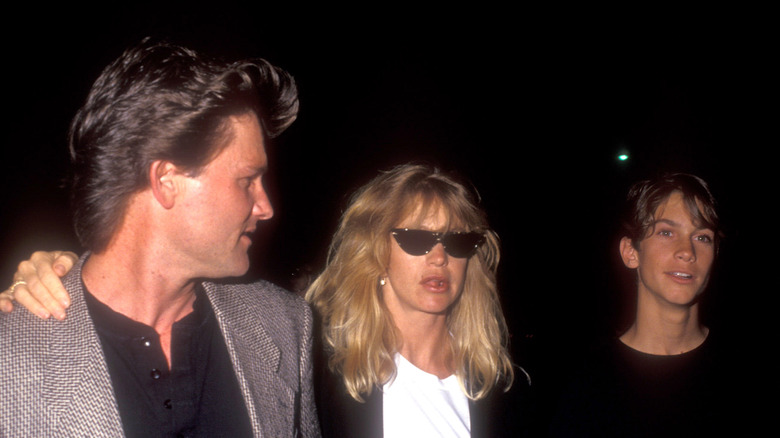 Barry King/Getty Images
Oliver Hudson is a well-rounded adult and respected actor, but as a teen, he made his fair share of mistakes. "I did get arrested when I was 16 years old. It was a crazy story 'cause they had to call the parents, and they said, 'What's your dad's name?' and I said, 'Oh my God. Kurt Russell,'" he shared on "Live with Kelly and Ryan" in 2022. Hudson and his friends got in trouble with the cops after they'd been messing around with paintball guns and, as he put it, "doing dumb things." When it came time to call his parents, the police were in disbelief over who his stepfather was. 
As Hudson remembered, Russell kept a relatively level head about all of it. "He understood what it was like for him when he was that age; he did stupid stuff as well," he said. "But he was not a happy dad, let's just say that." As understanding as he might have been, the "Escape From New York" had a unique punishment in mind. 
When it came time to teach Hudson a lesson, Russell got rather creative. And yes, it involved a paintball gun. "My punishment was to shoot up my Honda Prelude with blue leather interior," he said on "Jimmy Kimmel Live" in 2018. "I had to shoot up my car, dent it up, and drive that for the rest of my existence."
Kurt Russell has advised Oliver Hudson on his career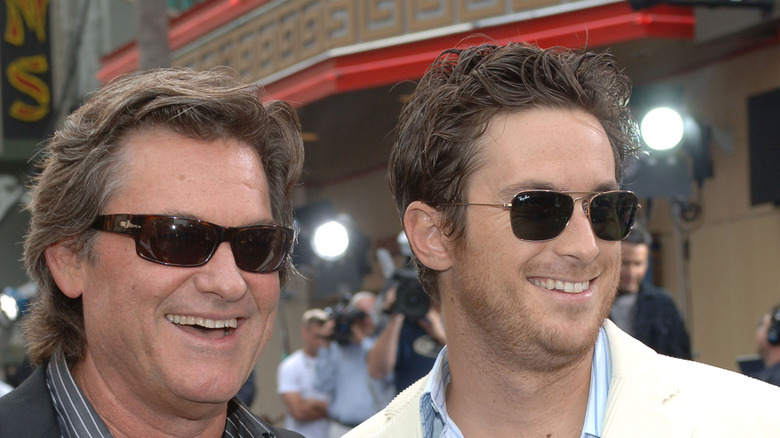 L. Cohen/Getty Images
Kurt Russell is a veteran actor, and after decades of success in the entertainment industry, it's fair to assume he'd have some wisdom to impart. Oliver Hudson admires his stepfather, and when his career was not going in the direction he wanted, Russell's comments changed his outlook.
"When I was on my 24th birthday, I was sort of struggling as an actor trying to figure it out," he told ET in 2022. "Kate is a movie star, my parents are stars, I felt like a black sheep of sorts. I put that on myself. And [Kurt] said, 'Look, Oliver, you have to stop caring. Don't give a s*** what people think, how you look, all the stuff, you just do you.'" While Hudson acknowledges this statement is easier said than done, he values Russell's guidance. "I think that's the best advice because it frees you up," he shared.
It has been over 20 years since Russell offered this tip, and clearly, it has served Hudson well; his acting career took off in the 2000s and has yet to slow down. Some of Hudson's more recent projects include television series "The Cleaning Lady," "Splitting Up Together," and "Scream Queens."
Goldie Hawn encouraged Oliver Hudson to get married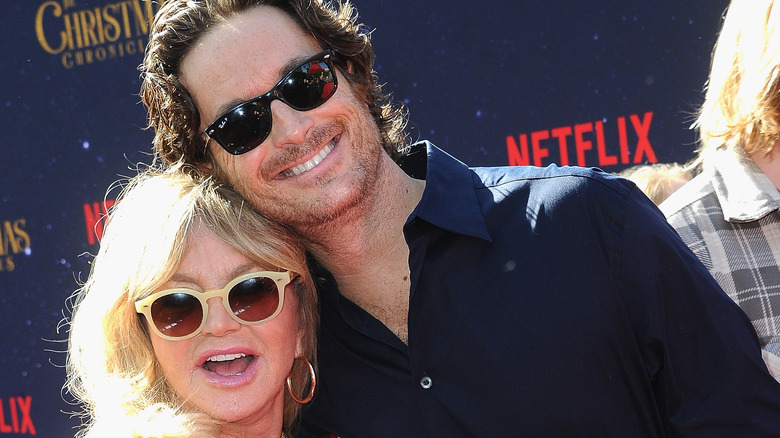 Albert L. Ortega/Getty Images
Goldie Hawn and Kurt Russell have been together since the early '80s, but they've never gotten married. For a long time, Oliver Hudson figured he'd do the same. "I didn't want to get married. I thought that the perfect relationship was Kurt and Mom," Hudson said in an interview with E! News (via People). "I mean, I was a child of divorce, that didn't work, and then I saw this working."
The "this" he was referring to? Why, that would be his relationship with actor Erinn Bartlett. Hudson figured he and Bartlett would stay happily unmarried forever, and Bartlett seemed cool with that, too. As Hudson dished E! News, she even warned her parents that her relationship with "an L.A. weirdo" would probably never include matrimony.
However, Hudson's mom urged him to change his tune. "I got Erinn jewelry every Christmas, and that was part of my thing, and finally, I bring some rings to my mom — not engagement rings — and she's the one who says, 'What are you doing? Do you want to spend the rest of your life with this person or not?'" he recalled. The proposal came in February 2004, and the couple married in June 2006 on a beach in Mexico.
Oliver Hudson hesitated with marriage but he wanted kids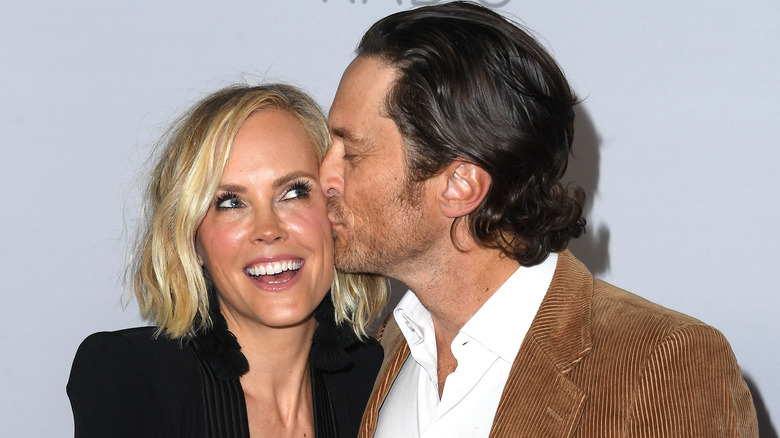 Steve Granitz/Getty Images
Oliver Hudson needed a little nudge from his mother to propose to Erinn Bartlett, but he knew he wanted children. Following the news of their wedding in 2006, he told People, "I want babies. I think I'll be a great dad."
Hudson became a dad for the first time in 2007 when the couple welcomed son Wilder Brooks. They now have three, with Bodhi Hawn arriving in 2010 and Rio Laura in 2013. Fatherhood has been a life-changing experience for Hudson, and it even led to the podcast "Joe Buck and Oliver Hudson Have Daddy Issues."
He has also discussed how his parenting styles differ from his sister Kate Hudson's, noting how sometimes their approaches have resulted in conflict. "It's more about kids, I'm very loosey-goosey, and she's very strict," he said in a 2022 interview with "Watch What Happens Live With Andy Cohen." This is not Oliver's first time speaking about how he and Kate make different decisions. "I let my kids watch movies that I probably shouldn't, so when Kate's kids come to my house, I'm sure they're pretty excited because I let them watch things that Kate will not let them watch," he told Us Weekly. "[It's] worth the risk. You need an uncle that's gonna let them do things."
Oliver Hudson and Kate Hudson have a podcast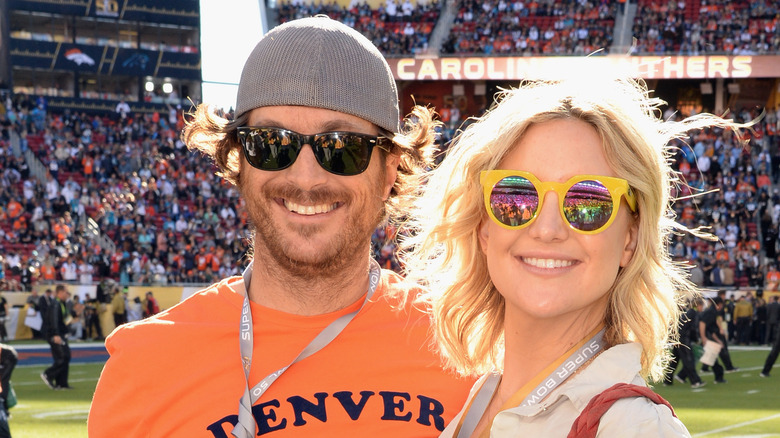 Kevin Mazur/Getty Images
Some siblings don't work well together. That's not the case for Oliver Hudson and Kate Hudson. In 2019, the brother-sister duo launched a podcast called "Sibling Revelry." Over the course of the pod's run, they've chatted with other high-profile siblings, like Mary McCartney and Stella McCartney, Rooster and Matthew McConaughey, and Jenna Bush Hager and Barbara Bush. 
Their podcast has shone a light on their relationship with each other and given fans a better look into their private lives. And they have yet to hold back. "I think we're both pretty comfortable feeling vulnerable, talking about insecurities," Kate told CNN in April 2023. "When you can open up with those insecurities or vulnerabilities, it's actually a strength. And that's how we grew up, being very open with our feelings."
Their podcast has been a memorable experience for both of them, and it even strengthened their bond. "It has brought my sister and I closer together in that we're more expressive, we're able to talk about things that you don't really talk about around a dinner table or in your everyday world," Oliver shared with CNN.
Wyatt Russell has starred in a series with his dad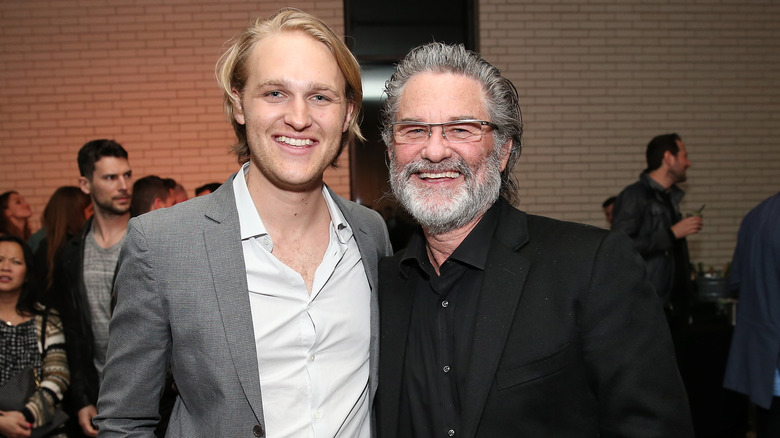 Neilson Barnard/Getty Images
Wyatt Russell is the only biological child of Goldie Hawn and Kurt Russell. He was born on July 10, 1986, making him the youngest in the family.
He has also pursued a career in the entertainment industry, showing up in movies like "Everybody Wants Some!!" and starring in series like "Lodge 49" and "The Falcon and the Winter Soldier." As a baby, he had an uncredited role in his mom and dad's movie "Overboard," and as a kid, he popped up in "Escape From L.A." But perhaps best of all, he and his father both play Army officer Lee Shaw (with Wyatt playing the younger version) in the 2023 Apple TV+ series "Monarch: Legacy of Monsters."
Once upon a time, Kurt wanted to be a pro baseball player. Not unlike his father, Wyatt also hoped to be a professional athlete. However, an injury ended Wyatt's hockey career, which resulted in him pursuing acting, per the Boston Herald. "That was taken away from me, but I feel like it was fate, a godsend because I wasn't going anywhere in hockey," he told Times Colonist in 2018. "I was playing minor professional hockey in Europe, which is like you're not going anywhere." When he did switch to acting, he had both his parents to advise him on how to make it in the industry. As for what they told him? "Learn your lines. Show up on time. And don't be a jerk," he recalled.
Wyatt Russell has embraced fatherhood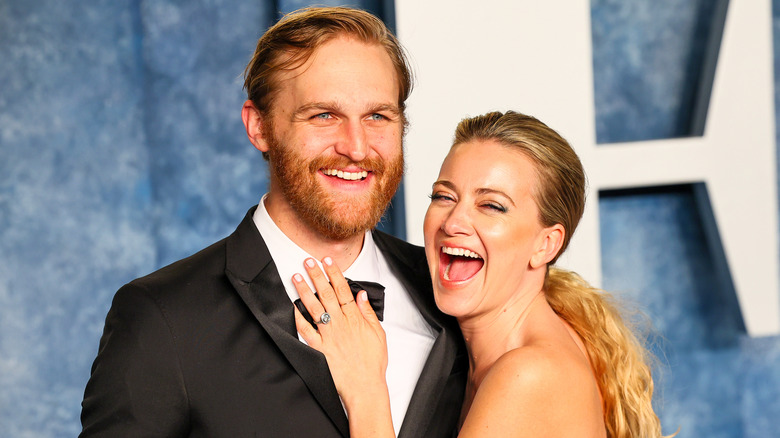 Leon Bennett/Getty Images
Wyatt Russell met his future wife, Meredith Hagner, on the set of 2016's "Folks Hero & Funny Guy." Wyatt and Hagner married in November 2019, and their next relationship milestone came in 2021 when they became parents to their son, Buddy Prine Russell.
Fatherhood has changed the "Under the Banner of Heaven" actor in many ways, and he couldn't be happier. "Biologically, I think it does something to your brain where you just erase half your life before you've lived there," he told ET in 2021. Wyatt also noted how, as a parent, the focus shifts to your child. "And now it's about him and your family and trying to balance everything," he said.
In the same interview, the star described fatherhood as being "incredible," adding, "It's everything you didn't know it was going to be." And as for his parents and their role as grandparents? He commented on the great relationship Goldie Hawn and Kurt Russell have with his child and shared that their nicknames are "Gogo and Gogi." Family is incredibly important to Hawn. "A good family is the answer to happiness," she told Women's Weekly (via Hello!). "I look at our kids and grandchildren, and there's nothing in the world that could make me as proud as I am of all of them."
Boston Russell didn't join the entertainment industry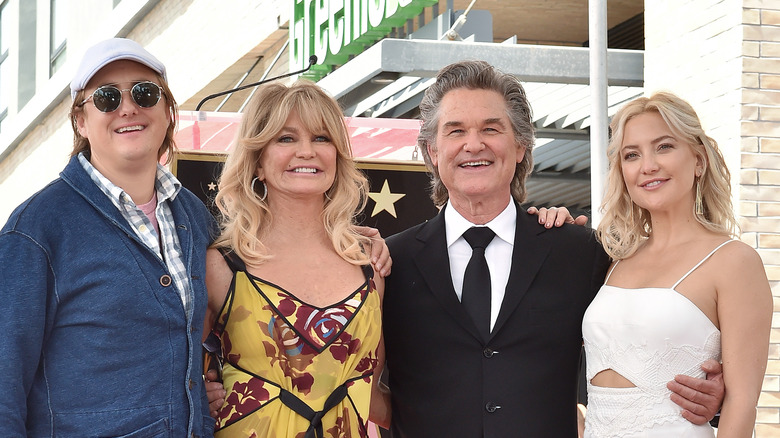 Axelle/bauer-griffin/Getty Images
Boston Russell is the son of Kurt Russell and his ex-wife, actor Season Hubley. He was born on February 16, 1980; Goldie Hawn has been in his life since he was 3 years old. Unlike the rest of Boston's family, he has chosen a path away from the limelight. There is very little information available about him, and the same goes for his relationship with his dad and stepmom.
While he prefers to keep under the radar, from time to time, Boston will show up alongside his A-list family members. He has been photographed alongside Kurt and Goldie Hawn at various events, including when they were honored on the Hollywood Walk of Fame.
Kate Hudson has said a bit about her stepbrother, all while respecting his privacy. "I remember the first time I ever saw Boston," she shared on an episode of the "Sibling Revelry" podcast. "It was the first time I remember Kurt talking about his son and I remember it was almost like, for me, it felt like such a big moment. It was like 'My mom is obviously madly in love with this guy,' and for me at the time it's like 'Is this going to be my dad?' and I was meeting his son which meant ... does this mean this is my brother?'" Suffice to say, Hudson was right to think it was a big moment for their family.