Whatever Happened To Patrick Duffy?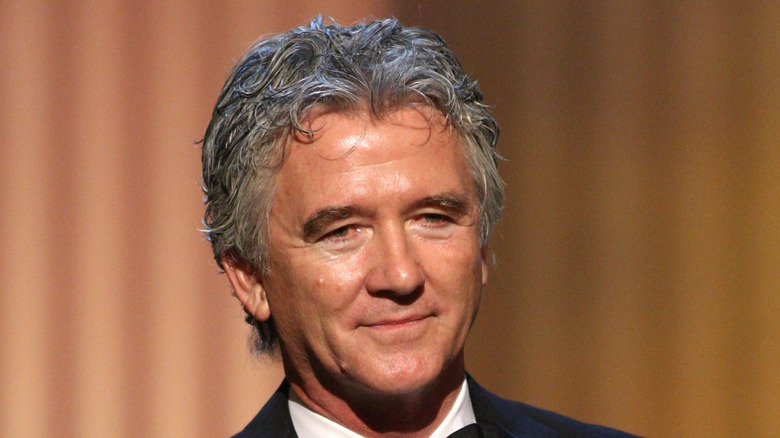 Getty Images
The old adage "When one door closes, another one opens" seems to have rung true for much of Patrick Duffy's career. It began with his first starring vehicle on TV, Man from Atlantis. The kitschy sci-fi series was canceled in 1978, which is the same year his second TV series, Dallas, premiered. "I thought maybe I'd never work again after Atlantis was canceled," Duffy told Huff Post, adding that Dallas was "a gift from heaven."
When the classic prime-time soap opera finally wrapped in 1991, Duffy made the transition that year from the dysfunctional Ewing family to the wholesome Lambert/Foster family on Step By Step without missing a beat. There would be no TV show waiting for Duffy right away after the TGIF sitcom ended in 1998, though. He followed that up with cameos and TV movies and wouldn't land his next steady TV gig until he joined the cast of daytime soap The Bold and the Beautiful from 2006 to 2011. Here's what Duffy has been up to since then.
Dallas forever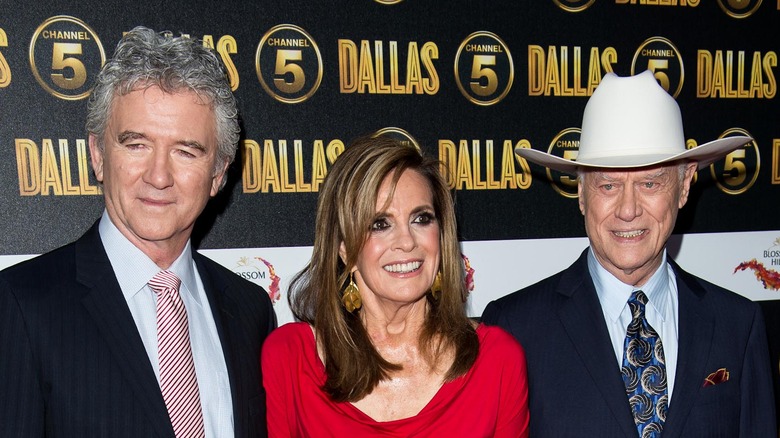 Getty Images
Dallas is the TV series that never seems to end. Following an impressive 14-season run, Dallas returned for two TV movies and a reunion special. And when reboots became the rage in Hollywood, Dallas naturally jumped on the bandwagon and reunited original cast members — including Duffy, Linda Grey and Larry Hagman — for another run in 2012.
"We never thought that we'd be back playing those characters again," Duffy told Parade, adding that getting back together with his old castmates on the Southfork Ranch "was the happiest that we've been as actors." That happiness would be short-lived, as Hagman passed away in 2012. And then in 2014, the reboot was canceled, which Duffy blamed on TNT's regime change. He admitted Hagman's death probably played a part as well, considering ratings dropped afterward. Oh well, it was nice to have the Ewing family back in our lives, even if only for three seasons.
Back in the director's chair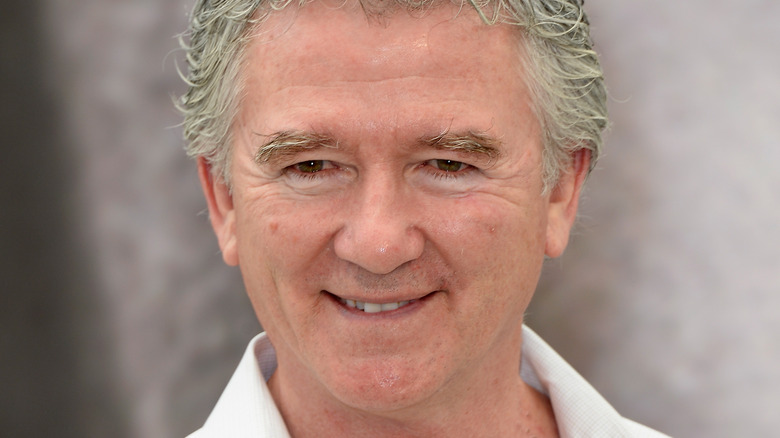 Getty Images
It's not enough for Duffy to just be an actor on a TV series. He has spent much of his career stepping behind the camera and directing those TV shows as well, including 29 episodes of the original Dallas and 41 episodes of Step By Step. That tradition continued on the Dallas reboot, where Duffy directed an episode in 2014.
Duffy admitted it wasn't easy jumping back into the director's chair after all that time away, what with all the changes in technology and the filmmaking process over the years. "I really did need two years of close observation to feel comfortable with this new method," he told the New York Post. But he seems to have gotten the hang of the process, considering he went on to direct four episodes of Major Crimes in 2016 and 2017 — an experience he said he was "loving" on Twitter.
Will there be a Step by Step reboot?
Once Boy Meets World and Full House were rebooted, it was only a matter of time before people started asking about Step By Step — also part of the TGIF family. Duffy initially seemed gung ho about the idea, telling Reddit readers in 2014 to "start writing letters" if they wanted a reboot. He added that he and co-star Suzanne Somers had discussed a reboot and "would be more than happy to resurrect the Lambert family" if the script was right.
His tune seems to have changed slightly since then, taking on a less optimistic tone. He told Worst Ever Podcast in 2018 he would do a reboot, but only if it made sense: "I would need to have the question 'Why?' answered. The whys generally are 'Because there's a ready made audience and because it'll be successful. That's not the why. The why has to be inherent in the writing and the premise of the show. And I can't think of a why. I don't forsee it happening." Sorry, Lambert-Foster family fans.
Scratching the author itch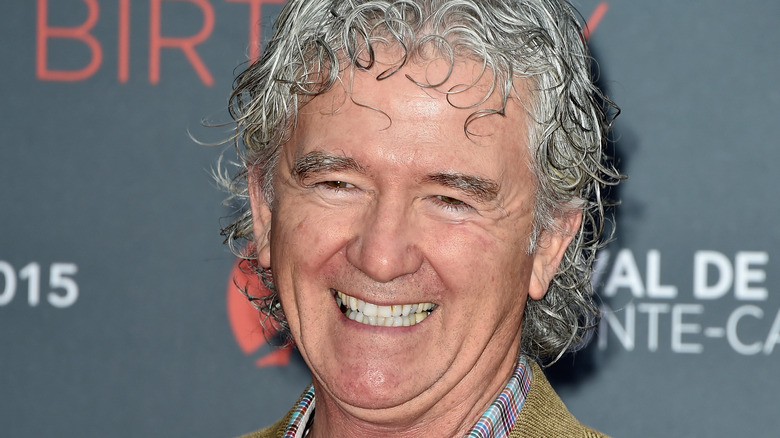 Getty Images
Rather than try to reboot Man from Atlantis, another TV show from his past, Duffy brought back the sci-fi series in novel form. The Man from Atlantis book was released in 2016, marking Duffy's debut as a novel writer. The book provides the backstory that the show never did for Duffy's character, Mark Harris.
By the sound of things, Duffy didn't just slap his name on a book written mostly by somebody else. These were his words and his story. "[I told the editor], 'If this thing fails, I want it to be all my fault, because I'll blame you if you help me and it fails.'" Duffy told Famous Monsters. The plan was for Duffy to write a trilogy, but he has yet to release a follow up. "If this one doesn't sell, that'll be the end of it," Duffy told Famous Monsters. "But I'm happy. It made me satisfied. It completed my idea of what the character of Mark Harris was supposed to be initially." 
Mini reunion better than no reunion
The closest thing we've had to a Step By Step reunion was a quirky storyline on Hollywood Darlings revolving around, well, a Step By Step reunion. The comedy series stars three child actresses from yesteryear playing an exaggerated version of themselves, including Step By Step alum Christine Lakin, only now they're all grown up. Picture Curb Your Enthusiasm for the now-grown up TGIF crowd.
In the 2017 episode, Lakin sets up a lunch with Step by Step co-stars Duffy and Staci Keanan in hopes of getting them to sign on for a reboot. The problem is Duffy and Keanan refuse to work with each other again. Keanan is convinced Duffy pranked her into thinking she was in a relationship with Luke Perry. Duffy denies it. Thus, the bad blood.
The irony of it all is that there does seem to be some truth to the comedic storyline, but not because of tension between Duffy and Keanan. Duffy told Lakin's Worst Ever Podcast that there are some Step by Step people he doesn't want to work with again. Who? He didn't name names, instead saying "You know who you are." Drama alert!
Mr. Christmas Man
Need a dad or father figure for a Christmas-themed TV episode or TV movie? Duffy is your guy. He was cast in two Hallmark holiday movies: The Christmas Cure in 2017 and Christmas with a View in 2018. "I'm turning into Mr. Christmas Man," Duffy joked on Twitter. And that was before he appeared on a 2018 episode of American Housewife, where he played one half of Katie's divorced parents who are begrudgingly reunited on Christmas.
Some might think Duffy is a big Christmas fan, but in reality it sounds like the holiday projects on his resume are more coincidental than anything. Duffy — who happens to be Buddhist, in case you're wondering — said there just aren't a ton of opportunities for actors his age. That's why Hallmark movies make sense for him. Duffy told Soap Opera Digest that Hallmark is "a go-to place, especially at this age of an actor's life" and credited the network for realizing "that actors who are in their late 50s, 60s and 70s are still viable."
The moment his heart stopped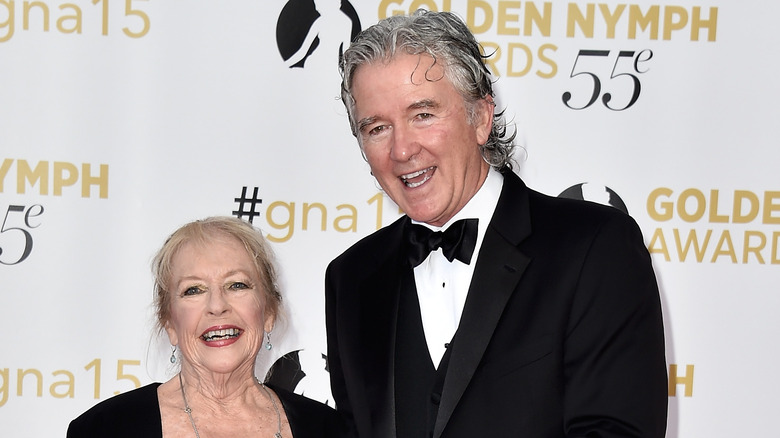 Getty Images
Duffy's wife of 43 years, Carlyn Rosser, who he said made him "the happiest man on the planet," sadly passed away in 2017. After spending much of his career gushing about his wife and their marriage in interviews, Duffy has revealed little publicly about Rosser's death. The happy couple met on a tour bus when he was a narrator in a dance troupe's school performances and she was a ballerina, according to his interview with the Irish Independent. He was 22 at the time and she was 10 years his senior. But it wasn't exactly a fairytale courting, as Rosser had been married for 13 years at that point.
Eventually one marriage would end and another would begin, and Duffy and Rosser would go on to enjoy what sounded like the happiest of marriages. "On this day 6 months ago my heart stopped yet I live on as she wishes," Duffy tweeted half a year after Rosser's death. "We will be together eternally."
There's something different about him...
The clean-cut curly-mopped Duffy from his Step By Step days has been replaced with an almost unrecognizable version. And we're not just saying that because he's gone grey and grew facial hair. While most men tend to lose their hair the older they get due to male pattern baldness, Duffy has gone in the opposite direction — growing his hair longer hair than ever. It's such a drastic change that his 'do made headlines when he appeared on a German TV show in 2018.
From the looks of things, Duffy usually keeps his mane tied back in a ponytail when making public appearances, probably because the alternative isn't very camera-friendly. He told Worst Ever Podcast "Now when my hair is down, I look like Nic Nolte's [mug shot]." Nobody wants to see that, so the ponytail look is probably a good call. We'll eventually get used to it.
The simple life
Duffy lives a long way from Hollywood and that's just how he likes it. When he isn't filming or directing the occasional TV episode or TV movie, Duffy can usually be found on his 600-acre ranch near Medford, Oregon, where he's been enjoying a quieter life since leaving Los Angeles around the turn of the century. It's the kind of place where you'll find elk and wild turkeys roaming around undisturbed and salmon and steelhead swimming in the river outback.
Obviously, maintaining a ranch is a lot of work, so Duffy has a ranch manager helping him. But he likes to get his hands dirty and contribute where he can, including the carpentry tasks. He told the Telegraph he'll also work in his garden and go fishing down by the river during the day and in the evening he cooks dinner using whatever vegetables he picked and salmon he caught. You don't see a whole lot of that in LA.
Taking the plunge
When Duffy was growing up in Townsend, Montana, his parents owned a bar called The Owl that was connected to their apartment. Duffy recalled drunk patrons accidentally walking into their apartment when looking for the bathroom — but apparently the experience didn't scar him too much because he followed in their footsteps and opened a bar with his son and daughter-in-law in LA.
The Plunge opened in 2018 and is part of the five-theater complex known as the The Broadwater, which is also owned by Duffy and is home to his son's theater company. As a nod to Duffy's parents' bar in Montana, The Plunge offers cocktails named after patrons from The Owl. The tributes don't end there. The 900-square-foot Plunge also features a photo of Duffy's wife — who he called "the patron of the bar" on the Worst Ever Podcast and who was in the process of researching decor for the place when she passed — on a shelf in the center of the bar: "She's kind of hovering all the time." 
He put prized possessions up for sale
Duffy credited his late wife Carlyn Rosser for his love of fine art. He told the Hollywood Reporter she opened his eyes and introduced him to art beyond just acting: "She was the one who took me out of buying college bookstore poster art and taught me to realize the effect art can have on you." Together they amassed an impressive art collection — one that he said Dallas paid for — during their 40-plus years together. But following Rosser's death in 2017, Duffy decided it was time to sell much of the collection.
It wasn't easy. He told the Hollywood Reporter  "It breaks my heart to not have it available on a daily basis." But the way he sees it, it was time for someone else to enjoy the collection just as much as he and Rosser did: "We have it temporarily. And after we're gone, somebody else will experience it. I'm joyful that it's going to have a new home."