How Joey Fatone Really Felt About Justin Timberlake Dropping NSYNC To Go Solo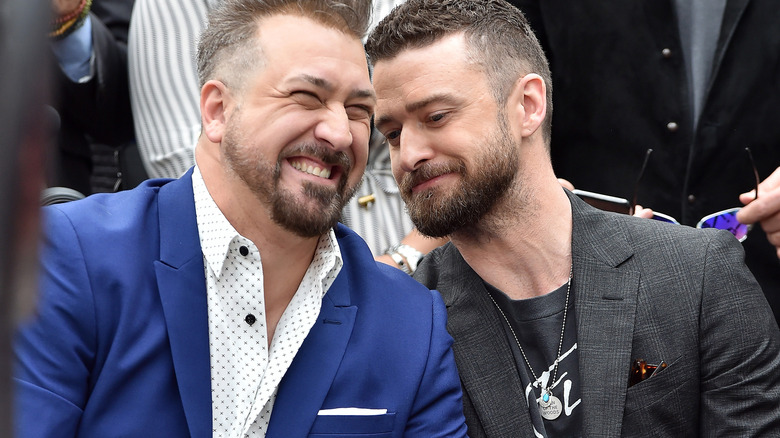 Axelle/bauer-griffin/Getty Images
When NSYNC's debut self-titled album was released in the U.S. on March 24, 1998, the five-man band stole the hearts of many. The group, consisting of Chris Kirkpatrick, JC Chasez, Justin Timberlake, Lance Bass, and Joey Fatone, landed the fifth best-selling album of that year and achieved a diamond certification on January 5, 2000. When their sophomore project, "No Strings Attached," rolled around on March 21, 2000, it shot to No. 1, selling a staggering 1.2 million units on the first day. Within a week, sales had doubled. However, after 2001's album, "Celebrity," things began to change. Therefore, when Timberlake made the decision to leave the group in 2002, fans were presumably devastated.
When Timberlake released "Justified" on November 5, 2002, it offered a fresh spin on his pop sound, leaning more into R&B. The album debuted at No. 2 on the Billboard 200, proving that Timberlake was a force all on his own. With his massive commercial success, including a Grammy award for Best Pop Vocal Album, Timberlake was not looking back. This left Fatone with several thoughts about his friend's solo endeavors.
Joey Fatone thought Justin Timberlake would be returning to the group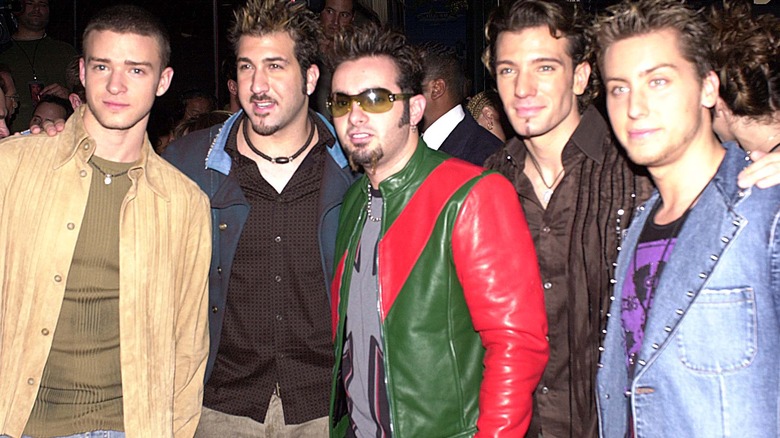 Jeff Kravitz/Getty Images
Joey Fatone was happy for Justin Timberlake's new ventures. In fact, even though fans were surprised about Timberlake branching out with his music, Fatone was not completely caught off guard by the move. During a recent chat with Yahoo Entertainment, he shared that he and the rest of NSYNC were under the impression that Timberlake would record a few tracks and return to his group duties. However, miscommunication seemingly left NSYNC not knowing the full extent of the singer's plans.
"I was not blindsided by the breakup; I was more blindsided as far as him coming out with music and not knowing that he was going to go and do an actual album/tour thing," Fatone revealed in the October 2023 interview. "It was more of, 'Hey, I'm going to do some music, and then we'll get back together.' That's what that was."
As for Timberlake's take on the split, he admitted to The Hollywood Reporter in 2017 that he had become tired of band life, sharing, "I was growing out of it." He'd also felt that musically, he was more dedicated than some of his bandmates. NSYNC never announced a formal separation. Instead, in 2002, they said they were taking some time off, and the men of NSYNC began exploring other opportunities. Despite such an abrupt ending, NSYNC's remaining members have supported Timberlake.
NSYNC members have always showed love to Timberlake's solo projects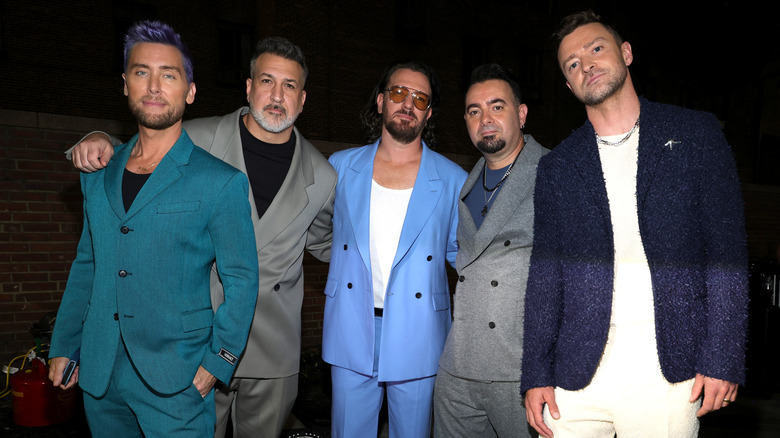 Kevin Mazur/Getty Images
In the case of other band splits, there is often some bad blood. However, NSYNC's stars have always been supportive of Justin Timberlake. Even when Joey Fatone and Lance Bass weren't given invites to his October 2012 wedding to actor Jessica Biel, they had nothing but good things to say about Timberlake. In April 2019, when NSYNC performed at Coachella alongside Ariana Grande, Fatone defended Timberlake's absence. The "Dancing With the Stars" told TMZ that while he wanted to be there with his group, he was wrapping up his tour and couldn't make the rehearsals for the festival performance. In April 2020, Lance Bass also told Andy Cohen during a virtual episode of "Watch What Happens Live" that the men remain close, even having regular Zoom "happy hours" during lockdown measures.
These days, NSYNC is toying around with the idea of performing together once again. This possibility seemed to grow legs when all five members were together on stage at the 2023 MTV Video Music Awards, where they presented Taylor Swift with the Best Pop Award in September 2023. The following month, they released their first NSYNC in two decades, titled "Better Place" for the "Trolls Band Together" soundtrack. Whether or not a full reunion album is on the horizon remains to be seen, though all members seem more open to the idea than ever before.