Sylvester Stallone Has A Massive Age Gap With His Wife Jennifer Flavin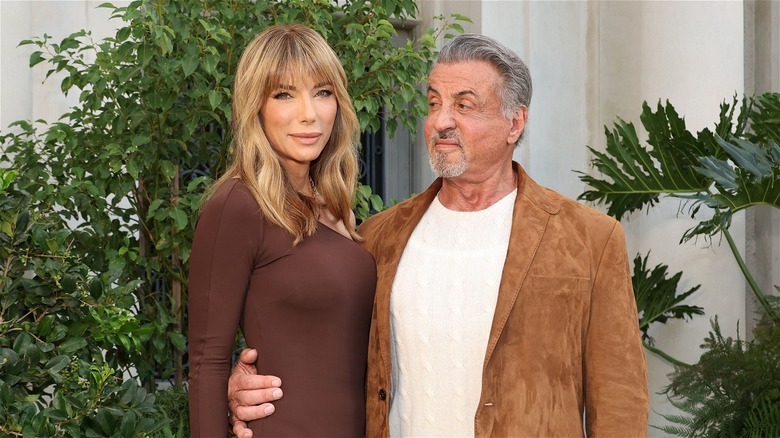 Amy Sussman/Getty Images
After his previous two marriages fell apart, one with actor Sasha Czack and the other with his "Rocky IV" co-star Brigitte Nielsen, Sylvester Stallone finally found the one in his current wife, Jennifer Flavin. Their paths first crossed in 1988, when Flavin was just 19 years old. Their massive age gap didn't stop them from getting into a relationship, but it got off to a decidedly rocky start. The couple initially broke up in the early 1990s due to an affair Stallone was having with supermodel Janice Dickinson. 
After finding out Dickinson had given birth to what he believed was his daughter, he sent Flavin "a six-page handwritten letter" informing her that he was leaving her, which Flavin shared with People in 1994. Just two years prior, Flavin told the outlet, "I'm not naive about what may go on when I'm not around — he's a 45-year-old man — I can't change the way he is." 
She sure couldn't change Stallone's wandering eye. However, as Dickinson confirmed in her autobiography, "No Lifeguard On Duty," the child didn't turn out to be his (via The Mirror). Stallone promptly left her upon finding out, mere weeks after she gave birth. By 1995, he and Flavin had reconciled, and despite their huge age difference, they tied the knot in 1997.
Their 23-year age gap affected their marriage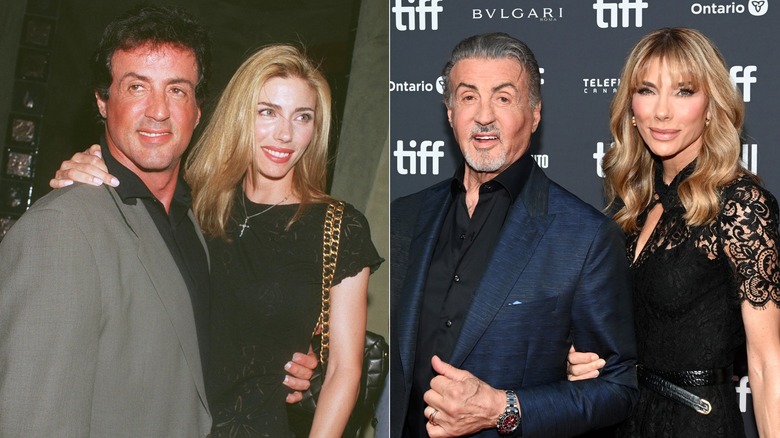 Ryan Emberley/Getty & Denny Keeler/Getty Images
After welcoming three daughters and having a seemingly great marriage, Jennifer Flavin decided to call it quits in 2022. "I'm sad to announce that after 25 years of marriage, I have filed for divorce from my husband, Sylvester Stallone," she shared in a statement to People, throwing the "older spouse calls the shots" age gap myth into the wind. According to a source close to the family, their 23-year age difference caught up with them. The insider revealed that the two "are very different people, age-wise and in temperament," (via People). They continued, "What was once exciting and challenging is now routine and irritating." 
The couple had reportedly been dealing with lingering issues for years, prompting Flavin's desire for separation. However, history repeated itself, and the couple rekindled their romance a month later, as Page Six confirmed. During their time apart, Stallone covered two of his tattoos dedicated to Flavin, replacing one, of her face, with Butkus, his late bullmastiff featured in the first two "Rocky" movies, and the other, of her eyes, with a leopard's face, per the Daily Mail.
Despite the action star's impulsive decision, the couple's representative clarified, "They decided to meet back up at home, where they talked and were able to work out their differences." Prior to their official announcement calling off the divorce, Stallone shared a photo of him and Flavin holding hands on Instagram, captioned simply, "Wonderful."
Stallone is now a devoted family man
After a month-long separation from Jennifer Flavin, Sylvester Stallone claims to have undergone a significant shift in perspective. Speaking with Entertainment Tonight, the "Creed" star shared insights into the experience and outlined the changes he'd made to do better in the future. Stallone admitted, "I used to have my priorities all screwed up; you know, work came first, and eventually, I came out of that delusional thinking, and [now] they come first." 
The actor might need to reconsider his famous quote about men being better fathers and partners after the age of 50 and perhaps adjust the number to around 70. In an interview with USA Today, Stallone emphasized that he is a changed man and expressed his commitment to not putting his wife and daughters on standby in favor of his career. He also praised Flavin as both a partner and a mother, asserting that their relationship has never been in a better place.
The Stallone family embarked on their Paramount+ reality show, aptly titled "The Family Stallone," in May 2023. Stallone mentioned to The Hollywood Reporter that since the show was already in production when Flavin filed for divorce, the unfolding situation and its aftermath would be featured. As he reasoned, "What you will see is the real truth."