We're Counting On A Lauren And Sheila Showdown As Tracey E. Bregman Crosses Over To B&B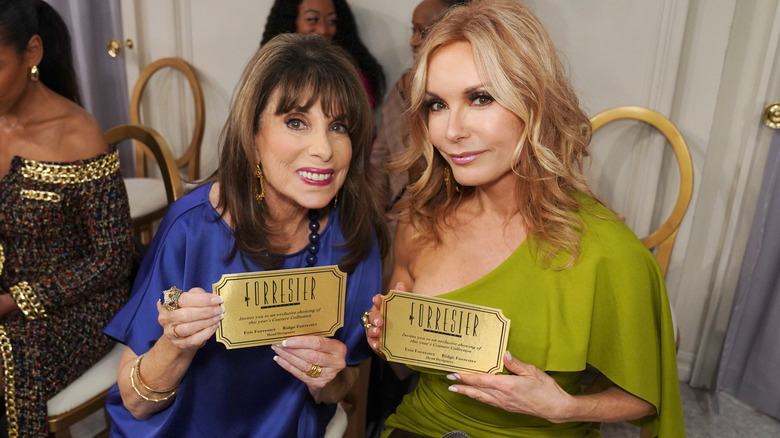 Stephane Cardinale - Corbis/Getty Images
Sheila Carter (Kimberlin Brown) has been serving up a new reign of terror since returning to "The Bold and the Beautiful" in 2021. Her latest rampage against the citizens of Los Angeles has included shooting her son John Finnegan (Tanner Novlan) and his wife Steffy Forrester (Jacqueline MacInnes Wood), tampering with an alcoholic beverage to make Brooke Logan (Katherine Kelly Lang) relapse, and running Li Finnegan (Naomi Matsuda) off the road. 
Thanks to Deacon Sharpe (Sean Kanan), Sheila's free and clear to start her life over, and she's ready to do so with Deacon firmly by her side. Deacon proposed to Sheila, and while she was reluctant at first, she ultimately agreed to marry him. With Forrester Creations having a fashion showdown coming up between Eric Forrester (John McCook) and Ridge Forrester (Thorsten Kaye), Sheila's bitter enemy, Lauren Fenmore (Tracey E. Bregman), is popping in for a surprise visit. While normally a fixture on "The Young and the Restless," Lauren — joined by Esther Valentine (Kate Linder) —  is making the trip from Genoa City to Los Angeles for the fashion event, and the special crossover is likely only for a handful of episodes, so there's only a small window for she and Sheila to interact. 
If there's anyone who can help shut down Sheila's changed-woman act, it's Lauren. She knows more than anyone what Sheila's capable of and a faceoff between the two is needed. "Bold" shouldn't ignore the pair's history, because it's what viewers demand. 

If you or anyone you know needs help with addiction issues, help is available. Visit the Substance Abuse and Mental Health Services Administration website or contact SAMHSA's National Helpline at 1-800-662-HELP (4357).
Viewers are clamoring for an encounter between Sheila and Lauren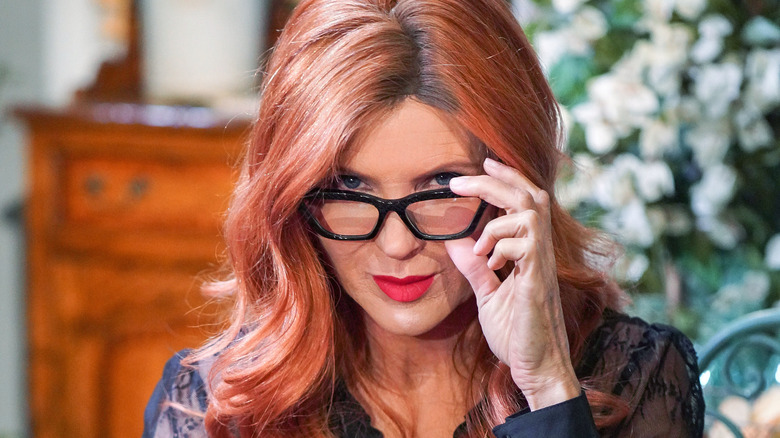 Lauren Fenmore (Tracey E. Bregman) may only be in town for a pop-in visit to support the Forrester fashion show, but it would be a disservice to viewers if she didn't cross paths with Sheila Carter (Kimberlin Brown). Their hatred for one another began on "The Young and the Restless" several decades ago, and things were left on uncertain terms. Sheila was eventually presumed dead, but with her now alive and well in Los Angeles, surely Lauren should have some type of visceral reaction to it. If Lauren attends the fashion show without some type of discussion about Sheila or a face-to-face encounter, it would be one of the biggest wasted opportunities in "The Bold and the Beautiful" history. 
Viewers have flocked to social media in full agreement that something between Sheila and Lauren needs to go down while the latter's in town. One viewer tweeted, "I'm looking forward to seeing what Lauren is going to bring. Her & Sheila running into each other what be great to watch." Another echoed that sentiment, writing, "I hope Sheila sees Lauren and it snaps her out of this nicey-nice poop platter she has been serving lately. And I know Lauren has been itching for a rematch. I'll pray about it lol." 
It remains to be seen if the characters will actually interact, but it's definitely a conflict for which the fans are yearning. Sheila's being poised for redemption, but Lauren is the perfect person to remind everyone of Sheila's memorable and menacing moments.