The Bold And The Beautiful Fans Choose Sheila's Memorable And Menacing Moments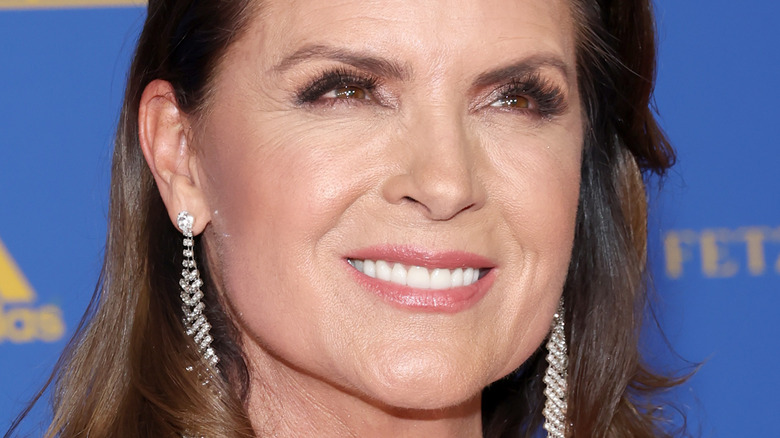 Amy Sussman/Getty Images
"The Bold and the Beautiful" hasn't had a villain like Sheila Carter (Kimberlin Brown) in many years. Because she's someone who doesn't take no for an answer, she decided to take her revenge on Brooke Logan (Katherine Kelly Lang) when she tried to block her from seeing her grandson, Hayes. Sheila proceeded to swap out Brooke's non-alcoholic champagne for the real kind which prompted her to fall off the wagon, according to Soap Opera Spy. If that weren't enough, Sheila was also hellbent on getting rid of Steffy Forrester but ended up shooting her own son Dr. John 'Finn' Finnegan (Tanner Novlan) instead (via Soaps Spoilers). 
For Sheila's portrayer, Kimberlin Brown, it certainly has been a wild ride during the short time she's been back in this fictional town of Los Angeles. Back in 2021, Brown told Soap Opera Digest that despite all the acclaim she gets for her role, there is a downside to playing a soap villain. She recalled a time when a "The Bold and the Beautiful" fan actually thought she was her character Sheila while waiting for her layover flight at a Texas airport. The disgruntled fan began hitting her with a newspaper until the actor said, "'I'm Kimberlin. I play the part of Sheila. It's nice to meet you,' and then she was very embarrassed, and her girlfriends were embarrassed for her, but it was pretty funny."
That said, many fans have taken to social media to choose some of Sheila's most unforgettable moments.
Sheila and all her bad and ugly sides
When it comes to Sheila Carter and her reign of terror, there's no doubt that fans have seen the good, the bad, and the downright ugly. However, there were some villainous moments that seem to stand out more than others. When "The Bold and the Beautiful" shared a highlights reel of some of Sheila's most epic moments on Twitter, fans sure had a lot to say about it. Some had commented, "I will always remember the Brooke/Taylor shooting. I was young (probably 10) when that happened and it blew my mind. I've been watching B&B since I was 8. So almost 30 yrs. Bring it on Sheila. I don't think we've seen the last of her." Another shared, "Sheila Carter giving the residents of LA., one final 'middle toe' as her final good-bye message was hilarious. Now seeing her painting her toenails black makes perfect sense."
Another fan wrote, "Remember when she set the house on fire with Lauren in it and I think her mother?" Clearly, she makes being bad look so good, right? With that said, we have a feeling that her work isn't over yet, as even some fans are convinced that Sheila Carter will never, ever really be dead.