Hallmark's Eric Winter And Roselyn Sanchez Had Marital Spats On Set Of A Taste Of Summer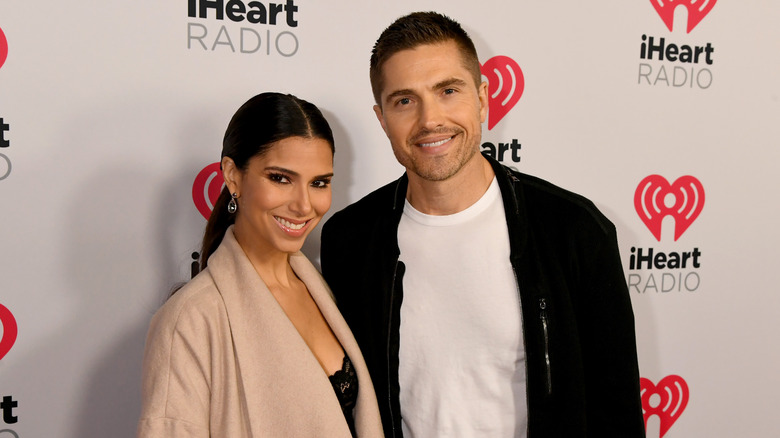 Jeff Kravitz/Getty Images
Popular Hallmark Channel movies tend to be about on-screen romance and mischief, but sometimes these sentiments translate into behind-the-scenes action. At least that was the case for husband-and-wife duo and podcasting pair Eric Winter and Roselyn Sanchez, who worked together on the 2019 flick "A Taste of Summer." 
According to the couple, their different working styles led to some disagreements on set. As Winter explained on the "Watch With Us" podcast (via US Weekly), his on-set antics led to the more serious Sanchez getting frustrated with him at work. "I was looking at her like, 'Why do you look like you want to kill me? We're working together, we're supposed to be falling in love!'"
Sanchez is a singer-songwriter, model, and actor known for TV shows like "Without a Trace" and "Devious Housemaids," as well as films like "Rush Hour 2" and "Act of Valor." You'll likely recognize Eric Winter from his stint as Rex Brady on "The Days of Our Lives" or his recurring role in "The Rookie." In "A Taste of Summer," the couple stars as Gabby Ferrar, a big-city sous chef who moves to a small Massachusetts town to start her own business, and Caleb Delaney, a small-town restaurant owner and single father. The two find themselves as business and competition rivals when both restaurants enter to compete in the town's Taste of Summer Food Festival. 
The actors found that they worked very differently on set
Eric Winter has worked with his wife Roselyn Sanchez in the past, serving as a producer on a film she performed in, but Hallmark's "A Taste of Summer" marks the first time that the married couple acted alongside one another. Experiencing this first together, the duo learned that they had pretty different approaches to acting, which led to his wife's annoyance with him. 
"We actually have different styles where I'm joking around a lot and goofy on set and I like to get people laughing and she's more focused and serious at times, which we would tease each other about," Winter told Parade. The duo admits they enjoyed working together, but these different working styles caused some on-set strife.
When talking to Debbie Matenopoulos and Cameron Mathison on Hallmark's "Home & Family," the two explained that Sanchez got onto her husband about his unprofessional demeanor, which ultimately got him and the crew in trouble. "A producer complained that the crew was being way too loud and laughing too hard," she said. "And it's all because of this one."
Despite their differences, the two enjoyed working together
Though they definitely differed on the set of "A Taste of Summer," real-life couple Roselyn Sanchez and Eric Winter shared that they had a great time working together on the Hallmark flick. "It was the first time we worked together so it was a fun experience," Winter told Parade, adding that the dynamic between Gabby and Caleb was pretty similar to his and Sanchez's real-life banter.
In addition to it being the first time they acted together, the collaborative roles were important to the couple in another significant way. "We never really planned on acting together unless it was something very special," Sanchez shared with Media Village. She added, "Then this came along and we thought, 'You know what? This would be something to sit down and watch as a family without freaking out that the material wouldn't be suitable.'"
As they have two children together, Sanchez and Winter found that the Hallmark movie was something their entire family could enjoy. In this way, "A Taste of Summer" was definitely a family affair, with Winter telling Parade, "It was just great being able to work together and having the family all together in Vancouver."