Princess Charlene Lives An Incredibly Lavish Life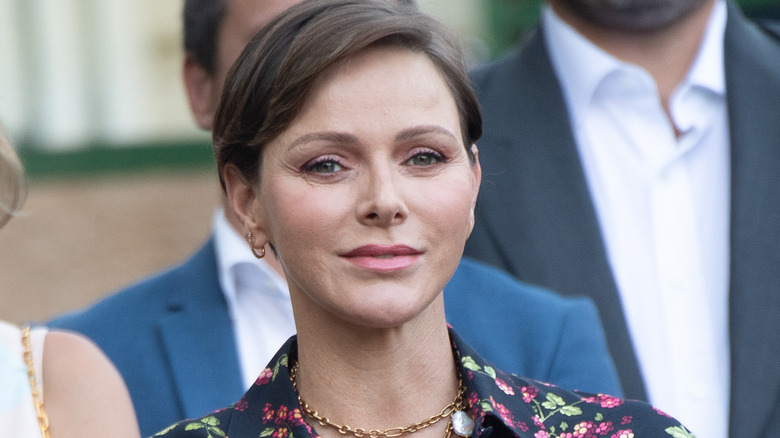 Sc Pool - Corbis/Getty Images
Princess Charlene of Monaco is known for being all kinds of glam. The Zimbabwe-born royal wears gorgeous designer clothes, carries the cutest clutches, and have you seen her tiaras? Interestingly, though, Charlene's life has not always been so glitzy. Unlike royals such as Sarah Ferguson and Princess Diana — who were already born into elite European circles — Charlene's parents are far from being rich. In fact, growing up, Charlene was very middle class. Her father, Michael Wittstock, sold photocopiers, while her mother, Lynette Wittstock, made a living as a swimming instructor.
Unfortunately, though, this was not enough to make ends meet. When the family moved to South Africa, they couldn't afford to live in a safe neighborhood. As Charlene revealed in an interview for The Sunday Times, "I worry about them a lot. I worry about the fact that people break into the house and they've been robbed many times. There have been a lot of killings on our street. If you're not from a very wealthy background — and we are from a very lower middle-class income — you can't afford to live in a secure area." Reflecting on the possibility of changing these circumstances, she added, "But they wouldn't have it any other way."
Nowadays, Charlene's lifestyle is nothing like the instability of her youth. She dances at galas, organizes charity events, and hands out prizes at the Grand Prix. From mingling with celebrities to traveling by private jet, Charlene lives in the lap of luxury.
Even before becoming a princess, Charlene rubbed shoulders with the rich and famous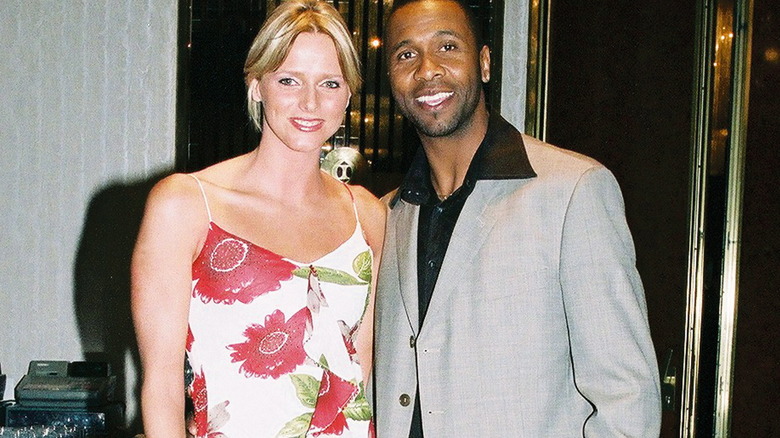 Media24/gallo Images/Getty Images
Girl meets prince, gets swept off her feet, and is immersed in a glittering royal lifestyle. When talking about Princess Charlene's relationship with Prince Albert, it might be easy to believe this cliché narrative. However, the truth is that Charlene was rubbing shoulders with some pretty big names before she knew of Albert.
Prior to meeting the prince, Charlene was a professional swimmer — but she wasn't just any swimmer. For years, she held the position of the fastest freestyler in South Africa. Following the 2002 Short Course World Championships, Charlene held the position of the sixth-fastest backstroker in the world. Because of her athletic prowess, the future princess was allowed to enter some pretty elite social circles. As explained in the biography, "Charlene: In Search of a Princess," by royal expert, Arlene Prinsloo, Charlene had some deep conversations with the likes of Nelson Mandela. Apparently, the former president "urged Charlene to use her talents and return to the swimming pool" after she suffered a health-related setback. He would later advise her again on coping with the media.
As a result, by the time Albert asked her on a date in 2000, Charlene was used to being around prominent people. According to Charlene's old trainer, Dean Prince, nobody in the swimming community blinked an eye when she began dating the prince. As he told Prinsloo for her book, "These things happen, and you just carry on."
When she married Prince Albert, Charlene got some serious bling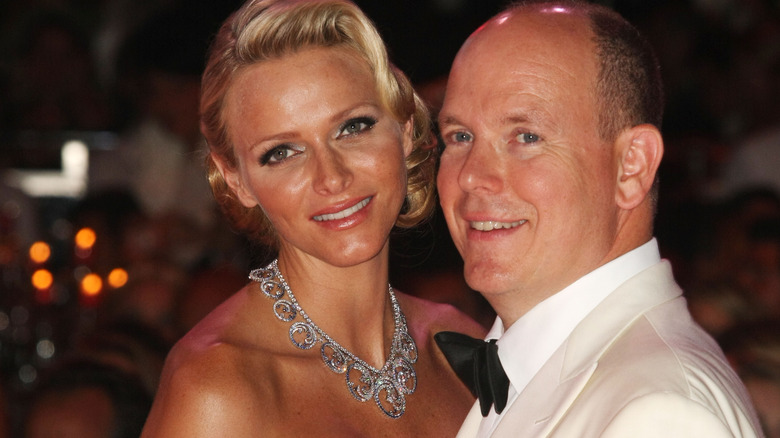 Pool Barson/Getty Images
When Prince Albert and Princess Charlene tied the knot in 2011, the royal bride found herself in a whole new world. If Charlene experienced aspects of the high life during her swimming career, she got to enjoy even more luxuries as a princess. One of the biggest perks of becoming a princely consort was receiving bespoke jewelry.
Indeed, in celebration of their nuptials, Albert gave his bride several custom-made pieces. Chief among these was the Van Cleef and Arpels Ocean Tiara, which can also be worn as a necklace. Made of diamonds and sapphires, this piece tries to reflect the multi-colored nature of the waters that surround Monaco. Because of this, The Beau Monde notes, the Ocean Tiara combines 1,200 stones of various different shades. The piece's crown jewel, so to speak, is a four-carat diamond nestled into the center of the design. As if that wasn't opulent enough, the tiara came with a matching set of Ocean Earrings.
Naturally, these were far from being the only pieces that Albert bestowed upon Charlene. The princess also received the Infinite Cascade Necklace, which was designed by Tabbah Jewellery's Nagib Tabbah. According to The Court Jeweler, the necklace was created using 1,237 diamonds, as well as six pearls. Like the Ocean Tiara, the Infinite Cascade Necklace resembles the smooth flow of water. Considering Charlene's past as a swimmer, these lavish gifts seem especially apropos.
Charlene moved into the historic Prince's Palace of Monaco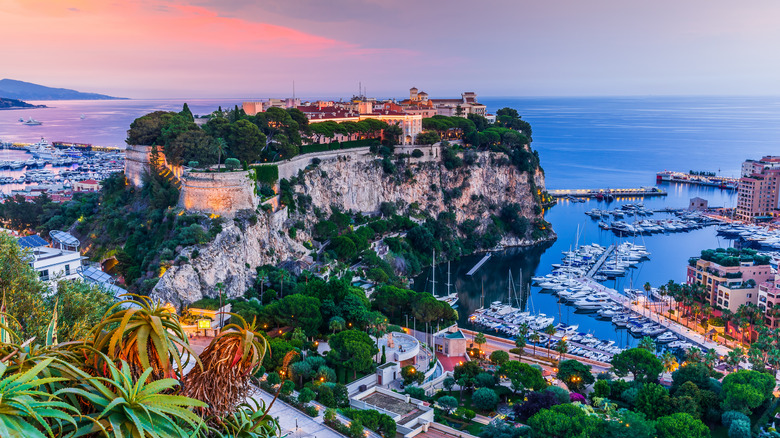 SCStock/Shutterstock
Following her wedding, Princess Charlene moved into the famous Prince's Palace of Monaco. Perched on a rock overlooking the Mediterranean Sea, this stunning historical structure provides its residents with panoramic water views. The palace offers luxuries such as a 17th-century marble staircase and a courtyard painted with magnificent images of flowers and cherubs. While maids keep the palace in tip-top shape, butlers stay on top of the princely family's day-to-day tasks. The palace even comes with a team of private chefs who are available to whip up gourmet meals for the royal family. On the chance that the family is in the mood for wine, they only need to turn to the residence's legendary cellar — which is believed to contain a whopping 1,500 bottles. Of course, like all royal brides, Charlene was not expected to just accept the palace as it was. Instead, she was asked to renovate her new home to appeal to her tastes. As Prince Albert told People, "As far as decorating the apartments, I've had some input of course, but I've let my wife decide things."
However, in 2021, reports emerged that the princess was living in a separate residence from her husband. First, it was reported by the Daily Mail that she was residing in an apartment in Monaco above an old chocolate shop but in 2023 it was rumored she was living in Switzerland, according to another report by the Daily Mail.
Charlene enjoys formal dinners on the regular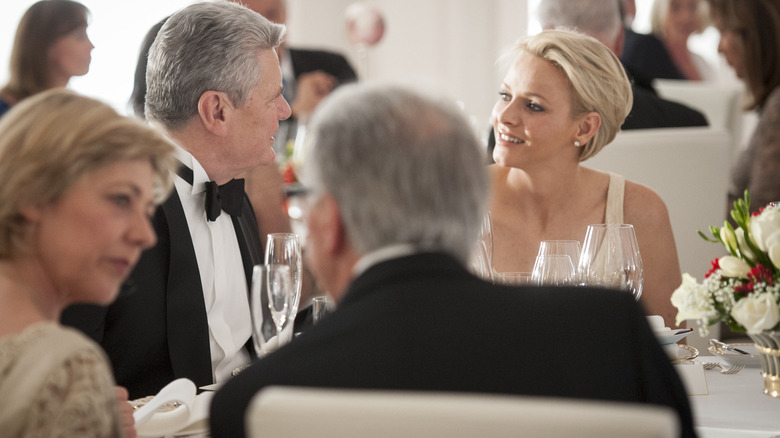 Pool/Getty Images
It's no secret that Princess Charlene's royal role involves wining and dining with some of the world's wealthiest people. But, when she's at home, some royal fans might expect her to indulge in boxed pizza or Chinese takeout, like the rest of us. As it turns out, though, Charlene's tastebuds do not get much of a break. 
As explained in the book, "Charlene: In Search of a Princess" by Arlene Prinsloo, the Monégasque royals are expected to attend a formal meal at the palace every day. From what we can tell, the process is terribly traditional. The dinner menu is first announced on a printed menu. Then, it's served on what Prinsloo described as "silver platters embossed with the family crest." Reflecting on this culture, the biographer observed, "It is in this world — where fine dining is the standard — that Charlene has had to become comfortable."
Just because Charlene has had to adapt to the formality of the royal dinner table, however, does not mean that she doesn't get a say in what she eats. As royal cookbook author, Véronique André, revealed in an interview with Le Journal Des Femmes, "Prince Albert, like Princess Charlene, is very careful about what he eats ... Princess Charlene sees the menus [for approval] with him." Apparently, Charlene's favorite dishes include "fresh fruits and mixed fresh fruit juices." She is also said to maintain a passion for South African cuisine.
She holidays at a retreat redesigned for Grace Kelly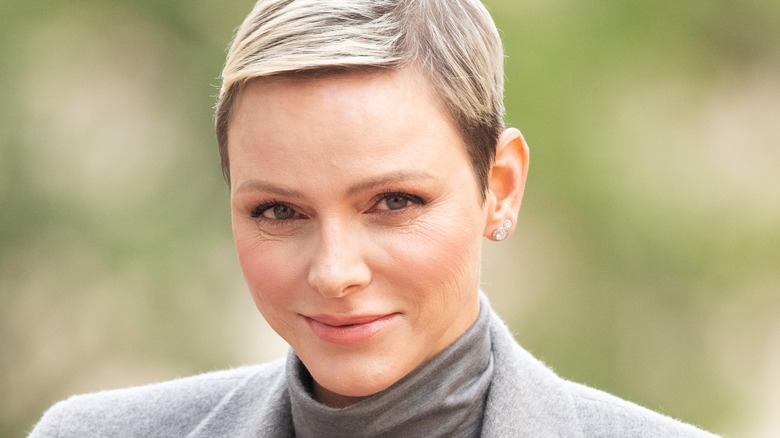 Pls Pool/Getty Images
In 1957, Prince Albert's parents, Prince Rainier and Princess Grace Kelly, purchased an estate called Roc Agel on the French Riviera. The property was not exactly turnkey — it needed a lot of renovations — but Rainier and Grace thought it would be the perfect place to unwind and be themselves. For Grace, especially, this meant jumping back into the daily activities that she used to do before she was a royal. As Rainier would later tell journalist, Jeffrey Robinson, for his book, "Grace of Monaco: The True Story," the Hollywood actress "used to like to cook breakfast for the family." Because of this, the kitchen was redesigned with Grace in mind. Moreover, Rainier was sure to import the necessary pieces for the American kitchen of his wife's dreams.
These days, Grace and Rainier are long gone, but Roc Agel lives on. Albert and Princess Charlene have continued the tradition of spending time at the family-owned estate — and even consume the food produced on its grounds. In a conversation with People, Albert revealed that the estate is home to 12 Jersey cows, which produce "a sufficient amount of milk for the family and there's some for the palace staff." The Grimaldi family has also been known to visit Roc Agel for important family events. In 2020, Albert and Charlene held their twins' sixth birthday party at the dreamy old estate.
The princess became a fashion icon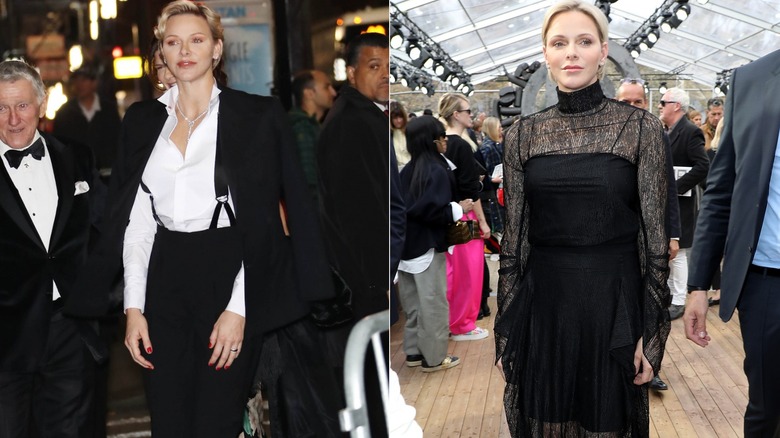 JNI/Star Max/GC Images & Pierre Suu/Getty Images
Falling in love with a prince may be easy, but learning how to dress like a princess is something else entirely. Shortly before her wedding, Princess Charlene opened up about the challenges of selecting palace-appropriate attire, telling Vogue, "Finding my fashion feet has certainly been the biggest challenge." 
That being said, Charlene became a fashion icon, wearing gorgeous designer gowns and becoming friends with Giorgio Armani. In a separate article in Vogue, Armani described his friendship with the princess. "I first met Charlene in the autumn of 2006, and I was immediately struck by her beauty and her elegance — made more appealing by her innate kindness. The first time she wore my dresses was at the Beijing Olympics in the summer of 2008. Since then, we have struck up a close bond of friendship and understanding, based on mutual respect." As a designer, Armani said that his favorite part of working with Charlene is the natural sense of self-assuredness that she brings to the table, "Dressing her is such a pleasure — she knows how to wear my creations with the nonchalance and confidence of youth."
Beyond Charlene's friendship with Armani and wearing outfits by Versace, Dior, and Louis Vuitton, she's also engaged with other lesser-known designers. Ever the proud South African, the princess often sports designs by Durban-based creative Terrence Bray. Furthermore, the South China Morning Post reported that Charlene spent more on clothes in 2022 than Princess Catherine or Meghan Markle.
Rumor has it that Charlene has had a lot of cosmetic procedures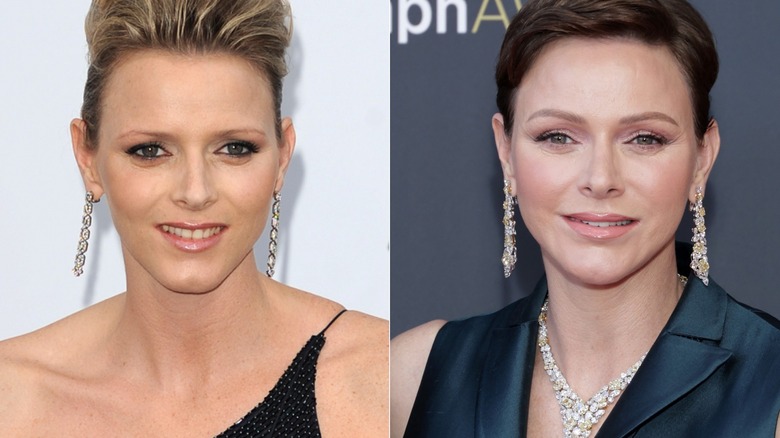 Pascal Le Segretain/Getty Images & Anthony Harvey/Getty Images
High fashion might not be the only thing that keeps Princess Charlene looking good. Throughout Le Rocher, there are whispers the Monégasque royal is no stranger to plastic surgery. In the biography, "Charlene: In Search of a Princess," Arlene Prinsloo noted that, shortly after the royal wedding, "Rumors were also starting to circulate that the princess-to-be had had a bit of a nip and tuck to perfect her looks." Apparently, it has been speculated that Charlene also had "a breast augmentation, a nose job, lip enhancement, and Botox." While all this might seem like nothing more than gossip, Prinsloo says that, in Monaco, these procedures are more common than you might think. As the royal expert explained, plastic surgery is "not unusual in the new society Charlene had entered."
Of course, there is a dark side to getting work done — mainly the media attention that comes with it. In 2021, when Charlene was hospitalized with a severe ear, nose, and throat infection, the European tabloids buzzed with the possibility that the princess was trying to hide botched plastic surgery. This was particularly true after Spanish royal expert, Pilar Eyre, took to her personal blog, Lecturas, with the unverified rumor that Charlene had just undergone a procedure gone wrong in Dubai. At the time, however, Prince Albert denounced these whispers, telling People that his wife's issues weren't "related to plastic surgery or facial work at all."
She stayed at a pricey health facility in Switzerland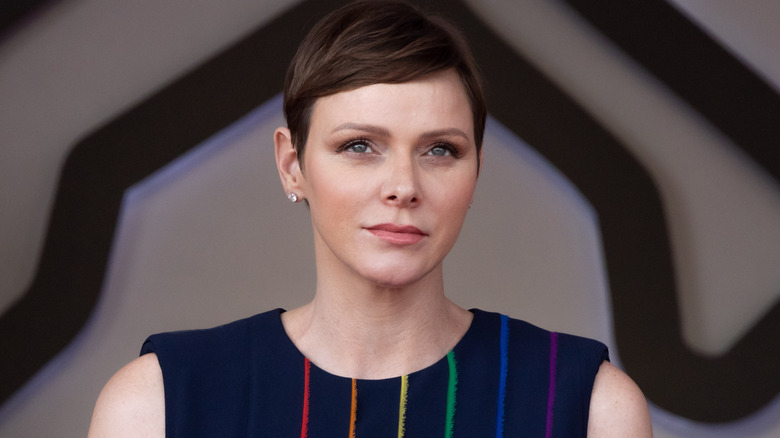 Arnold Jerocki/Getty Images
Regardless of what caused Princess Charlene's mysterious ear, nose, and throat infection, one thing is clear — the former Olympian suffered tremendously during the recovery.  At the time, a close friend of the princess reportedly told Page Six, "She has not been able to eat solid food in over six months because of all the surgeries she has since gone through." The source also revealed, "She almost died in South Africa."
Although this experience was most likely very unpleasant for Charlene, she did have the privilege of recovering in one of the most beautiful clinics in the world. According to an investigative report by the Daily Mail, the princess spent four months healing at Clinic Les Alpes — a luxurious health facility nestled in the snowcapped mountains of Switzerland. There, Charlene would have been able to take advantage of top-notch psychologists, freshly-made organic meals, and panoramic views of Lake Geneva. 
In her free time, the princess likely participated in one of the institution's many relaxing activities. These include reading in the British-style library, meditating in the mountain-side Serenity Space, or taking it easy in the sauna. Charlene could have even brushed up on her backstroke in the clinic's gorgeous infinity pool, which has both indoor and outdoor portions. Naturally, though, all of these luxurious options came at a price. In 2021, when the princess was admitted to the health facility, the price for treatment was €43,000 per week.
The princess was invited to King Charles III's coronation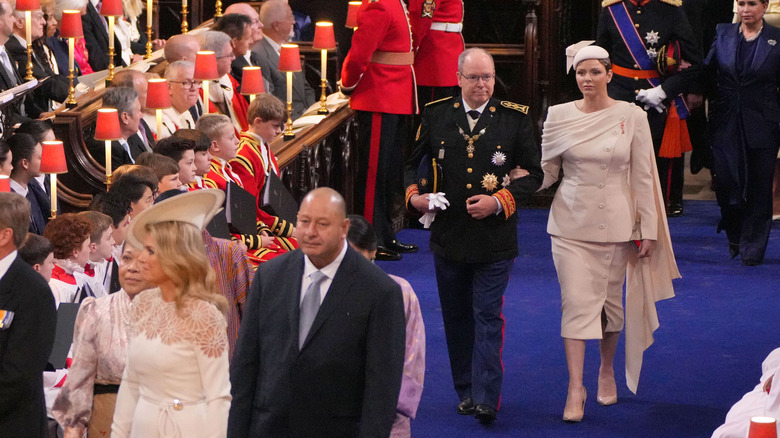 Wpa Pool/Getty Images
Princess Charlene might have struggled with her health issues for a while, but once she was feeling better, the Zimbabwe-born beauty was out and about. For Charlene, this has meant attending ultra-exclusive occasions, such as Monaco's annual Red Cross Ball and the Monte Carlo Grand Prix. However, even among all these enticing events, none was as momentous as the coronation of King Charles III.
Indeed, on May 6, 2023, Charlene walked into Westminster Abbey on Prince Albert's arm and sat among some of the world's most rich and famous to watch Charles wear his crown for the first time. For this exciting occasion, Charlene wore a neutral tan blazer that was held together by floral-patterned buttons made of pearls. In the spirit of subtlety, the princess opted for a pair of nude heels and a small hat of the same color. This relatively discreet outfit stood in stark contrast to the pantsuit Charlene had sported the evening before at the palace's reception for overseas guests. Surrounded by royals from across the globe, Charlene donned a blue pantsuit embroidered with sparkling beads. No stranger to a bit of bling, the princess brought her whole outfit together with a silver clutch and sandals, to match.
Prior to Charles' coronation, Albert hinted that the Grimaldis and Windsors remain close. Speaking to People about the upcoming event, Albert revealed, "We've maintained contact since His Majesty became King."
Charlene travels by yacht and private plane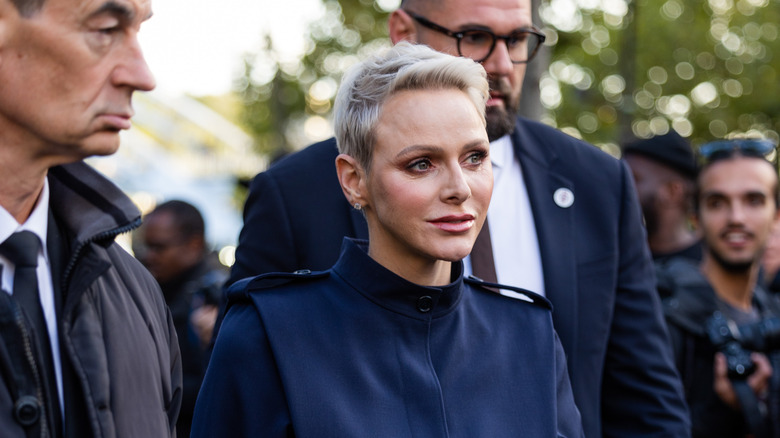 Christian Vierig/Getty Images
In order to perform her royal duties, Princess Charlene is expected to travel around the world, and as a member of the royal family, Charlene often does so in style. Over the years, the princess has relied on some pretty exclusive forms of transport to get from one country to another. This was especially evident in 2021 when she finally recovered from her ear, nose, and throat infection. 
At the time, Charlene needed to return to Le Rocher from South Africa — and didn't exactly fly commercial. As reported by the Mirror, the princess traveled as far as Nice by private jet. From there, she took a helicopter directly back to the Prince's Palace of Monaco. It's important to note, however, that Charlene does not only get to enjoy luxury travel when she's feeling down. During the summer, she also gets to go on vacation with Prince Albert and their twins, Princess Gabriella and Prince Jacques. 
In the past, the family has been known to enjoy yachting in the Mediterranean Sea. In 2023, the Daily Mail reported that they spent some time on a yacht belonging to the investor and tennis enthusiast, Bulat Utemuratov. Anchored off the coast of Corsica, this vessel allowed Charlene and her family to access some of the island's most paradisiacal beaches. There, the Grimaldis were spotted swimming in the ocean, stretching on the shore, and frolicking in the sand.