Julianne Hough's Ex-Husband Is Still Best Friends With Her Brother Derek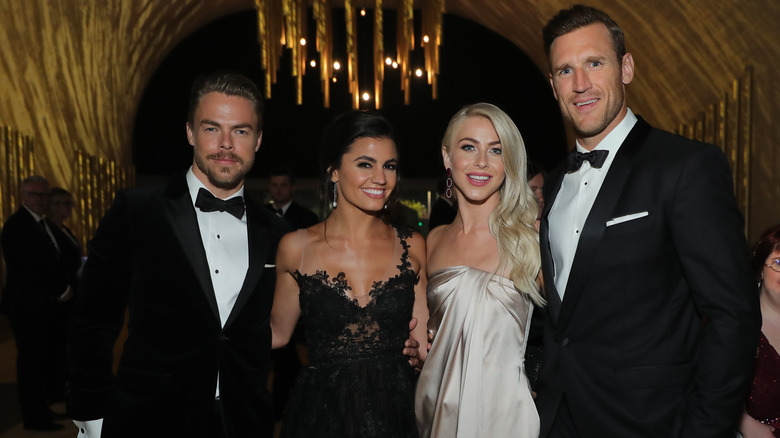 Neilson Barnard/Getty Images
Dance superstar Julianna Hough and Brooks Laich, a Canadian ice hockey player, were married from 2017 to November 2020 (with their divorce finalized in 2022). During their three-year marriage, it was clear that Julianne wasn't the only Hough with an affinity for Laich. Her brother, Derek Hough, struck up a lasting friendship with the professional athlete. Despite Julianne and Laich calling it quits, the bro-best friends aren't so eager to go their separate ways.
When a source revealed to Us Weekly that Derek wasn't planning to cut Laichs out of his life following the split and that he still felt brotherly toward both Julianne and his previous brother-in-law, he must have meant it because the boys are still thick as thieves. When Derek and Hayley Erbert shared their first kiss as husband and wife in August 2023,  Laich was standing next to Derek as a member of his groom's party. As is customary, Erbert chose her new sister-in-law, Julianne, to be one of her bridesmaids. The former Mr. and Mrs. Laich were seen posing for wedding photos, separated by almost every other member of the wedding party.
It was a very obvious indicator that Derek is still best friends with his sister's ex, but the wedding certainly wasn't the first time the ex-brothers-in-law had gotten together. 
Derek and Brooks regularly hang out
Derek Hough's wedding was only one occasion when he and Brooks Laich have been spotted hanging out. May 2020 may have brought the announcement of Laich and Julianne Hough's separation, but we also saw a heartfelt Instagram post by the athlete in celebration of Derek's birthday. Laich referred to Derek as his "bro" and referenced their adventures together before writing, "Thank you for being you, and the way you have touched my life — I am so grateful for all of it. Love you my man."
In June 2020, when Laich returned to Los Angeles after some time away, he and Derek got in some quality time. The hockey star shared a video to Instagram of himself and Derek, along with a few other friends, hitting the gym and facing off in a table tennis match (via People). A few days later, Laich was back at Derek's house with Hayley Erbert and some pals for another sweat session in honor of Laich's birthday, followed by another round of table tennis.
Of course, before his sister Julianne Hough and Laich broke up, Derek likely saw his pal much more. The "Dancing with the Stars" cast member and Brooks were spotted on a group vacation together in Los Cabos in November 2019. And what would a bromance be without a little picking on one another? In 2017, Derek photobombed Julianne and Laich in the most eccentric way possible by jumping in front of the camera during their first official appearance as a married couple.
How does Julianne feel about the friendship?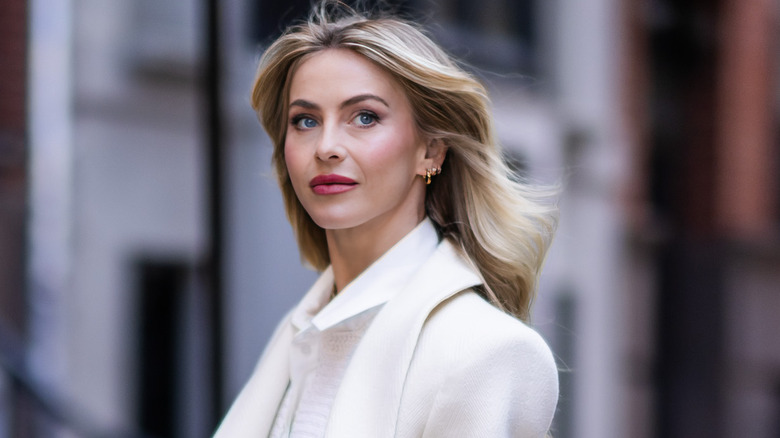 Gotham/Getty Images
In the beginning, Julianne Hough seemed over the moon that her then-husband, Brooks Laich, and brother, Derek Hough, were besties. "It's cool, the fact that my husband and my brother — who are the two most important men in my life — the fact that they get along and they actually push each other, you know?" she told Entertainment Tonight. She, too, referenced the guy's crazy adventures that Laich spoke about in his birthday post.
But post-divorce, Julianne isn't so enthusiastic. A source reportedly told OK! that Julianne "never asked Derek to take sides. But when her marriage ended she figured his friendship with Laich would as well." The source also divulged that Derek was apparently trying to smooth things over with his sister while maintaining his friendship, but Julianne still wasn't on board with Derek and Laich still hanging out.
As far as we know, there was no drama at Derek's wedding when Julianne and Laich were both in attendance. Both have moved on: Laich with Katrin Tanja Davíðsdóttir, an Icelandic Cross-fit athlete, and Julianne with her life in general, as a source told Entertainment Tonight in August 2023 that Julianne is not looking for a serious relationship and is enjoying being single. Hopefully, that means Derek can enjoy his friendship with Laich without animosity from his sister.