What Really Happened Behind The Scenes Of Roman And Marlena's First DAYS Wedding?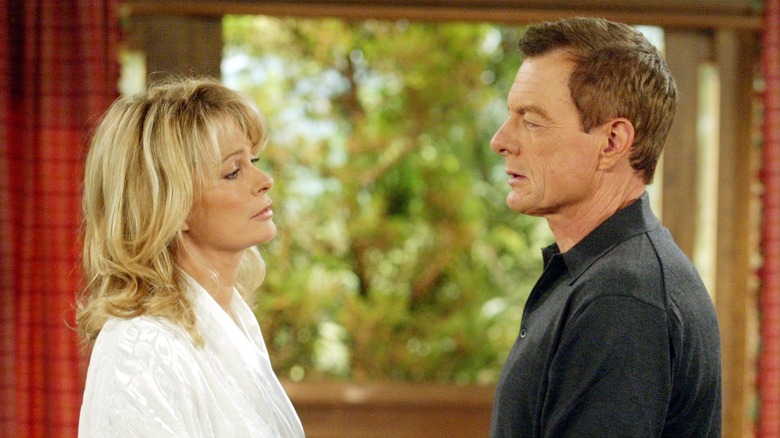 Paul Skipper/jpistudios.com
Roman Brady (previously Wayne Northrop and now Josh Taylor) and Marlena Evans (Deidre Hall) are two of the most beloved characters on "Days of Our Lives." Even though their relationship didn't work out, their friendship is a treat to watch on the soap. 
Marlena's been married various times during her stay in Salem, many of those times to the love of her life, John Black (Drake Hogestyn), but it was her wedding to Roman in the early 1980s that had some drama going on behind the camera.
Marlena and Roman first met when she was being stalked by the Salem Strangler and Roman was the detective on the case. He arrested the serial killer as he and Marlena fell in love. They got married, and it was hailed as one of Marlena's best weddings; however, behind the scenes, it was a different story. The actor who played Roman at the time, Wayne Northrop, was suffering from a rash caused by poison oak while they were filming the wedding scenes. Perhaps it wasn't such a happy affair after all.
Wayne Northrop was miserable throughout the wedding scene
A soap wedding can be quite extraordinary for two beloved characters, as having so many people come together to celebrate love and family on the soap is special. Roman Brady and Marlena Evans' first wedding was no different; in fact, it was a family affair on- and off-screen. Lynn Herring, the real-life wife of Wayne Northrop, had her parents as extras in the scene, and they were witness to what was really happening during filming.
Herring tweeted about her memories of the characters' big day on what would've been Roman and Marlena's wedding anniversary. "Fun facts, my real-life parents were extras at that wedding and Wayne had poison oak covering his neck under his collar and itched the whole wedding! @daysofourlives I hadn't joined @GeneralHospital yet so I was amazed with magical daytime TV weddings."
This story resonated with fans of the couple, many of whom responded to Herring's tweet. One tweeted, "The anecdotes! Thank you. My favorite wedding of all time on soaps and my goodness did I love this couple." Another one responded, "Cute. Thank you. The real Roman Brady! Wish he was still on DOOL."
Wayne Northrop was a troublemaker off-screen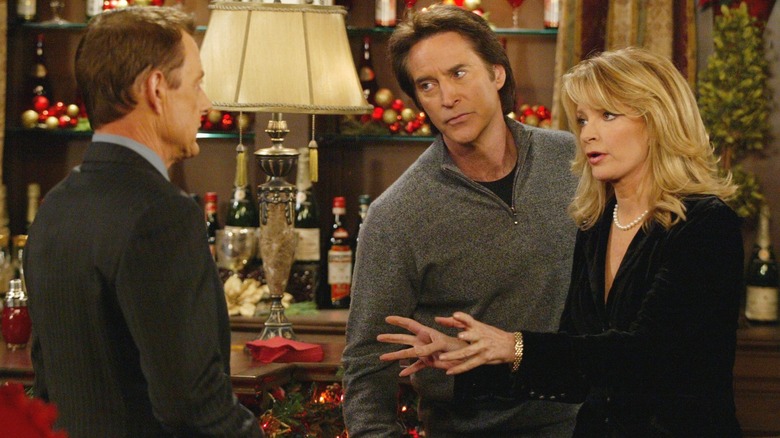 Aaron Montgomery/jpistudios.com
As fans of Roman Brady and Marlena Evans know, their relationship didn't quite work out in the end; Marlena's new love interest John Black was brainwashed to believe that he was Roman, and Marlena ended up falling in love with him. When the real Roman returned, she was caught in an epic love triangle. 
However, despite the drama unfolding on-screen, behind the scenes, their relationship couldn't be more different. In an interview with Soap Opera Digest, Drake Hogestyn and Deidre Hall recounted what it was like when Wayne Northrop returned to "Days" in 1991.
"He was a constant practical joker," Hall told the outlet. At one point, Wayne tied the dressing room doors together so I couldn't get out of my dressing room for a set call. I had to call the guard and have him cut me out of my dressing room!"
Hogestyn also recalled how well he and Northrop got along, even though their characters were fighting over the same woman on the soap. "We share a lot, and the more I got to know him, he could be a brother of mine, seriously. He has a great sense of humor," he said. It goes to show that everything is not what it seems, especially when it comes to soap operas.