A Look At The Complicated IRL Relationship Between Y&R's Courtney Hope & Mark Grossman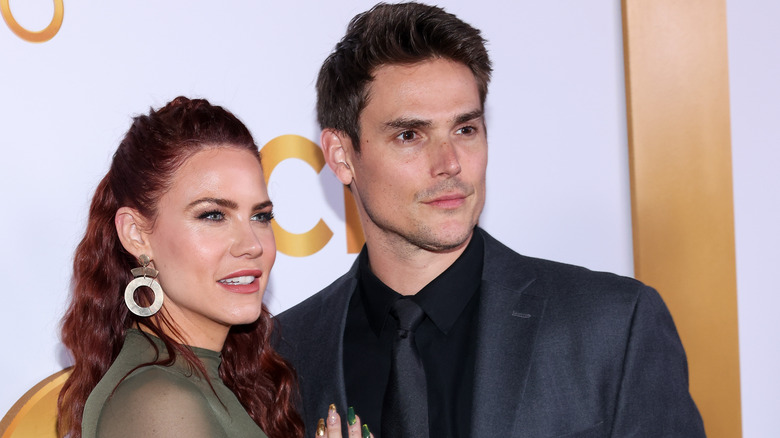 Victoria Sirakova/Getty Images
"The Young and the Restless" actors Courtney Hope (Sally Spectra) and Mark Grossman (Adam Newman) are two of the hottest stars in the daytime television world. Before she made her way to Genoa City, Sally was the resident villain on "The Bold and the Beautiful" (as detailed by Soaps in Depth), while Adam has a bad guy reputation on "Y&R," too. In 2021, Grossman told Soap Opera Digest that he definitely did his research on his character before he took up the role. He told the publication, "I think Adam is a great character because he's not a bad guy through and through. He's just prone to doing shady things but he has a lot of redeeming qualities, even though many people would still consider him a villain."
Well, with two very hot and single people sharing screen time together, it came as no surprise when Sally and Adam started to get up close and personal and shared their first kiss together back in 2021 (according to Soap Opera Spy). But it's Hope and Grossman's real-life relationship that has certainly turned some heads, too. The two actors managed to have such a quiet, off-the-radar romance that fans still don't know when they began it, or when they even broke things off for that matter.
Mark Grossman and Courtney Hope's whirlwind romance
"The Young and the Restless" co-stars Courtney Hope and Mark Grossman made their supposed 'Instagram Debut' in October of 2022. Even though Grossman had posted a group photo of a few cast members together, it didn't take long for his fans and followers to speculate on the status of their relationship in the comments section. Some couldn't help but wonder what happened to Grossman's relationship with Sharon Case, as neither one had said anything about their breakup. Some comments included, "What the heck happened to Mark and Sharon???" along with, "I liked Mark and Sharon together too! But I Guess it wasn't meant to be."
In December of that year, Hope and Grossman took a trip to Tulum, Mexico together. In February 2023, the couple also had a sexy date night at Barton G in Los Angeles, per Soap Spoiler, but Hope had mysteriously deleted all of the photos that Grossman was in soon after she posted it, prompting many fans to wonder if they had broken up. And to complicate matters even more, their on-screen characters, Sally Spectra and Adam Newman, had also split.
Mark Grossman and Courtney Hope are still friends
Both Courtney Hope and Mark Grossman have never made any public comments about their relationship or their apparent break up, but their Instagram pages seem to be doing all the talking for them. While Hope seemingly deleted all of the romantic date night photos she had of Grossman, that doesn't mean they still aren't good friends. After all, Grossman and Hope work together and see each other every day on the set of "The Young and the Restless." Hope even had words of praise for Grossman regarding the emotional scenes they've shared in front of the cameras as Sally Spectra and Adam Newman. Speaking about the moment Sally found out that she had lost her baby Ava, Hope told Soap Opera Digest in 2023, " I just think very highly of him as an actor and he's a really wonderful person, too. I knew our scenes would be very powerful, and I love how vulnerable he is as an actor. I love what he brings to the table."
That said, it doesn't seem like Sally and Adam's love story is over just yet, according to Soaps.com. With Sally telling Adam that she still loves him, you just never know if Hope and Grossman might do the same in real life, too.