A Look At Taylor Swift & Beyoncé's Superstar Friendship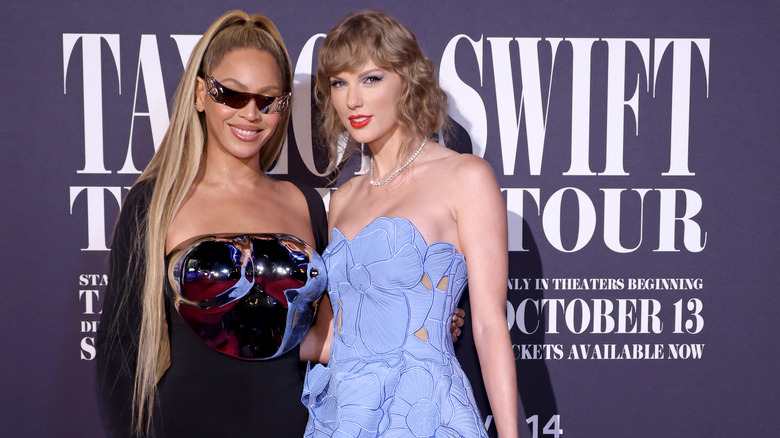 John Shearer/Getty Images
October 11, 2023, is a day that will go down in Swiftie history. To start, everyone was excited to see the "Taylor Swift: The Eras Tour" movie and relive a Swift concert. They were also happy to see so many of Swift's famous friends come out to support her. As the night progressed, they learned that the singer had cut out some fan-favorite performances from the tour, and they weren't too happy. But, just when they thought the night was over and they could get a peaceful night's sleep, Beyoncé showed up to the premiere and sent everyone spiraling. 
There were several reasons why her visit left fans stunned. As two of the most successful female artists around, people tend to pit them against each other. Beyoncé's own concert movie hits cinemas in December 2023, so for her to show up in support of her competitor's film was unprecedented. The "Halo" singer has garnered a reputation for being a homebody, and her appearance at the premiere cemented a friendship that has quietly thrived over a decade. 
Their love goes all the way back to the 2009 VMAs, which is sadly most well-known as the year Kanye West interrupted Swift during her acceptance speech. Though West spoiled Swift's big moment to show his support for Beyoncé, the "Break My Soul" singer didn't feel the love. While Swift and her mother cried about the incident backstage, so did Beyoncé. So, she took matters into her own hands when she received an award later in the night.
Taylor Swift is a massive Beyoncé fan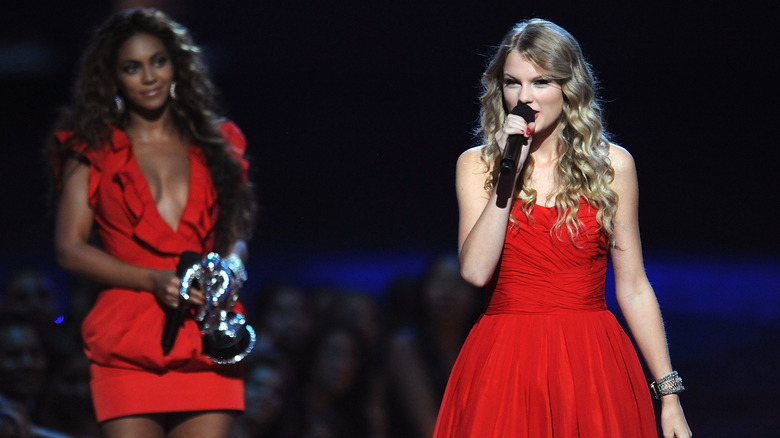 Kevin Mazur/Getty Images
After accepting her VMA, Beyoncé said, "I remember being 17 years old, up for my first MTV award with Destiny's Child and it was one of the most exciting moments of my life, so I would like for Taylor to come out and have her moment." As Taylor Swift walked on stage, the two hugged before the "Blank Space" singer took the mic. Later that night, Swift gushed about Beyoncé to reporters: "It was wonderful, incredibly classy, and gracious of her." The pop star added, "She's a great person and I really look up to her." 
In 2012, Swift and Beyoncé's paths crossed again at a Rodarte fashion show, and they shared a sweet hug. Beyoncé and Jay-Z later showed up to party at Swift's 25th star-studded birthday bash in 2015. The "Shake It Off" performer shared a snap from the night, featuring Beyoncé donning a pair of fluffy reindeer horns. Just two days after the party, she attended Justin Timberlake's concert alongside Beyoncé, Jay-Z, and HAIM. In typical Swift fashion, she was spotted dancing while the couple quietly vibed in the background. 
During Swift's 2015 appearance on Kiss FM UK (via E! News), she admitted to loving Beyoncé to a point that many people would find creepy, so she only publicly spoke about it to support the "Single Ladies" singer. Swift added that losing an award in Beyoncé's presence didn't upset her because she still got the privilege of seeing her again. 
Beyoncé is also incredibly supportive of Swift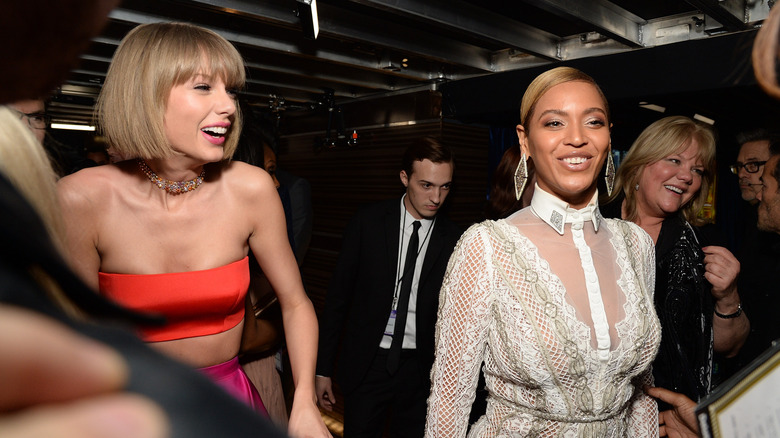 Michael Kovac/Getty Images
Taylor Swift's 2019 music video for "You Need To Calm Down" featured a drag queen dressed as Beyoncé to reference the lyric, "But we figured you out. We all got crowns," again solidifying their mutually respectful relationship. Both superstars had a great night at the 2021 Grammys as Swift took home the coveted Album Of The Year award for "Folklore," and Beyoncé bagged four awards, making her the most-awarded Grammy artist of all time. In fact, Swift's unbridled joy at Beyoncé's win was one of the highlights of the night. 
A few days later, Swift posted an Instagram Story to share that Beyoncé had sent her flowers and a sweet handwritten note to celebrate her win. In the letter, the "Partition" singer also thanked Swift for her unyielding support. Swift subsequently joined several A-listers to wish Beyoncé a happy birthday in a Harper's Bazaar video, enthusing, "The fact that you have paved the road that every female artist is walking down now. The fact that you've done so with such kindness and such grace. To say I admire you — there's just not a word for it." 
Unsurprisingly, the duo was spotted chatting and cheering each other on at the 2023 Grammys too. And, after Beyoncé appeared at "The Eras Tour" premiere, Swift shared an Instagram post where she gushed about the guiding light that is Beyoncé: "She's taught me and every artist out here to break rules and defy industry norms."