Brad Pitt Was Reportedly Worried Angelina Jolie Would Turn Their Daughter Vivienne Jolie-Pitt Against Him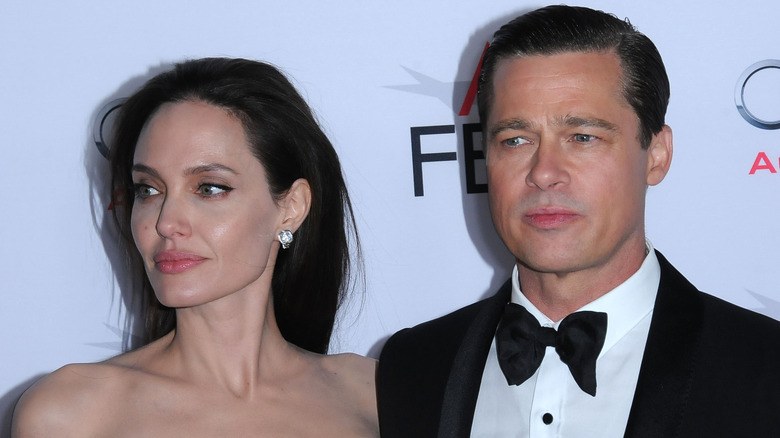 Barry King/Getty Images
There was certainly no shortage of drama surrounding Brad Pitt and Angelina Jolie's relationship and subsequent breakup. So, there's really no surprise that there's tension between the pair about how their six children are being raised. The couple's oldest son, Maddox Jolie-Pitt's recent on-set photo with his mom suggests there's a new film credit in his future. And, he isn't the only member of this former famous couple's brood who's joining the family business.
Brad and Angelina's 15-year-old daughter, Vivienne Jolie-Pitt, is transforming before their eyes. Including landing a job in August 2023 that gave her dad some serious pause: Vivienne was hired as Angelina's assistant. A musical adaptation of the famous S.E. Hinton novel and Francis Ford Coppola film "The Outsiders" is set to hit Broadway in spring 2024. Angelina is a lead producer on the project, and Vivienne is her second in command. Surely this is a dream job for any young person who's looking to get into show business in the future. But, it seems that Brad doesn't look at it that way. Rather than a great opportunity for Vivienne, he thinks that Angelina's choice to hire their daughter is yet another strategic move in the ex-couple's ongoing custody battle.
Brad Pitt and Angelina Jolie have different views about Vivienne Jolie-Pitt's job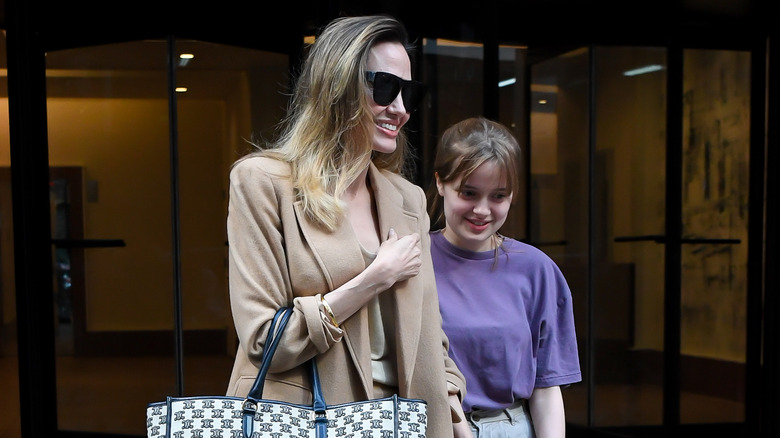 Robert Kamau/Getty Images
As far as Angelina Jolie is concerned, there's no better assistant for her upcoming Broadway show than her daughter, Vivienne Jolie-Pitt. Per Life & Style, in a statement, Angelina said, "Viv reminds me of my mother [Marcheline Bertrand] in that she isn't focused on being the center of attention, but in being a support to other creatives." She gushed about her daughter, saying, "She's very thoughtful and serious about theatre and working hard to best understand how to contribute." Angelina clearly wants to use her connections and career to help Vivienne follow her dreams and find her way in the world of theatre. Brad, on the other hand, believes that his ex is doing more than just helping Viv kickstart her future.
"He thinks this is just another attempt by Angie to drive a wedge between him and his daughter," a source told Life & Style, adding that "the situation has started a whole new war between Brad and Angie." The source explained that Brad "thinks this is just another attempt by Angie to drive a wedge between him and his daughter," saying, "It's no secret that Angie's always trying to make sure the kids are Team Mom. She's a master manipulator when it comes to the children taking sides." While the state of Vivienne's relationship with her dad is unclear, it seems that she did welcome the opportunity to work on Broadway with open arms.
The battle will continue between Brad Pitt and Angelina Jolie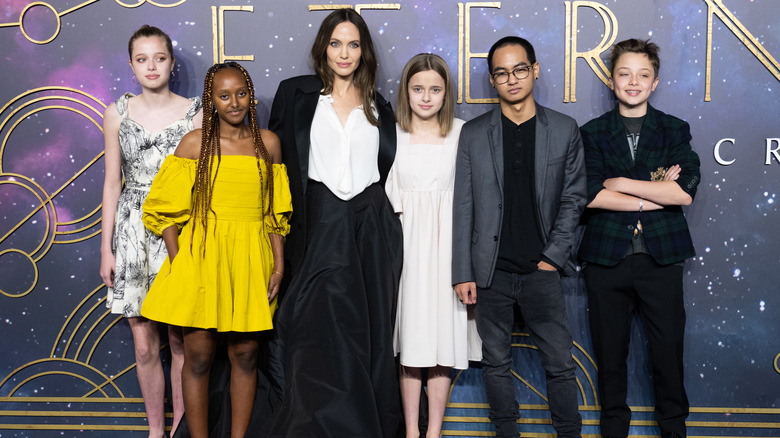 Samir Hussein/Getty Images
In 2023, Brad Pitt and Angelina Jolie's fight for custody still rages on. Yet, seven years after they filed for divorce, their children are growing up. Today, Maddox Jolie-Pitt is 22; Pax Thien Jolie-Pitt is 19; Zahara Marley Jolie-Pitt is 18; Shiloh Jolie-Pitt is 17, and twins Knox and Vivienne Jolie-Pitt, are 15. It's easy to see why perceived attempts on Angelina's part to turn Vivienne against her dad would upset Brad.
A source close to the family told Radar Online, "Angelina doesn't want to let her fight for sole custody go, but the children are growing up, and even they tell their mom it's time to stop," adding, "The kids are fine with Brad. With maybe the exception of Maddox, they all actually like him." So, while Brad's fears that his kids have turned against him may be unfounded and most of them are over 18, that doesn't mean that an end to the battle between Brad and Angelina is on the horizon. The source said, "The war is far from over," explaining that "Angie can't help herself. She still wants payback for Brad's part in ruining their marriage. Meanwhile, he has been sober and much more clearheaded about where they both went wrong, so he's refusing to back down anymore." While the Jolie-Pitt kids may be in the middle of one wild custody battle, it's clear that their futures are bright.