Who Is Steve Carell's Wife Nancy?
Steve Granitz/Getty Images
Steve and Nancy Carell are a Hollywood power couple that has quietly thrived for decades. At some point in the early 1990s, their paths crossed when Nancy attended an improv class that Steve taught. While Steve was her teacher, they kept things professional. But after his tenure ended, he would go to the bar where Nancy worked to try and chat her up, but things were quite awkward since they were both incredibly shy. 
In 2015, on "The Ellen DeGeneres Show," Steve recalled how they fell prey to a common flirting fail, and awkwardly talked to each other instead of just admitting their attraction. "The conversation would go something like, 'Hey, you know, if I were ever to ask a woman out, it would be someone like you. Exactly like you,'" he shared. "And she'd say, 'If a guy like you were ever to ask a woman like me out, I would definitely do that.'" 
Though Steve knew that Nancy was everything he wanted in a partner, he wasn't sure if she felt the same way because she would go so quiet around him. However, the "Office" star later learned that Nancy didn't want to scare him away with how much she liked him. Eventually, Nancy stopped beating around the bush, asked Steve out, and they finally started dating. After overcoming the hurdles of two shy people in a relationship, they tied the knot in 1995. But their collaborations didn't stop there. 
Nancy Carell is a comedian too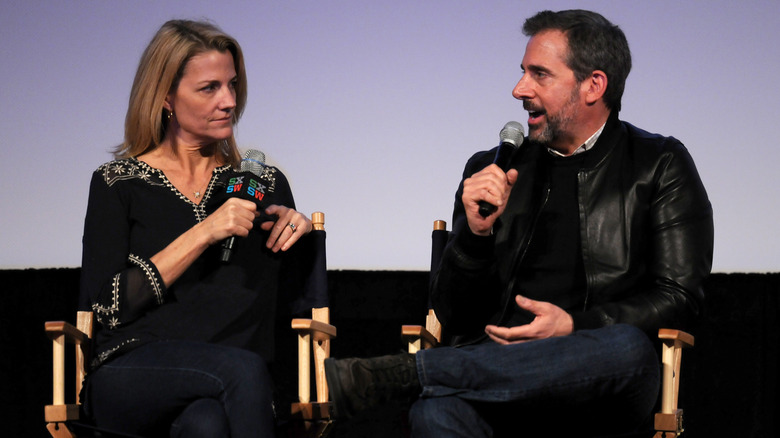 Alli Harvey/Getty Images
Nancy Carell got her big break with recurring roles in "Saturday Night Live." After brief appearances in comedy shows like "LateLine" and "Random Play," Nancy joined "The Daily Show with Jon Stewart" as a correspondent alongside Steve Carell. The couple worked on the show until 2005 when Steve left it all behind to play the iconic role of Michael Scott in "The Office." Fans of the show will already know that Nancy played the recurring role of Carol Stills.
In an episode of "The Office Ladies Podcast," Nancy recalled how she felt being a part of the show: "It was very fun, but it was nerve-racking, you know, because this is your established show. [Steve's] so good. I was just trying to maintain, you know what I mean? Like, I just didn't want to screw up royally." In another episode, castmate Angela Kinsey noted that Nancy was also nervous because she took a break from acting to focus on her children and was out of practice. 
However, Steve never doubted Nancy's comedic abilities. He told The Guardian, "My wife is way funnier than I am," adding, "As much as I don't really feel I share a sense of humor with my family, I definitely share one with her — we find the same things funny." Nancy briefly appeared in "The 40-Year-Old-Virgin," "Seeking a Friend for the End of the World," and "Bridesmaids." In 2009, she dabbled in voice acting by lending her talents to "The Goode Family Show." 
She co-created Angie Tribeca with Steve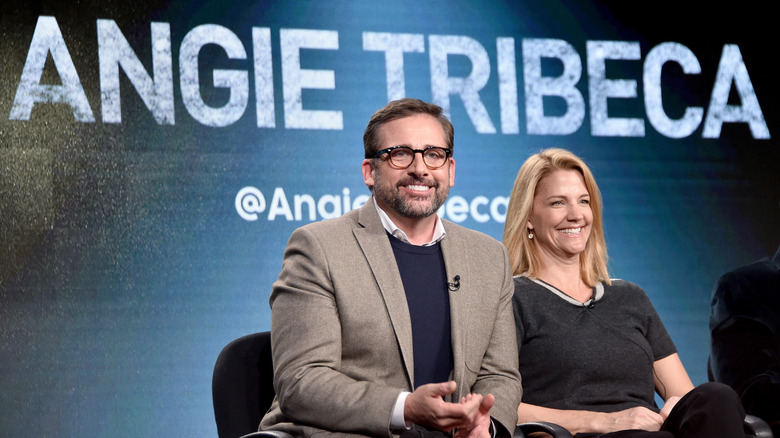 Mike Windle/Getty Images
In 2016, Nancy and Steve Carell co-created the sitcom "Angie Tribeca," which starred Rashida Jones in the titular role. Speaking to Entertainment Tonight, Steve explained that the show came about when they were trying to get a laugh out of each other. "[Nancy] makes me laugh more than anybody," he said. "We didn't start thinking we're going to write a show. We just came up with this name that was really dumb and it just kept making us laugh ... and the more we talked about it, the more it made us laugh." 
When the interviewer asked how they managed to work so well together as a couple, Steve joked that they were both sedated throughout the process, and Nancy jokingly claimed they split up to maintain the peace. She followed up by confirming that they were naturally compatible, though. During the premiere of "Date Night," Steve informed People that he keeps the spark alive in his marriage by doing mundane acts of service to show his wife he cares for her. 
Despite Steve's stunning net worth, the couple likes to keep things chill for their date nights. The "40-Year-Old-Virgin" star's perfect date involves some pizza and a reality TV show binge. Over the years, Nancy has often shown up to support Steve at major award shows. He asserted that after a star-studded night out, the couple unwinds by changing into comfy clothes and having a burger. Steve and Nancy share two children; their son, John, and daughter, Elisabeth Anne.