Signs Travis Kelce's Ex Kayla Nicole Has Bad Blood With Taylor Swift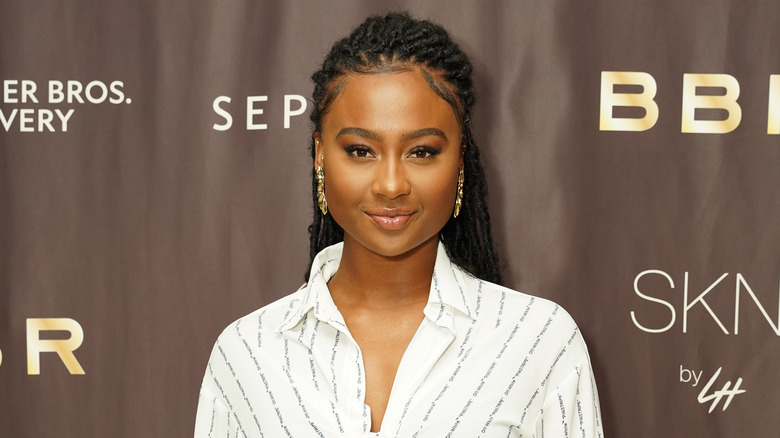 Gonzalo Marroquin/Getty Images
Ever since football player Travis Kelce spoke about attending an Eras Tour concert on his podcast, rumors about a potential romance between him and music legend Taylor Swift have been running wild. Things certainly seem to be heating up between the pair, as they've been spotted getting cozy during a Kansas City afterparty and holding hands in New York City. While romance may be budding for the potential couple, bad blood is seemingly brewing elsewhere.
In the wake of this courtship gossip, Kelce's ex-girlfriend Kayla Nicole has been receiving a lot of media attention, with outlets and Swifties alike theorizing about potentially hard feelings between the sports journalist and Swift. This speculation was prompted by reports that Nicole, who's also known for being a model and social media influencer, unfollowed Brittany and Patrick Mahomes on Instagram.
Other than that, an open letter that Nicole shared on social media reveals some insight into the massive amount of negative attention she's been receiving in the wake of her ex's new romance. Even if the model doesn't harbor any ill will towards Swift, we wouldn't blame her for having bad blood with the Swifties right now.
Kayla Nicole unfollowed Brittany and Patrick Mahomes on Instagram
Following the new relationship between Taylor Swift and Travis Kelce, the superstar has been growing closer to Brittany Mahomes, the retired soccer player who has been married to football player Patrick Mahomes since 2022. Taylor Swift and Brittany Mahomes were spotted together during Kansas City Chiefs games, each cheering on their respective beau, and out at a New York City dinner with Blake Lively and Sophie Turner.
While this newfound friendship bodes well for proponents of the Swift-Kelce romance, it appears that Kayla Nicole isn't much of a fan. As reported by People, the sports personality unfollowed Brittany, Patrick, and Patrick's brother Jackson Mahomes on Instagram as early as October 1, 2023. This comes as a major surprise to those who have kept up with the Nicole-Kelce saga, as throughout their on-and-off relationship, which ran from 2017 to 2022, the influencer was publicly good friends with Brittany.
Not only did the two regularly appear at Kansas City Chiefs games together, even taking photos together on the sidelines, but Nicole was also a part of Brittany's wedding activities, attending her eight-person bachelorette trip in February 2022. In this way, Nicole's decision to sever Instagram ties with her longtime friend seems to suggest that something is going on behind the scenes.
Kayla Nicole has received hate from Swifties amid dating rumors
Whether or not Kayla Nicole has bad blood with Taylor Swift, the sports journalist has definitely been receiving heat from the Swiftie fandom following her ex's new romance. For example, the comments on her recent Instagram posts are primarily about Travis Kelce and Swift. While some messages are voicing their support for Nicole, many are negatively comparing Swift and the sports personality, with others even making disparaging comments about her race.
X, formerly known as Twitter, is another platform where hateful messages about Nicole have been spread, with arguments breaking out about whether or not Kelce "upgraded" with Swift. This influx of negative attention prompted Nicole to share a moving open letter to fellow black girls, with the social media influencer spreading an uplifting message about staying strong in the face of unwarranted criticism.
"Preserve your heart, even when they try to quantify your character and test your boundaries, you do not have to engage," she said in the Instagram video. "You do not have to respond because there is power in your silence. And you can use that same power to silence the noise and self-doubt, silence the voices within that want you to give in to this demoralizing and antiquated narrative."