The Unlikely Ex Who Helped Amber Heard's Acting Career After Her Johnny Depp Drama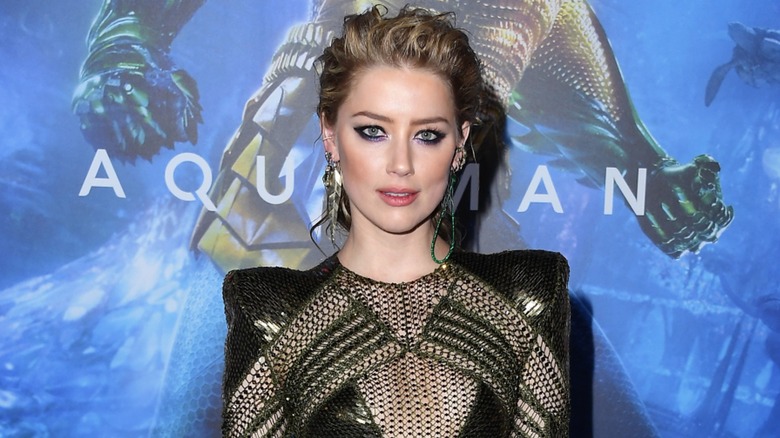 Steve Granitz/Getty Images
While Amber Heard and Johnny Depp's complicated court battle is finally over, the drama continues. Following their high-profile split, Heard faced apparent blacklisting in Hollywood, which obviously jeopardized her acting career. However, an unexpected ally, tech magnate and Heard's ex, Elon Musk, played a crucial role in supporting her during this difficult time.
As a reminder, Heard and Depp got divorced in 2017, but all hell broke loose when the "Pirates of the Caribbean" star sued Heard for defamation in 2019, in response to her 2018 op-ed on domestic abuse in The Washington Post. The actor then countersued him, and the highly publicized courtroom proceedings turned Heard into one of the most vilified figures globally.
Before the defamation lawsuit was set in motion, Heard starred as Mera in DC's "Aquaman," and despite having a contractual agreement, she almost lost her role in the sequel due to the drama surrounding her divorce from Depp. Musk's intervention played a pivotal role in ensuring Heard's continued participation in the project, and his help extended beyond saving her career. 
Elon Musk threatened to 'burn the house down' for Heard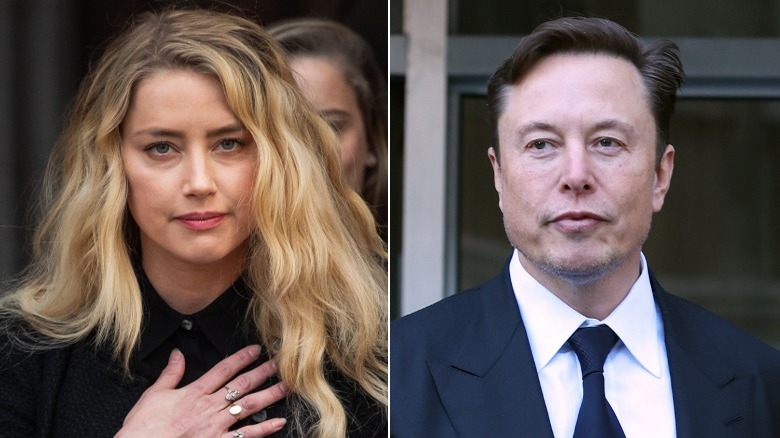 Samir Hussein & Justin Sullivan/Getty
From offering Amber Heard round-the-clock security in the midst of her divorce to contributing nearly half a million dollars to fulfill her pledged charity donation, Elon Musk was there for his ex when everybody in the world turned on her. According to Variety, there were talks about Heard being let go from the ongoing "Aquaman" franchise because of an alleged lack of chemistry with lead Jason Momoa, who plays the titular superhero. This situation unfolded before Heard's infamous trial with ex-husband Johnny Depp, at least according to Warner Bros. However, it appears that things were more complicated than initially presented. 
Allegedly, the film's director, James Wan, and Momoa contributed to a hostile on-set environment for Heard, which included the actor dressing like Depp. Despite the on-set issues, Heard managed to retain her role as Mera, thanks to the involvement of her ex-boyfriend, Elon Musk. Reportedly, the billionaire sent a strongly worded letter to Warner Bros., threatening serious consequences if they removed Heard from "Aquaman and the Lost Kingdom." 
While she stayed on, according to Entertainment Weekly, Heard acknowledged during her court testimony that her role was scaled back considerably following her split from Depp. Although Musk's intervention may have temporarily saved Heard's acting career, public opinion remains divided. A petition to have Heard removed from the second "Aquaman" movie was initiated in 2019 and is still gathering signatures, surpassing 4.5 million as of this writing.
The tech mogul did more than just help Heard's career
Elon Musk and Amber Heard, an unlikely couple but nevertheless a very real one, first crossed paths at the 2016 Met Gala after Heard's then-husband, Johnny Depp, failed to attend. Apparently, according to Insider, the circumstances of Depp's absence led Heard to sit alone at the star-studded dinner but also to bond with Musk. During her defamation trial, the actor explained, "He was at a nearby table; we got to speaking that night, and we eventually became friends."
They went on to have an on-and-off relationship before calling it quits in 2018. Musk's biography describes it as tumultuous, to say the least. Walter Isaacson, the author of "Elon Musk," claimed on the "On with Kara Swisher" podcast: "Nothing hurt [Musk] more than that relationship." In a 2018 interview with The Hollywood Reporter, Heard described their connection as profound when they were together, "and we have a beautiful friendship now, one that was based on our core values."
Even before their romantic involvement, Musk reportedly offered increased security measures to Heard in 2016 after a heated altercation with Depp, during which he allegedly threw a phone at her (via Deadline). Subsequently, he contributed significantly to Heard's $1.3 million donation to the ACLU, covering nearly half of the amount, per Rolling Stone. Their connection evidently transcended a typical romantic relationship, unlike Heard's marriage to Depp.