The Stunning Transformation Of Reba McEntire
We may receive a commission on purchases made from links.
What images come to mind when someone mentions the Queen of Country Music? For most, it's big red hair and an unmistakable Oklahoma twang. It's a woman who, in her 68th year, has yet to slow down. She also has three Grammys, 16 Academy of Country Music Awards, multiple Country Music Association Awards, and an induction into the Country Music Hall of Fame tucked quietly away in her sequined pocket. 
Reba McEntire — singer, songwriter, actor, humanitarian, philanthropist, and mother — carries each title with elegance and down-home charm. Unpretentious and unfailingly polite, the image she portrays is not typically one you might associate with a hardscrabble life. But McEntire will be the first to admit she's had to work hard to get to where she is today. As she told Garden & Gun Magazine, "when I'm up on the stage, my job is to entertain those folks who've paid their hard-earned money to be there in that arena, auditorium, wherever we are. I take it very seriously: It's their time that I am taking up, and so when I'm on the stage, my attention is to them 100%."
Of course, it helps that McEntire spent her early years on a working cattle ranch in the little Oklahoma town of Chockie. "When you were told to do something, you did it — no back talk — you just did it," she said in that same interview. And do it she has, accomplishing more in 50 years than most accomplish in an entire lifetime. 
Reba McEntire was born in Oklahoma in the spring of 1955
Reba Nell McEntire, born to a world-champion steer roper and an aspiring country-singer-turned-school-teacher, arrived on the scene in 1955. It was spring in McAlester, Oklahoma, and Reba was the third child born to Clark and Jacqueline McEntire, just behind sister Alice and brother Pake and two years ahead of baby Susie. It was her middle-child status that helped her discover her voice was her best asset. As she told The Washington Post, "I was the third of four kids. I wasn't a boy. I wasn't the youngest or the oldest. I was in the middle. I had to fight for attention."
And fight she did. She still does, to this day. Of her early years in country music, she looks back realistically, musing on how she not only managed to survive being a female in an industry run by men, but thrive. "[Y]ou don't complain. You don't b****. You don't cry," she explained. "You work twice as hard and try to find a better way to do things. And that's what I did."
And it's to that undying work ethic and willingness to do more and go further than others in the industry that McEntire attributes her undeniable success. She has no delusions of grandeur, no arrogant imaginings that her voice is better than anyone else's (though her fans might disagree). She's just convinced that she wanted it more and was willing to sacrifice more to get it.
As a teenager, Reba McEntire was a barrel racing rodeo cowgirl
As a young girl growing up on an 8,000-acre ranch, Reba McEntire was heavily influenced by the rodeo life. Her father was a rodeo star, and the family traveled from competition to competition, cheering him on. Following in his own father's footsteps, Clark McEntire took the title of World Champion Steer Roper several years in a row in the late '50s and early '60s. And Reba herself would go on to compete as a barrel racer until she turned 21.
But as she was racing horses, she was also performing with her brother and younger sister as the Singing McEntires. The trio played local rodeos and clubs, with Pake McEntire on lead, and his two siblings harmonizing on backup vocals to songs such as "The Ballad of John McEntire."
In December of 1974, on break from Southeastern Oklahoma State University, where she was majoring in elementary education, McEntire returned to the stage at the National Rodeo and kicked off its ceremonies with her rendition of the national anthem. She was unaware of the impact her vocals would have on someone of note in the audience.
Reba McEntire was discovered at the age of 19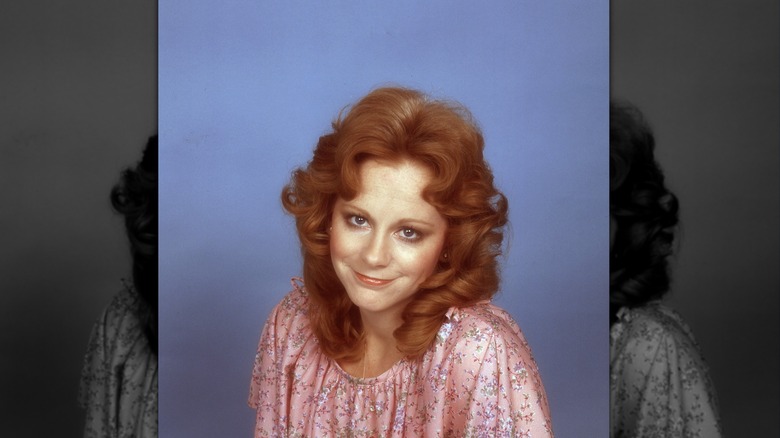 Michael Ochs Archives/Getty Images
Singer-songwriter Red Steagall was watching and listening that night in 1974 when a 19-year-old Reba McEntire began belting out "The Star-Spangled Banner." Immediately entranced, he offered to pay for a recording session in Nashville in hopes of helping her land her own recording contract. 
One year later, at the age of 20, McEntire was signed to Mercury Records. In 1976, she married Charlie Battles, a rodeo star with two teenagers who was a decade older. She would divorce him 11 years later, and when she mentions him now in interviews, she's able to share why. "I married a rodeo cowboy very much like Daddy. I don't know why I stayed with him," she told Parade. "Some men try to brainwash their women into thinking that no other man would ever want them," she added. "Men treat women that way out of insecurity, so they'll stay with them. It's getting into those relationships that makes your life such a living hell."
McEntire, however, managed to rise above the challenges of her first marriage, though she admits how much she struggled during those first difficult years. Battles was domineering and told her she would have to stop singing if she wanted children, and McEntire was intent on building her career. However, when she accepted the Academy of Country Music Award for top female vocalist in 1984, she dedicated it to Battles, saying, "This one's for Charlie."
Reba McEntire celebrated her first Grammy award in 1986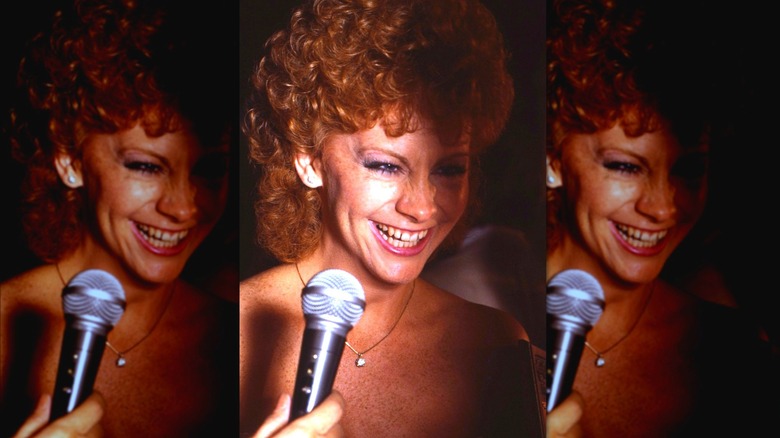 Beth Gwinn/Getty Images
In 1987, Reba McEntire found herself accepting her very first Grammy for the song "Whoever's in New England," written by Kendal Franceschi and Quentin Powers. Chronicling the woes of a woman left behind, the song struck a chord with country music fans, eventually becoming McEntire's fifth No. 1 country single. The tune lingered on the country music charts for a very respectable 23 weeks.
The album, also titled "Whoever's in New England," went on to hit number No. 1, and so did the second single, "Little Rock." It was McEntire's 10th album and by far her most successful, selling a whopping 1 million copies and hitting platinum status in 1993. It was this album that catapulted McEntire out of obscurity and into the big leagues. 
Co-produced by Jimmy Bowen, "Whoever's in New England" was a big departure from the typical twang of most country music at the time, inspired by a 1977 easy-listening hit by none other than Barry Manilow titled "Weekend in New England." The song was initially recorded by a man, from a male perspective, but McEntire took it in a totally different direction, making it a truly haunting tale of a husband on the verge of cheating along with his faithful wife, who's willing to forgive him any indiscretion. It wasn't quite Tammy Wynette's "Stand by Your Man," but the sentiment was the same.
In 1989, Reba McEntire married her manager, Narvel Blackstock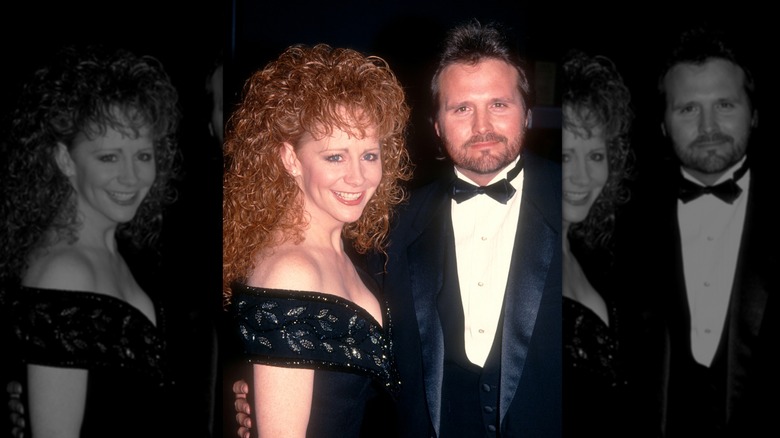 Ron Davis/Getty Images
By 1989, Reba McEntire had become somewhat of a household name, at least in households that revered country music. She'd had multiple chart toppers, received an abundance of awards from The Recording Academy, The Academy of Country Music Awards, and The Country Music Association, and had been divorced from ex-husband Charlie Battles for two years. It was then that she decided to marry her manager, Narvel Blackstock. 
McEntire's marriage to Blackstock made her a stepmother to the children Blackstock shared with his former wife, and she has never regretted it. In fact, she's developed a bond with them that feels, to her, more like it's biological. Speaking of Blackstock's son, Brandon, she told ET, "Brandon's been my son forever it seems. Although he's my stepson, I still love him like he's my total — my blood." 
Even as her marriage to Blackstock failed, McEntire remained close with his children. She even managed to remain amicable with her ex-husband, though the divorce was not her idea and she didn't support it at the time.
Reba McEntire's son Shelby was born in 1990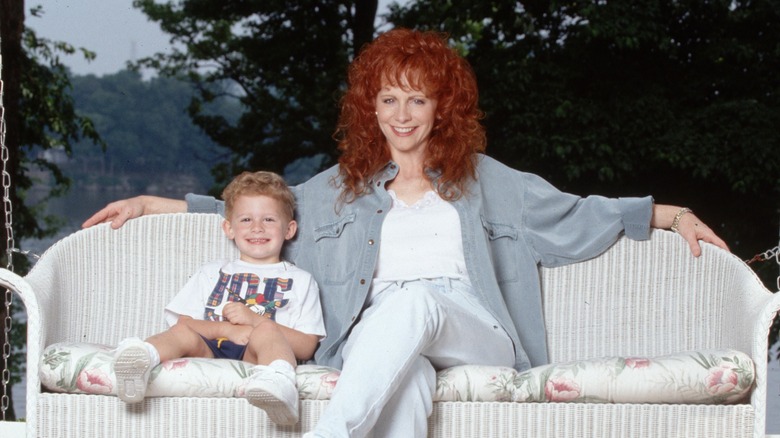 Lynn Goldsmith/Getty Images
In 1990, Reba McEntire welcomed her only biological son, Shelby, into the world. She was 35 at the time and enjoying the height of her success. She looked back on the event with People in 2022. "Shelby is a gift from God to me," she explained. "We're very close. I was a very self-centered person to a degree before Shelby. But then there's a little character who you are given the job to protect and nurture and love and teach, so all the attention's not on you anymore."
Shelby Blackstock would go on to become a successful NASCAR driver and later, a business development manager. Along with wife, Marissa, Blackstock is a pet parent of two dogs, Belle and Watson. He remains close with both his mother and father to this day. On the occasion of McEntire's 50th birthday, Blackstock posted this Instagram tribute to her: "Happy birthday to the #1 mom! @reba Looking forward to celebrating with you this weekend! I love you very much!! HAPPY 50th!!"
One year later, Reba McEntire would suffer a devastating tragedy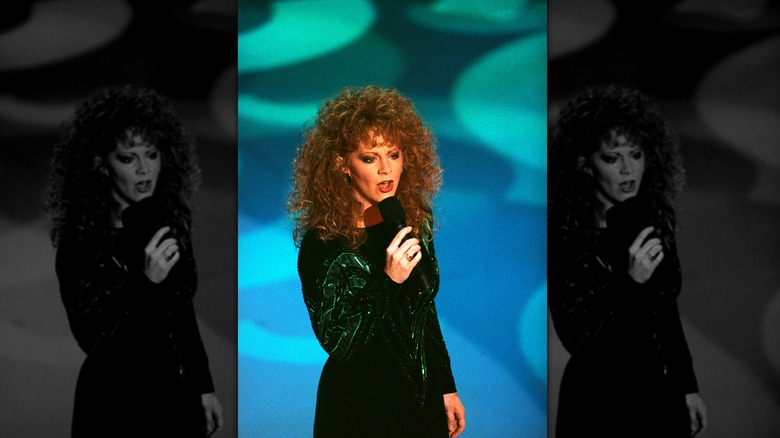 Bettmann/Getty Images
March 16, 1991, would mark a day those in the music industry will never forget, but it's a sad memory for Reba McEntire especially. That was the day the plane that was chartered for eight members of her band and crew crashed in the Otay Mountain Wilderness, an area that encompasses more than 16,000 acres of land near the U.S.-Mexican border, near San Diego. The plane, the first of two to take off, was en route from Brown Field Municipal Airport in San Diego to Ft. Wayne, Indiana, when the tip of its wing clipped a rock on the side of Otay Mountain due to poor visibility, killing everyone on board. 
McEntire remembered that day for an episode of Oprah's Master Class. "It was the worst thing that's ever happened in my life, but I just can't imagine Jim's family, Kirk's family, Joey, Paula Kaye — all the band that we lost — the pilots, their family. I lost friends. They lost family members."
In October of that same year, McEntire would release the album, "For My Broken Heart" and dedicate it to those lost in the plane crash: Jim Hammon, Kirk Cappello, Chris Austin, Joey Cigainero, Paula Kaye Evans, Terry Jackson, Tony Saputo, Michael Thomas, pilot Donald Holms, and co-pilot Chris Hollinger.
In 1993, Reba McEntire accepted her second Grammy award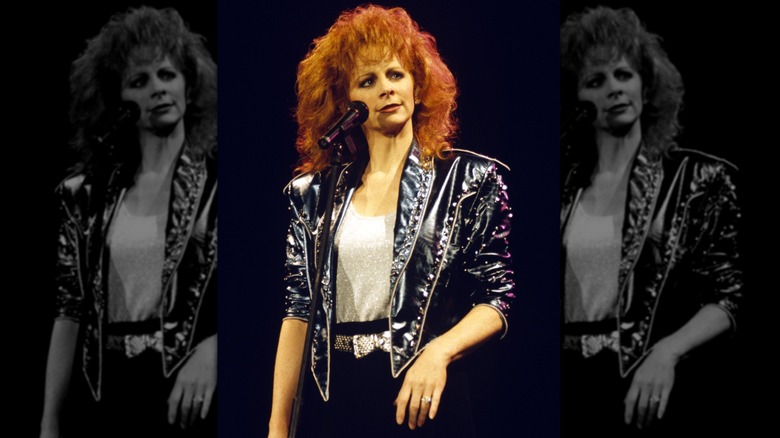 Tim Mosenfelder/Getty Images
The year 1993 marked Reba's second Grammy win. Nominated for the song "Does He Love You," featuring Linda Davis, McEntire took home the award for best country vocal collaboration. At the time, Davis was a backup singer with McEntire's band. The song earned her a first Grammy nomination and win, and it helped jump-start her career. She was later signed to Arista Records, went on to have a successful solo career, and took home two more Grammys in the category of contemporary Christian music. ,
A decade later, McEntire would go on to record "Does He Love You" again with longtime gal pal Dolly Parton. The revisited version received a Grammy nomination for best country duo/group performance, but fell short of a win. Instead, the award went to Carly Pearce and Ashley McBryde for "Never Wanted to Be That Girl."  
In 2001, Reba McEntire starred in her first Broadway musical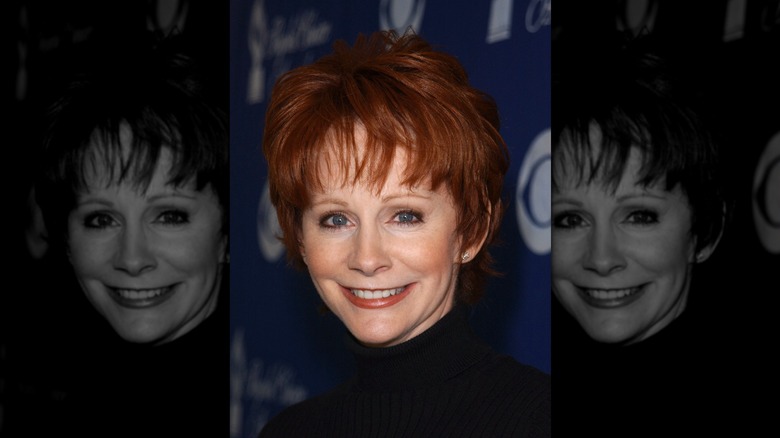 Vince Bucci/Getty Images
The 2000s not only brought Reba McEntire new opportunities, but it brought about a new hairstyle as well. Gone were the mile-high curly locks, and in their place, a new, close-cropped 'do, though she was forced to keep the change secret for months.
"I had to wear a baseball cap with a ponytail sewn in the back and then wear wigs and tail," she told Country 102.5. "That was from June on the photoshoot all the way up until the CMAs. That's when I came out with my hair cut off. But I'd had it cut off for six months."
Her hair was short in 2001 when she starred in her first Broadway musical, Irving Berlin's "Annie Get Your Gun," too, but she wore wigs to hide it. Critics raved about her performance. Casting director Stuart Howard told Playbill, "It's one of the best musical comedy performances I've seen in my life. I'd rank it with Channing in 'Dolly!' and Streisand in 'Funny Girl.'" The New York Times also gave her performance a stellar review, and Variety compared her to comedy greats Lucille Ball and Carol Burnett. It seemed McEntire had discovered something else that she did very, very well, and it came as a surprise to nobody but herself. 
Reba McEntire's self-titled television show premiered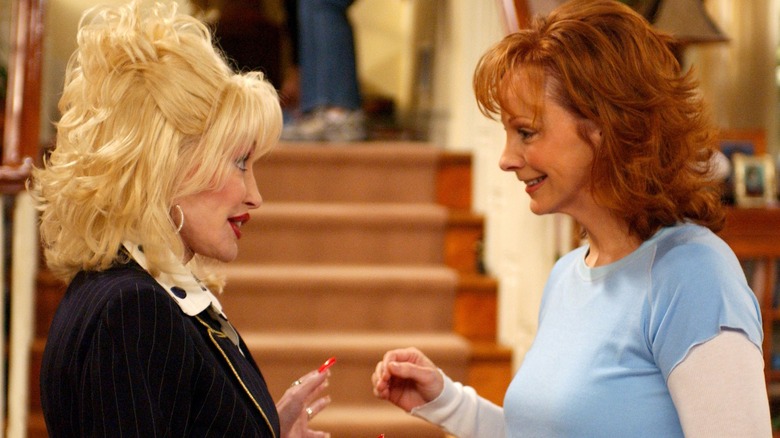 Michael Caulfield Archive/Getty Images
2001 was also the year the hit television show "Reba" began airing on what was then The WB network (now The CW). It starred McEntire as a newly single mother trying to navigate life with three children, a goofy ex-husband, and his clueless but well-meaning new wife. The show lasted for six seasons and starred Christopher Rich, Melissa Peterman, JoAnna Garcia Swisher, and Steve Howey as a blended family of adults trying to master the art of getting along without strangling each other in the process. 
The show attracted an unusual assortment of guest stars, including country music trailblazer Dolly Parton, who starred as McEntire's boss, a ruthless real estate agent, on Season 4. It also gathered millions of viewers every week and plenty of critical acclaim, setting new records for The WB. McEntire won the People's Choice Award for Favorite Female Performer in a New Television Series in 2002, and the series won the Young Artist Award for Best Family Television Series in 2005. Additionally, Reba McEntire was nominated for a Golden Globe for her performance in 2004. It seemed viewers overwhelmingly connected with McEntire's character and with the outlandish, Friday-night shenanigans of the entire "Reba" cast.
In 2011, Reba McEntire was inducted into the Country Music Hall of Fame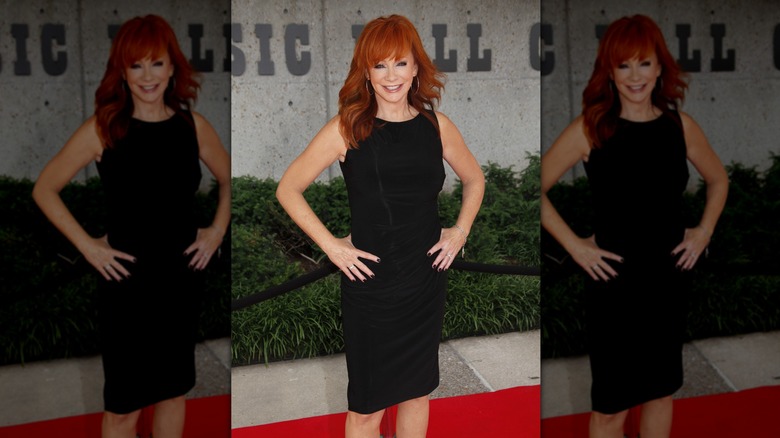 Ed Rode/Getty Images
In 2011, The Country Music Hall of Fame and Museum came knocking, and on May 22, Reba was inducted by none other than Dolly Parton. In her acceptance speech, McEntire gave credit to everyone who had helped her along the way, including Red Steagall for discovering her in 1974, Parton for being her friend and inspiration through the years, her then-husband, Narvel Blackstock, her band and crew, and all the entertainers who showed up to sing songs in tribute that day. She had a few difficult moments when she mentioned her father, who had recently suffered a stroke, but her speech was heartfelt and elegant, mirroring the course of a career that, at the time, had spanned nearly four decades. 
In those 40 years, McEntire had sold a whopping 60 million records and amassed 35 No. 1 singles. She had starred on television, on the big screen, and on Broadway, collecting awards and accolades like lightning bugs in a jar. Called one of the most dynamic entertainers of all time by Master Series host Bill Cody, she was nowhere near done in 2011. Quite the opposite, in fact. She would go on to win her third Grammy in 2017 and be honored by The Kennedy Center in 2018.
Reba McEntire reconnected with long-time friend Rex Linn in 2020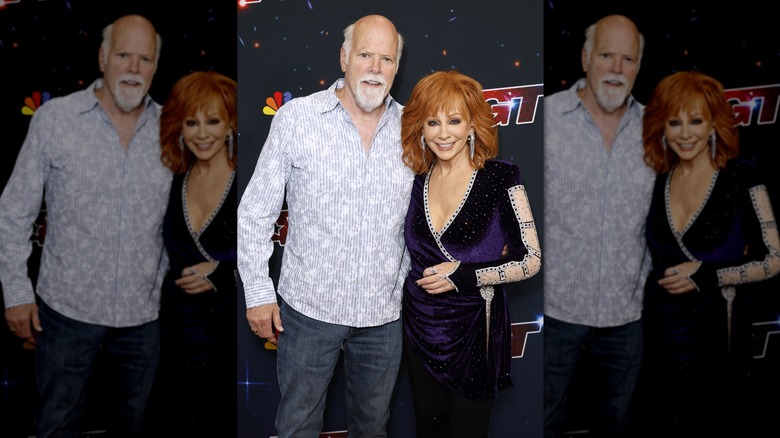 Frazer Harrison/Getty Images
In 2020, Reba McEntire reconnected with long-time pal, "CSI: Miami" actor Rex Linn. Linn is a performer with credits such as "Young Sheldon" and "Big Sky" to his name, but he is also a former bank manager from Oklahoma. The two met in 1991 on the set of "The Gambler Returns: The Luck of the Draw" and kept in touch over the years, until they eventually became romantically involved. 
When it comes to cute couples, McEntire and Linn have few challengers. In a recent Instagram post, they shared a photo of their newly adopted rooster, adequately named Mr. Pecker. In the post, Linn refers himself and McEntire as "The Tots, Sugar, and Tater." And in earlier posts, he has referred to her as his Tater Tot. 
For her part, Reba recently posted an Instagram image of the couple at the Grand Canyon with the caption, "Happy Father's Day to all you fathers, from the Tots!! From the Grand Canyon of Yellowstone!!"
Reba McEntire joined the cast of The Voice for Season 24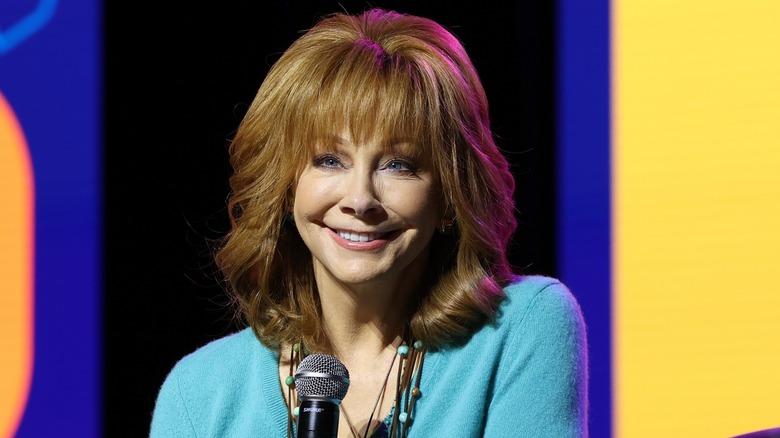 Terry Wyatt/Getty Images
Though she seems to be enjoying her private life more than ever, there are no signs that Reba McEntire is contemplating retirement in the near future. In 2023, she signed on for Season 24 of "The Voice," joining Niall Horan, Gwen Stefani, and John Legend in their quest to discover the next great singing star. McEntire replaced her old friend Blake Shelton, who retired at the end of Season 23. In addition, her album, "Not That Fancy," dropped in October of the same year, featuring acoustic versions of some of her greatest hits. 
The album was released in sync with McEntire's book of the same name, a collection of photographs, recipes, and wisdom from her life, with a foreword from fellow music legend Garth Brooks. In "Not That Fancy: Simple Lessons on Living, Loving, Eating, and Dusting Off Your Boots," McEntire explains, "Everything I'm doing in my life from here on out — personal or professional, doesn't matter — I'm going to have fun."
We can't wait to see what comes next.