Liam Neeson's Heartbreaking Final Moments With His Late Wife Natasha Richardson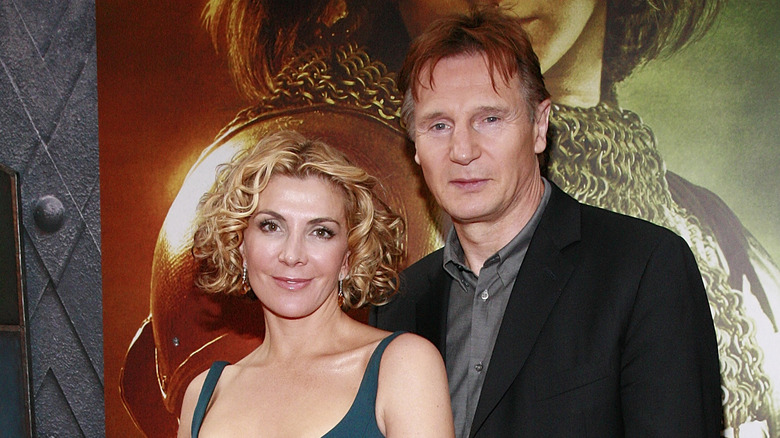 Charles Eshelman/Getty Images
Liam Neeson has had his share of heartbreaking blows in his love life, but none are quite as tragic as how he lost his wife.
The prolific actor faced an extraordinary challenge in 2009 when his wife, fellow actor Natasha Richardson, suddenly died. The "Parents Trap" star was on vacation at a Canadian ski resort with one of her and Neeson's sons when tragedy struck. While attempting the beginner's slope, she fell and suffered a head injury. Although she initially appeared to be fine, the actress was pronounced dead just two days after the accident (via ABC News).
At the time of her death, Neeson's publicist released the following statement: "Liam Neeson, his sons and the entire family are shocked and devastated by the tragic death of their beloved Natasha. They are profoundly grateful for the support, love and prayers of everyone, and ask for privacy during this very difficult time." The actor didn't discuss the details of his final moments with his wife until five years later. In a 2014 appearance on "60 Minutes" with Anderson Cooper, Neeson finally revealed what he was forced to tell his wife as she lay in the hospital bed.
'Sweetie, you're not coming back from this'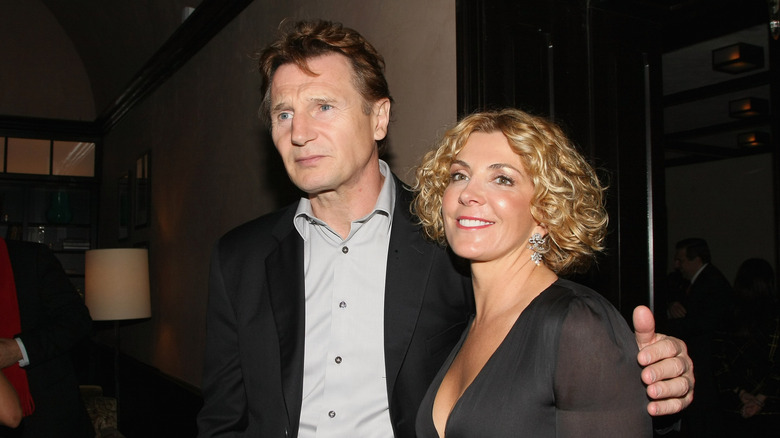 Andrew H. Walker/Getty Images
The "60 Minutes" interview took place at the snow-speckled home Liam Neeson once shared with his late wife, an eerily fitting backdrop for the tragic tale the "Taken" actor was about to describe. 
Neeson explained that when Richardson had her tumble during her skiing lesson, she called him up to let him know about it. But she hadn't understood the depth of how serious the accident was. "I spoke to her and she said, 'Oh, darling. I've taken a tumble in the snow.' That's how she described it," Liam recalled. The ski resort also stated that the actress' initial response to her fall was nonchalant, and it was reported that she repeatedly declined requests by staff to see a doctor. 
It would later be revealed that Richardson's accident was far more serious than a simple tumble. With her condition quickly worsening, Richardson was quickly rushed to the hospital. Upon hearing of her hospitalization, Neeson flew to Montreal to be with her. It was there that he learned his wife had been declared brain dead. There was little more he could do than give his parting words to his beloved partner. "I went in to her and told her I loved her," Neeson revealed. "[I] said, 'Sweetie, you're not coming back from this. You've banged your head. I don't know if you can hear me, but this is what's gone down."
He knew he had to let her go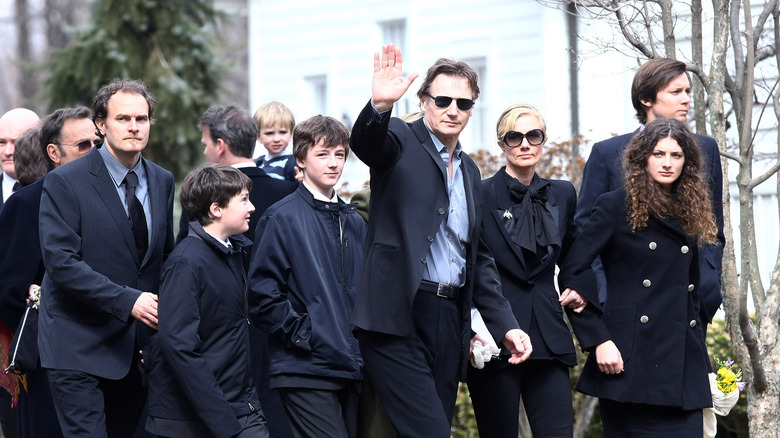 Neilson Barnard/Getty Images
Liam Neeson made the difficult decision of telling medical staff to remove Natasha Richardson from life support. It was something he knew his wife wanted for herself in that situation. "She and I had made a pact," Neeson told Anderson Cooper. "If any of us got into a vegetative state, we'd pull the plug, you know? So when I saw her and saw all these tubes and stuff, that was my immediate thought: 'Okay, these tubes have to go. She's gone.'"
Adjusting to life without his wife at his side was difficult for Neeson, to say the least. The actor, who has not yet remarried, had moments when he still expected to see the beaming blonde come walking through the front door of their home again. "She would always drop the keys on the table and say, 'Hello?'" he recalled. "So anytime I hear that door opening I still think I'm gonna hear her, you know. And, then, grief's like, it hits you."