The Stunning Transformation Of Anitta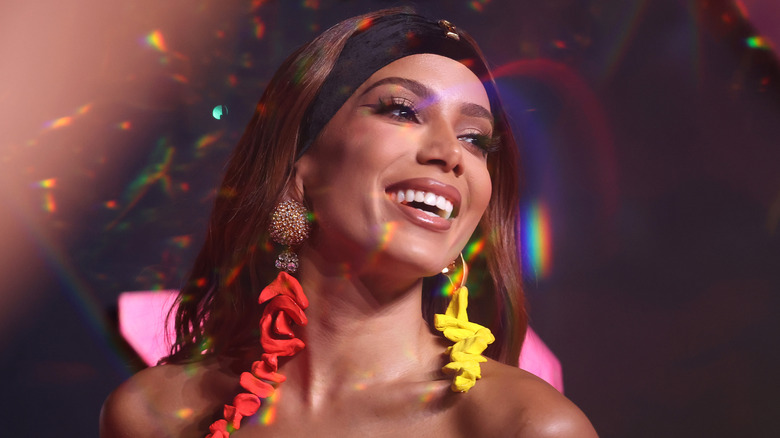 Mike Coppola/Getty Images
For Brazilian pop sensation Anitta, who was born Larissa de Macedo Machado, trailblazing the global market with her infectious rhythms and full-bodied dance moves is a typical day — but also a path that took a lot of calculation. "When I'm onstage shaking my ass or showing my body, I'm not thinking about [being sexual]," she told Allure in 2021. "I'm thinking about freedom. Because all I want is for people to be free to be whoever they want to be without judgment. And the way my brain works is like, if I push the limits, if sometimes I go one step too far, that's how I break down the wall."
Though Machado makes the differences between Larissa and Anitta quite clear, it was the image of the invented Anitta — a bold, sensual, carefree singer — with whom audiences fell in love. Bringing forth all of the cultural spice of her native Brazil, Anitta represents her home country beautifully, often connecting to fans with relatable songs like "Girl From Rio," and "Funk Rave," which is a nod to Brazilian funk music. Her 2021 hit "Envolver" skyrocketed the charts, becoming the most-streamed song in a single day in 2022, as well as making Anitta the first Brazilian singer to reach No. 1 on Spotify.
But like many of the greatest artists in history, Anitta came from humble beginnings and had to work hard for success. Here, we're taking a closer look at the stunning transformation of Anitta.
Anitta was born and raised in one of the lowest-ranking cities on the HDI
Larissa de Macedo Machado was born in 1993 in Honório Gurgel, Rio de Janeiro. Honório Gurgel is a working-class neighborhood — referred to in Portuguese as a "favela" — and a far cry from Brazil's famed beaches. Favela translates to "slum," and Anitta's is listed as having one of the lowest-ranking scores on the Human Development Index, a measurement of an area's standard of living. From the moment Anitta was born, the odds were against her.
"People would say it's the ghetto here, it's like the hood," she told Harper's Bazaar about her hometown. "I used to say, 'When I'm old, I'm going to get rich. We're going to have a pool. We're all going to be at the pool.' Everyone was like, okay. They didn't want to disappoint me, but they knew that was not even close to being real ... But I was so sure. I could tell." 
Anitta told InStyle that she knew she wanted to become a performer when she was just a year old. By the time she was around 5 or 6, Anitta grew into a particularly imaginative child who enjoyed making her own toys and singing. She would often show her mother spots in Brazil where was certain she would perform one day. "I could feel that this was going to happen and I could see me doing that," she told InStyle in 2023.
Anitta first started singing in the church choir
When she was 7, Anitta's grandparents heard her natural-born talent and had her enroll in the church choir, where her grandfather played the piano. Her time in the choir was short-lived, however, after Anitta's favorite priest was let go for honoring Black culture during mass one day. Frustrated with the racism she witnessed in her own church, Anitta started exploring Candomblé, her father's religion. Candomblé is heavily practiced by Afro-Brazilians and incorporates elements of the Yoruba religion, one of the largest ethnic groups in Nigeria.
Anitta was strongly influenced by her experiences growing up in the favela, particularly those connected with the Brazilian favela funk music — a genre that merges Latin, African, hip-hop, and several other cultural music styles — that defined her impoverished upbringing. In turn, Anitta began performing at funk parties as a teen in local favelas, singing about what she saw in her everyday life. 
To this day, favela funk gets a bad rap and was even almost banned in 2017 due to its lyrics laden with references to sex, drugs, and crime. But Anitta stands by the genre. "If you are born in a place where all you have access to is guns, crime, drugs, sex — that's what you're going to write about," she told Harper's Bazaar. "We cannot sing about the beautiful paradise in Rio if we are not even getting close [enough] to see that."
She became involved in an abusive relationship at 15
As the daughter of an artist mother and a salesperson father, Anitta always felt pressured to choose a practical career. She went to a technical high school and studied business administration — which likely had a major role in her later success in life. "Growing up, my father would say, 'We're poor, you can't study the arts,'" she told The New York Times. But still, she continued to perform her music. As Anitta gained more and more experience performing, she quickly realized what she needed to do in order to possibly be successful in the music industry. She started fusing pop elements into her songs in order to reach a wider audience, as well as to help bring attention to Brazilian artists.
In a Netflix docuseries called "Anitta: Made in Honório," Anitta revealed that she was sexually abused by her boyfriend when she was just 15 years old. "I was afraid of him," she said through tears in the first episode of the series. She added, "It was only recently that I stopped blaming myself for what happened."
The singer went on to share the experience of how her then-boyfriend assaulted her physically one night and then proceeded to crack open a beer like nothing had happened. Anitta felt guilty for the incident for years to come, but figured out ways to transform her trauma into success.
She created the alter-ego of Anitta to overcome trauma
Anitta says that the night she was sexually assaulted was the night her alter-ego, Anitta, was born. "For all of you asking yourselves how Anitta was born, that's how," she explained on her Netflix docuseries. "She was born out of my desire and need to be a brave woman, who no one could ever harm. That's how." 
She later explained to InStyle exactly what the Anitta persona is all about. "Anitta does everything and says everything, is not scared of anybody, f***s everybody, and sex is whatever for her," she shared, adding later, "In that moment, I thought it was the best way that I [could get] through my trauma." 
Years after the incident, Anitta graduated from technical school and landed a job as an accountant at Vale, one of the largest mining companies in the world. But Anitta couldn't seem to shake her passion for music and dreams of performing, so she quit her accounting job in hopes of pursuing fame. When i-D inquired about her business background and how it has helped her career, Anitta replied, "Well, now I run my own business. I can give direction to my employees and my team. It's easier. It was hard to get into higher education but my mum was always my shining example. I use it in my work all the time."
Anitta caught the attention of a Brazilian producer through YouTube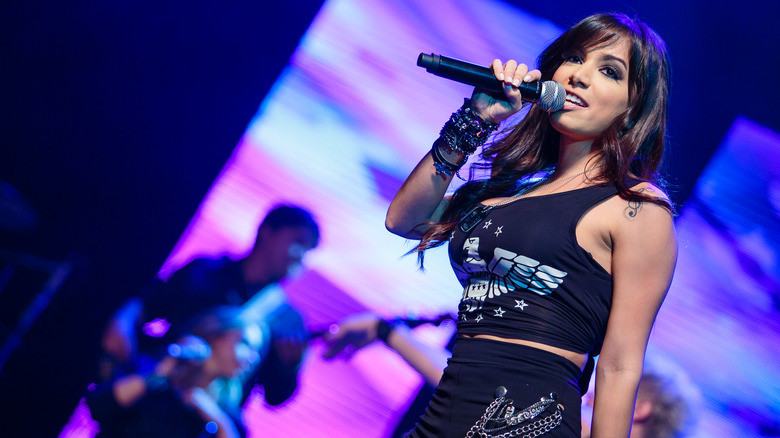 Mauricio Santana/Getty Images
After quitting her job, Anitta took her music career very seriously. But first, Larissa de Macedo Machado needed to give her alter-ego a stage name. "Larissa is a common name here, and I wanted to stand out," she told i-D. "I wanted a name that when people say it, it could only be me. Anitta is from a TV series in Brazil that I used to watch as a teenager and she was the girl who could be whatever she wanted to be. It wasn't necessary for her to be only one woman."
After her image and persona were both carefully crafted, Anitta got to work. To better impress executives, she hired English tutors, along with a speech therapist to work on decreasing her Brazilian accent. Instead of performing in the favelas for fun, she started booking performances at parties and events, and eventually, after earning enough income from her gigs, she would use the money to book flights to the U.S. While there, she spent time vigorously networking and marketing the voice and image of Anitta the singer. She even taught herself how to become savvy on YouTube so she could upload videos and reach a broader audience.
In one YouTube video that she uploaded as a joke, Anitta was singing to the camera while using a stick of deodorant as a microphone. The upload captured the attention of famed Brazilian record producer Renato Azevedo, who then helped her score a record deal with Furacão 2000, and eventually with Warner Music Group Brazil.
Anitta's first major hit song became Brazil's most-watched video of 2013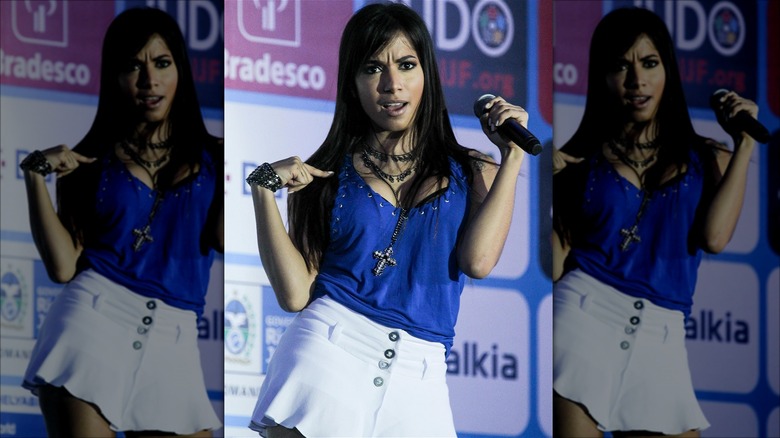 Buda Mendes/Getty Images
After signing with Warner Music Group Brazil in 2013, Anitta was set to release her self-titled debut album that same year. The album featured a single titled "Show das Poderosas," which shot the singer into mega-stardom before the album was even released. The music video garnered plenty of media attention, and in turn raked up over 160 million views only a week after its debut. By the end of the year, it became Brazil's most-watched music video of 2013.
The album also included another earlier hit of hers, "Meiga e Abusada," which was followed up with a music video. Eventually, Anitta's success started reaching the attention of the United States, and before long, other countries as well. As far as what Anitta feels garnered her all of the attention and success? According to her, it wasn't her talent, but her dedication; plus, her knack for how to sell doesn't hurt, either. 
"I dance, ass to the sky, and it sells more," she confessed to Harper's Bazaar. "People love to complain: 'Oh, this person's so vulgar.' But that's what they like. Besides everything, I'm also a businesswoman. I'm an artist. I know how to get on stage and make everyone jump, make everyone do what I want. I know it sells."
Her self-titled first album was followed with more recognition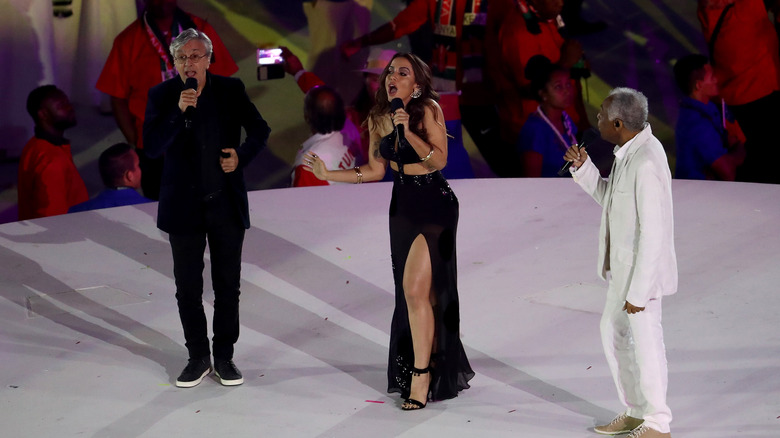 Buda Mendes/Getty Images
In 2014, Anitta released her second album, "Ritmo Perfeito." The following year she dropped another album titled "Bang!" whose namesake single brought her global success. Anitta's entry into the international market opened the door for opportunities she never even dreamed of — including collaborations with other major artists like J Balvin. 2016 earned her an invitation to perform at the Olympics opening ceremony in Rio alongside fellow Brazilian performers Caetano Veloso and Gilberto Gil, and in 2017 she released her first full-English song called "Switch."
When it came to language, Anitta was ahead of the game. Similar to the way she hired English tutors to help her career take flight, she also hired tutors for other languages, making her fluent in five different tongues. In typical Anitta fashion, she learned to spice things up for reporters, telling them that she acquired all of these languages from men she dated around the world. 
"[People] don't have the courage to say what they want," she insisted to Harper's Bazaar. "They want to laugh and talk about the girl who said, 'Oh, I learned to speak with boyfriends.' If you put that in a quote, a million clicks. If you put 'Oh, she put different teachers in the dressing room so she could learn while she was getting glam,' nobody's going to f***ing click on that."
Anitta came out as bisexual in 2018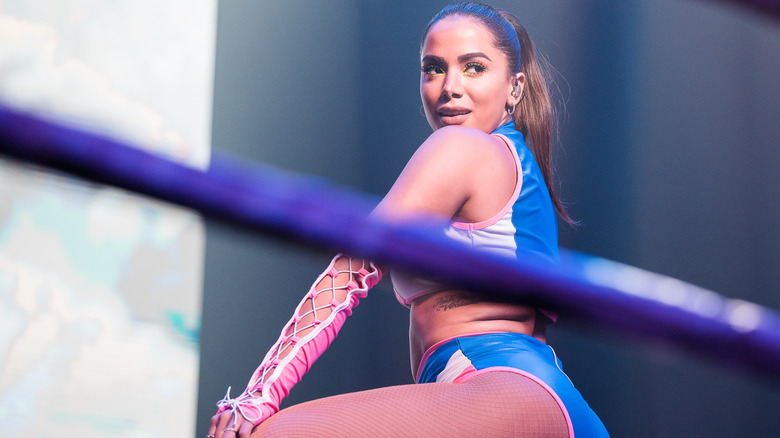 Mauricio Santana/Getty Images
From 2016 through 2018, Anitta worked on numerous international collaborations with artists such as Nile Rodgers, Iggy Azalea, Major Lazer, and Alesso. She won awards at the MTV Europe Music Awards multiple years in a row, and learned to overcome the negative media attention and judgment regarding her willingness to be sexually open. 
"Journalists and members of the public were sometimes very judgmental," Anitta told Numero in a 2022 interview. "Brazil is a very conservative country, even if this is a totally hypocritical attitude." She added, "Many Brazilians hide what they really do in order to project a virtuous image. That can turn out to be very dangerous. Is it better to tell the truth and risk upsetting a few people or to live a life of lies and disappoint absolutely everyone the day you're unmasked? By insisting on honesty, by remaining authentic, I've gained credibility in Brazil."
In her mission to live a life of complete honesty with herself and her fans, Anitta has made it a point to be totally transparent. She has been open from the start about her extensive plastic surgeries, and in 2018, she came out as bisexual in a Netflix docuseries called "Vai Anitta." As a Brazilian, it was extremely important for her to use her platform to speak out against the discrimination many in the LGBTQ+ community face in the country.
A health scare in 2022 changed Anitta's perspective on life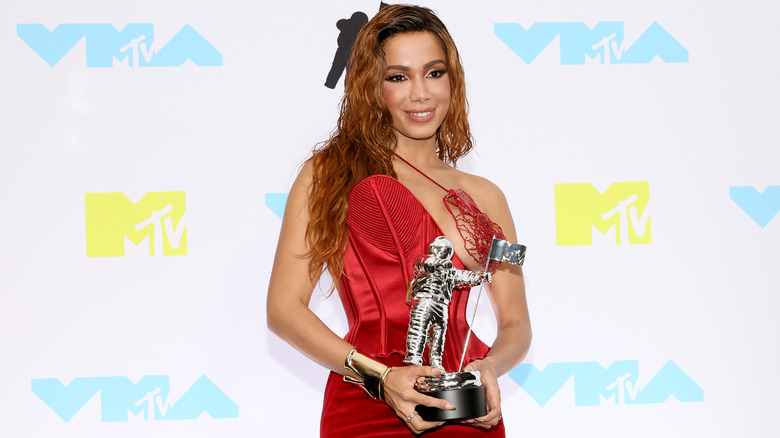 Dia Dipasupil/Getty Images
In 2021, Anitta's Spanish single "Envolver" topped Spotify's Daily Top 50 Global chart, making her the first Brazilian artist to land this achievement. Aside from her success on the charts, Anitta's presence in the industry could be helping favela funk get some of the recognition the singer feels the genre deserves. "It already changed so much in Brazil," she told InStyle about favela funk. "It's not considered a crime anymore, it plays on the radio, it plays in the clubs, things that didn't happen in the beginning."
Anitta released "Funk Generation: A Favela Love Story" in 2023, a three-song album she made as a homage to her life growing up in a favela. The third track, titled "Used To Be," is a fun and uplifting groove with breezy lyrics, but the singer revealed its meaning actually came from something rather serious. In late 2022, Anitta was hospitalized. 
"I had problems in my lungs, I had a cancer [scare]," she revealed to InStyle. "I spent months in the hospital. Nobody could figure out what I had." After working with a spiritual shaman, she "came back completely changed." Doctors performed more tests, trying to figure out what was wrong with her, but it appeared as if Anitta was completely healed. The song "Used To Be" — a lyrical representation of the mental healing that came with her physical healing — was then born as a form of new beginnings from the emotional roller coaster her hospitalization caused.
She has learned how to balance her famous alter-ego with her true self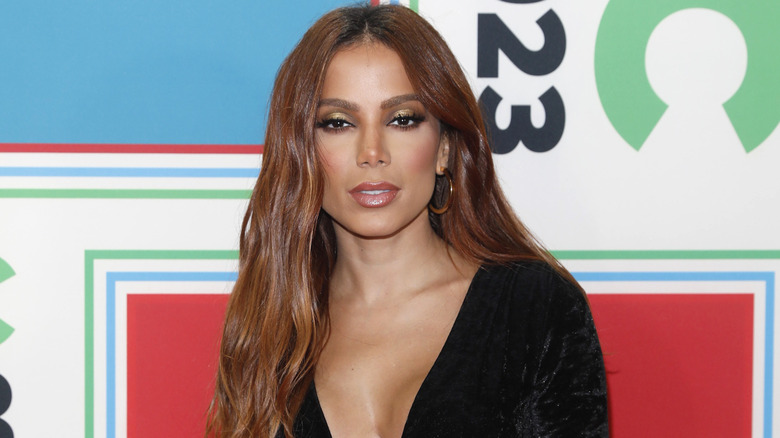 Rob Kim/Getty Images
Aside from her successful music career — which she declared to Harper's Bazaar that she's quite happy with and hopes one day might become a side hustle — Anitta has dipped her toes in several other industries as well. She has done modeling work, forged partnerships with major names like Adidas, Samsung, Burger King, Lays, Pepsi, Target, and Tiffany & Co., and even created her own underwear spray — a venture that made plenty of headlines. But even with all of the global domination the Anitta persona has brought Larissa de Macedo Machado, some days she still needs to be Larissa.
"Larissa is very private, very relaxed, very low-key, and very quiet," Anitta told People in 2023. "Anitta is the opposite: outspoken, exposing myself. I think it's two completely different people and I used to struggle with that." She added, "It [used to be] two sides of my brain fighting with each other. I learned how to make them communicate." She went on to explain how her family has kept her grounded throughout her whole journey — treating her like Larissa from Honório Gurgel and not like Anitta the superstar. 
She finished the interview by stating her mission as a singer, which is to pave the way for others to be unapologetic in who they are. "I [want fans to know] that they can do whatever they want, be whoever they want, and they should love themselves before any other person. I'm a good example of that."