Who Is Country Singer Morgan Wade?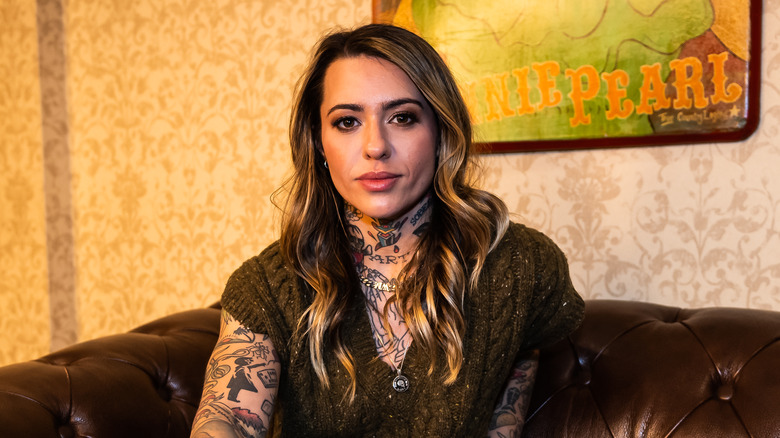 Keith Griner/Getty Images
Morgan Wade is a country musician who's been writing songs since childhood. As she told Wonderland magazine, Wade learned how to play the violin at seven and then later switched to the guitar. She didn't officially start her music career until college when the Virginia native formed a band to catch the attention of an ex-boyfriend that she'd dumped.
"It would either p**s him off or get him back," Wade told Rolling Stone, "either one." The latter obviously came true, and Wade, some bandmates from Craigslist, and said boyfriend formed a band. Morgan Wade and The Stepbrothers released an album in 2018 called "Puppets with My Heart," and in 2021, Wade released her solo debut, "Reckless." Guitarist Sadler Vaden helped produce the record, which isn't constricted to just one musical genre.
Although Wade grew up listening to a lot of bluegrass thanks to her hometown of Floyd, she doesn't put her own music in a box. "I have a country accent, so everyone assumes that I'll just sing country music, but I like to do a lot more than that," she explained. "I just want to play whatever I want to play, and right now, that happens to be more like rock music or pop music." But Wade has generated headlines for an entirely different reason. 
Sobriety has helped Wade's career immensely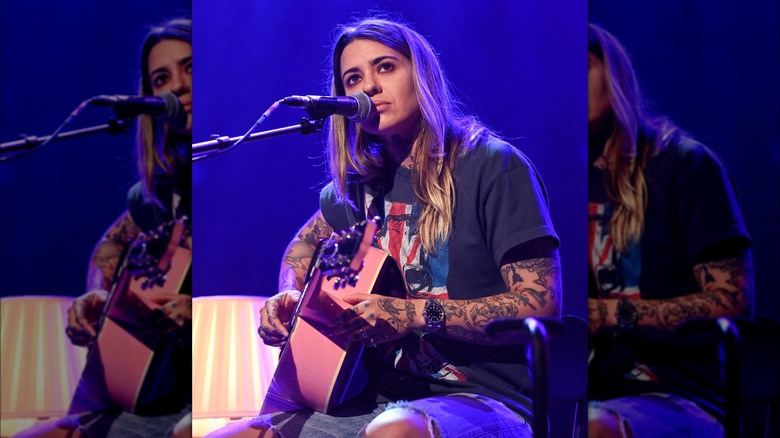 Kate Green/Getty
The path to musical success was not easy for Morgan Wade. The singer-songwriter spoke with The Ties That Bind Us in 2019 about how she never thought she could be a successful singer, because her voice didn't sound like popular female stars from when she was growing up. Wade also struggled with unhealthy alcohol use once her music career kicked off proper. The Virginia native realized she needed to quit when a night of excessively drinking alcohol made her anxiety worse.
"It seems like every little thing that has happened has been a little chain reaction from me quitting drinking," Wade noted about her success. "When I did that, I got healthier, and I started doing healthier things. You have to be in the moment for this to work, and by not drinking, I'm there." The country star's career has continued to flourish. She performed at the Grand Ole Opry in Nashville, Tennessee for the first time in 2022, and released a second solo album in 2023 entitled "Psychopath."
In her Wonderland interview, Wade noted, "Elvis Presley is my biggest musical inspiration, for sure. No contest." As the "About" section on her website also points out, the track "Alanis," which features on "Psychopath," is meant as a loving tribute to another massive inspiration: Alanis Morrisette. Wade is especially appreciative of the way the iconic singer-songwriter broke down barriers for future female musicians.
If you or anyone you know needs help with addiction issues, help is available. Visit the Substance Abuse and Mental Health Services Administration website or contact SAMHSA's National Helpline at 1-800-662-HELP (4357).
Wade's relationship with Kyle Richards raised eyebrows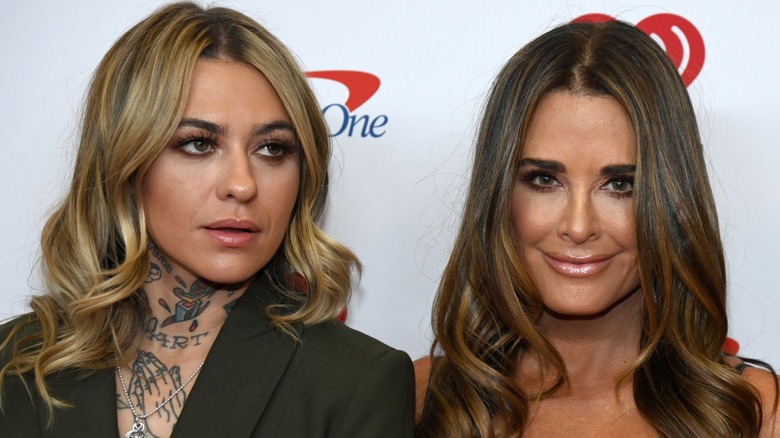 David Becker/Getty
Morgan Wade is taking a brave step toward a hopefully healthier future by having a double mastectomy in November 2023. The singer spoke with Page Six about how she inherited a gene that increases breast and ovarian cancer risk, and the surgery is a preventative measure. The country star confirmed she's not too worried, just annoyed that she will not be able to do her daily exercise regimen for a while afterward.
During an interview with People, Wade gushed that her friend Kyle Richards from "The Real Housewives of Beverly Hills" helped prepare her for her mastectomy and that the reality star is a wonderful friend. However, fans have been speculating that Wade and Richards could be in a secret romantic relationship. Rumors that Richards and Mauricio Umansky's relationship is over and comments from Wade's ex-girlfriend, who had concerns about their connection, to Page Six have added fuel to the fire.
Fortunately, Wade and Richards themselves aren't bothered by the gossip. "We're friends," Wade told People emphatically. "The Internet's a dumb place." Richards similarly shut down the stories, calling them, "very good friends" (via Page Six). The duo even played love interests in one of Wade's music videos to, "troll the trolls a little bit" (via Instagram). Based on a sneak peek of "RHOBH" Season 13, it seems Wade will make an appearance on the show, which will hopefully gain her an even larger audience of listeners.