Margaret Qualley Is Mom Andie MacDowell's Lookalike In New Photo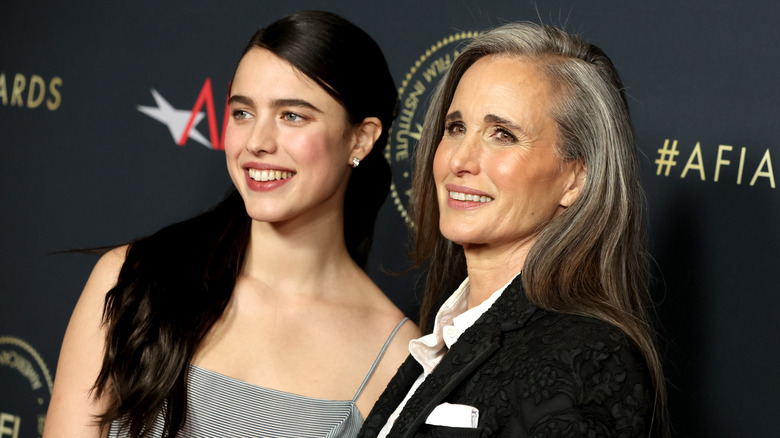 Emma Mcintyre/Getty Images
Andie MacDowell has been rocking her gray hair for several years now — something she told InStyle that her daughters, Rainey and Margaret Qualley, helped her embrace by telling their mom she "looked badass."  There was a time, though, when she was known for a head full of dark brunette spiral curls — a trait she's passed down to her daughter Margaret.
MacDowell established her claim to fame as a well-photographed model, and cemented her popularity when she broke into acting with films like "St. Elmo's Fire," "Sex, Lies, and Videotape," and "Groundhog Day." Qualley not only inherited her mom's model-worthy looks and acting talent but also her dad's — Paul Qualley who worked as a model once, too. MacDowell and Qualley split when Margaret was 5 years old, and she's remained close with both parents, with both attending her wedding to musician Jack Antonoff in 2023.
While both mother and daughter share fabulous mane traits, the duo have a lot more in common. The MacDowell genes seem to run particularly strong in Qualley, as evidenced by a recent outing captured by photographers. In the photo, there's no doubt that Qualley definitely takes after her mom.
Margaret Qualley is Andie MacDowell's Four Weddings and a Funeral doppleganger
Remember that cute bob of curls Andie MacDowell wore in "Four Weddings and a Funeral?" Daughter Margaret Qualley seems to be channeling her mom straight from the rom-com film with Hugh Grant. Coincidentally, the movie was released in 1994, the same year MacDowell gave birth to Qualley. 
In addition to their matching brunette spirals, the mother-daughter duo also share the same brows, nose, and high cheekbones that have made each of them successful models before breaking into the world of acting. Each has graced the covers of Vogue and Harper's Bazaar, among others, and walked runways for big names like Chanel and L'Oréal. 
While each has established their own acting career, they appeared for the first time together in the 2021 Netflix mini-series "Maid." Qualley plays the lead character and suggested her real-life mom for the role of her on-screen mom. MacDowell shared with NPR, "That's a really special thing to happen to a parent, to have a child trust them and to want them to play opposite them." And, of course, the family resemblance was already there.