Inside Andie MacDowell's Relationship With Daughter Margaret Qualley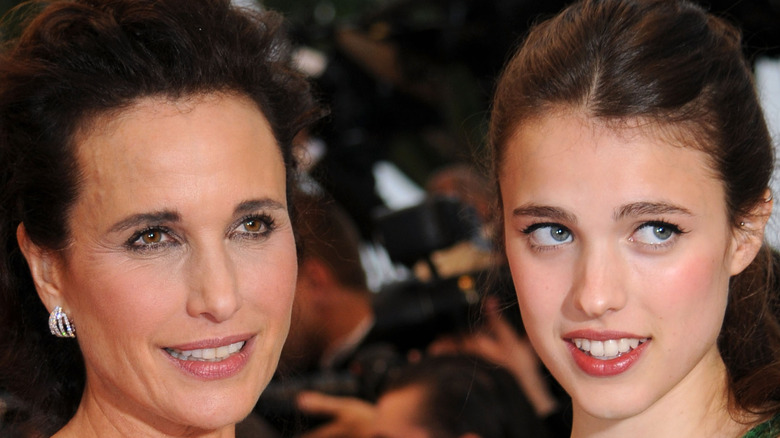 Traverso/l'oreal/Getty Images
If you're anything like us, you may have spent the weekend watching Netflix's new miniseries "Maid." Inspired by author Stephanie Land's memoir of the same name, the series focuses on a single mom who has recently escaped an abusive relationship. In an effort to provide for her daughter, she becomes a maid and eventually pursues — and achieves — her dream of becoming a writer.
Margaret Qualley, age 26, stars as Alex in the series, and if you noticed a strong resemblance between Qualley and her onscreen mother, played by Andie MacDowell, there's a reason: MacDowell is her mom in real life. In "Maid," the relationship between mother and daughter is strained and unhealthy, but there are no such similarities in Qualley and MacDowell's relationship.
In fact, as reported by The Washington Post, Qualley was cast as the lead and she herself suggested her mom for the role of Alex's mom, Paula. 
"It had to come from her. When we cast Margaret, all the producers [including Margot Robbie, whose production company, LuckyChap Entertainment, produced the show] thought her mom would be an amazing Paula," showrunner Molly Smith Metzler told the Post. "But we were afraid to bring it up because, well, it's her mom. Then Margaret called us all and said, 'I think we should go after my mom for this.' And we were like, 'Yes!'"
Andie MacDowell and Margaret Qualley have the sweetest things to say about each other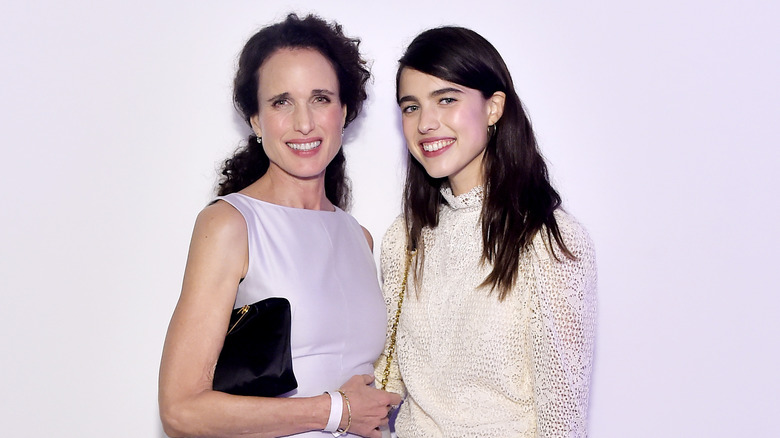 Stefanie Keenan/Getty Images
As MacDowell told The Washington Post, she and Qualley are "very close." She added that they're both "truly emotional beings" and said that she and her daughter spend a lot of time together. 
When speaking to USA Today, the veteran actress said that she and Qualley "talk about everything. There's no secrets."
For her part, Qualley credited their real-life relationship for both actresses' strong performances in the miniseries.
"You walk in the room and you have your mom playing your mom — that's the biggest cheat in the world," she told USA Today. "That goes all the way from the inherent eye rolls that are built-in when your mom says something — and then also, later in the series, there's a moment where Paula tells Alex that she's proud of her. It felt like my mom was telling me that she was proud of me, and it was just one of the coolest things that's ever happened to me."
Qualley also told Collider that during the nine-month shoot in Canada, amidst a pandemic, having her mom there was a source of comfort. "She's the best," Qualley said of her mom. "She's so giving and cool."