How Did Steve Harvey Really Feel About His Daughter Lori Harvey Dating Michael B. Jordan?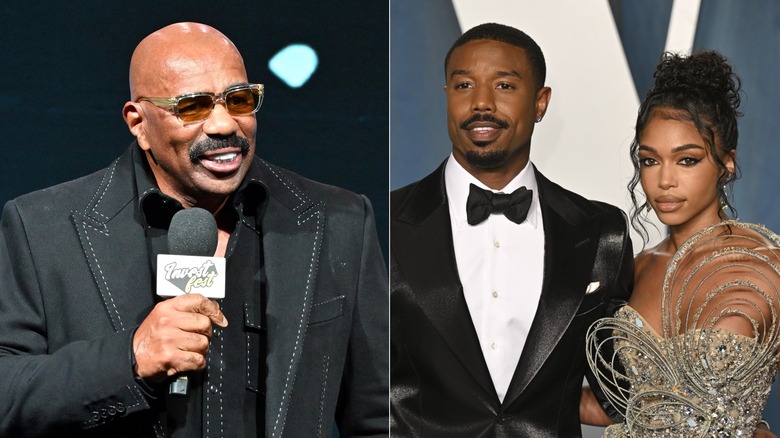 Paras Griffin & Karwai Tang/Getty
Steve Harvey's daughter, Lori Harvey, has had an extensive dating history and is known as a woman who's hard to keep. From Sean "Diddy" Combs to her current beau Damson Idris, Lori knows how to play her cards right. Perhaps her most beloved relationship was with the swoon-worthy Michael B. Jordan. The two were in a very public relationship that lasted for a year and a half.
But for any boyfriend, it can be hard getting in with the family — especially when your girlfriend's father is none other than Steve Harvey. As the author of "Act Like A Lady, Think Like A Man," Steve has taught his four daughters valuable lessons about how men operate. While seeing his daughter in a romantic light may have made Steve uncomfortable, he remains protective.
On "The Steve Harvey Morning Show," he opened up about how he felt about his daughter's then-boyfriend Michael B. Jordan. "I still got my eye on him," the radio host said, according to People. "I mean I like him, but like I say to all of 'em, 'I might like you, I might approve of you, but I got a thumb-size section of my heart filled with nothing but pure hatred for your ass." As Lori and Jordan's romance grew, it appeared the tough dad became a bit more open.
Steve Harvey was impressed by Michael B. Jordan's character
Lauded as People's "Sexiest Man of the Year," Michael B. Jordan was perhaps Hollywood's most eligible bachelor. So when Lori Harvey took him off the market in November 2020, it was almost too good to be true. They gave fans a peek into their relationship — from sizzling vacation pics to adorable ski trips. While many celebrity couples are accused of having "PR relationships," Steve Harvey set the record straight about the genuine nature of his daughter's romance.
"It threw me off at first because he was so kind," Steve recalled of his first impression of Jordan (via Entertainment Tonight). "You know, I figure, 'OK, this is the game right?' But it wasn't, man, this dude was sincere and he's proven to be a really, really good, good guy. I'm pulling for him, you know, for them."
But when asked if he would give Jordan his blessing to marry Lori on "Today with Hoda & Jenna," Steve said no outright (per NBC). Jordan is a decade older than Lori, and while Steve wasn't ready to marry her off, he held out hope for the "Black Panther" actor. "He's just a good guy ... I don't speak publicly about this type of stuff, but I'm happy for my daughter right now. I really am," Steve admitted to People. "It's the first time I've been happy for her [in a relationship]."
Steve Harvey and Michael B. Jordan are still on good terms after his split from Lori Harvey
To fans, Lori Harvey and Michael B. Jordan seemed like a total endgame. In addition to welcoming him into the Harvey family, the "SKN by LH" founder even schooled Jordan on skincare during their time together. So while news of their split in June 2022 came as a surprise, luckily, it appears that the two broke things off amicably. Steve Harvey weighed in on his daughter's latest breakup, stating that he held no hard feelings towards the "Creed" actor.
"Things happen. It's hard to be young and in the limelight and have a successful relationship," he explained on "The Steve Harvey Morning Show" (via The Today Show). "Look, as long as everybody can walk away in peace, be friends ... As long as you don't put your hands on my daughter, I don't give a damn what you do."
According to sources at People, Lori and Jordan broke up after realizing their futures didn't align. Since then, the model has been in a PDA-packed relationship with "Snowfall" actor Damson Idris. While she has moved on, her father appears to still hold a soft spot for Jordan. When the two ran into each other at an NBA game over a year after the split, Steve wrapped Jordan in a warm hug (via Complex).