Tom Cruise's Annual Christmas Card Once Gave A Hint At His Relationship With Suri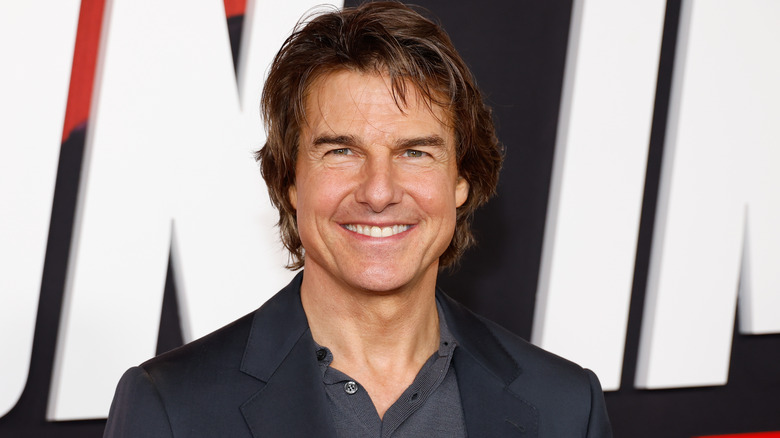 Mike Coppola/Getty Images
Onscreen, Tom Cruise is all smiles and swagger, the cocky hero fans have come to love through his starring role in the "Mission Impossible" series, among many others. When the cameras are off, however, the beloved actor's personal life is less than smile-worthy. Cruise has been involved in a number of controversies over the years, from his ongoing affiliation with the Church of Scientology to his bizarre sofa-bouncing antics on "The Oprah Winfrey Show." 
Cruise's three marriages, to Mimi Rogers, Nicole Kidman, and Katie Holmes, generated chatter from the vow exchange all the way to divorce court and beyond. The biggest speculation, however, is about his youngest daughter. Suri Cruise, Tom's only child with Holmes, is widely believed to have little to no contact with her dad. And that rumor only gained more traction after Brooke Shields spilled some tea about an apparent snub at Christmas.
Speaking to People in April 2023, the "Blue Lagoon" star detailed how Tom used to send her his famous Christmas cake every year, but over the course of a decade, the accompanying gift tag changed. According to Shields, "It was from them and Suri, so it was the three of them, and then soon it was no Suri and no Katie and just Tom." A 2022 Instagram pic from Rosie O'Donnell backs this up. She got a cake from the "Top Gun" actor, simply from "Tom Cruise." The message was clear: When it comes to holiday greetings, Maverick is flying solo.
Tom Cruise is famous for his prized Christmas gift
As lovely as it is to be remembered at the holidays, most of us wouldn't be too heartbroken to get fewer cards (we could definitely do without newsletters bragging about how Cirrus raised $10,000 for charity with his lemonade stand and Brykylynn is reading Tolstoy at the age of two). For the 500 or so friends and associates of Tom Cruise, however, being on his Christmas list is a very big deal. For more than 10 years, the "Top Gun" star has been gifting a delectable white chocolate coconut Bundt cake from Doan's Bakery as part of his Yuletide greetings.  
Per Entertainment Tonight, the tradition began as part of a challenge in 2008 when Cruise's then-wife, Katie Holmes, and fellow actor Diane Keaton were debating who knew the best bakery. They each ordered a cake from their preferred patisserie and had Cruise do a taste test. The actor picked Keaton's choice — the one from Doan's — and he's shared the decadent treat ever since. 
It's a splurge, to be sure — the cakes are $126 each — but Cruise more than has the budget for it. Brooke Shields lamented to People that not only did he take Holmes and Suri off the gift tag after the divorce, but she also began getting it less often. Finally, for reasons he has yet to explain, Cruise cut her off entirely. Shields ended with a plea: "Tom, I need to be back on the cake list."
Tom Cruise reportedly has little contact with Suri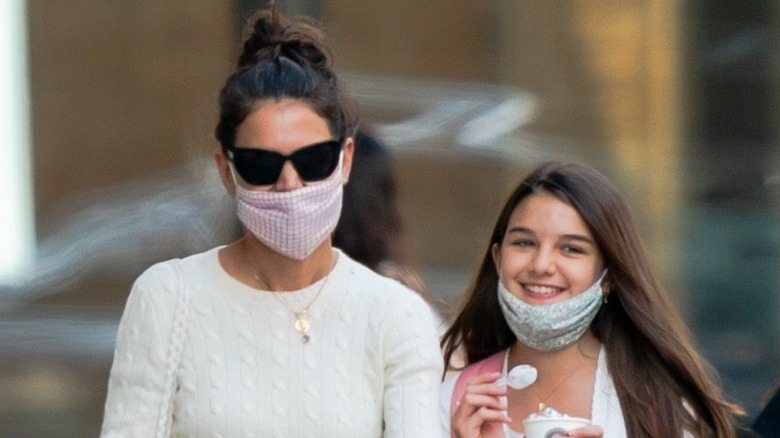 Gotham/Getty Images
Although he's said to be close to his two older children with Nicole Kidman, Tom Cruise's relationship with his daughter, Suri Cruise, is a mystery as of this writing. Multiple outlets affirm the last time the two were photographed together was in 2012 when Suri was just six years old. Certain tabloids blasted the actor for turning his back on his daughter, a claim Tom fought in court and resolved with an undisclosed settlement. 
He asserted his absence from his child's life was due to his hectic work schedule. The "Top Gun" star did acknowledge that his ex, Katie Holmes, had split from him in part because she didn't want Suri involved with Scientology, though. Still living with her mother in New York, Suri is currently in high school. The Daily Mail reports that the teen is already looking ahead to the future and plans to apply to local colleges to study fashion. 
As agreed in the divorce settlement, her father is paying for Suri's higher education, as well as health care and other necessary expenses. The financial support appears to be the only bond between father and daughter at the moment. An unnamed source claimed that Tom does "not have a part in [Suri's] life." If so, it's understandable the actor would want his child's name removed from the greetings on his annual holiday gift of cheer. Sad as it is, there's no point in implying a family bond that was broken a long time ago.