Kim Kardashian's Daughter, North West, Is Growing Into A Teenager Before Our Eyes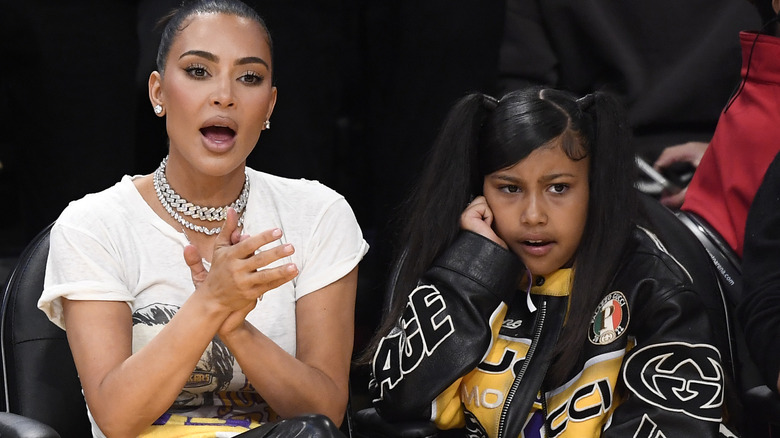 Kevork Djansezian/Getty Images
Watching Kim Kardashian's stunning transformation from the closet organizer of Paris Hilton to a beauty and fashion mogul has been a treat for fans. Kardashian has also allowed her supporters to witness the growth of her adorable children with her ex-husband, Kanye West. Their firstborn, North West, had already graced the pages of Vogue along with her famous parents before she was old enough to walk, and now, she is growing into a teenager right before our eyes.
North was born in June 2013, followed by brother Saint in December 2015, sister Chicago in January 2018, and brother Psalm in May 2019. As the oldest, North has reached an age where she is coming into her own identity. She frequently shares her unique hairstyles and dance moves on her and Kardashian's joint TikTok. Rapper Ice Spice even joined her on the platform for a special link-up. Experimentation with her looks and even her artistry while occasionally bossing her mother around and even occasionally hanging up on Kardashian are just a few fun moments that her 16.7 million followers experience as North transitions into pre-teenhood. 
North West hung out with rap star Ice Spice
Most pre-teens have their favorite entertainer, and for North West, one of those people is Ice Spice. In February 2023, North impressed her fanbase with a drawing she completed of the New York superstar. The photo attracted so much attention that Spice herself praised North. She took things a step further by visiting her young fan in March 2023. In one TikTok, Spice danced with North and her pals. In another, they raided Kim Kardashian's refrigerator.
While the moment seemed innocent enough, Kardashian admitted that she actually took down most of the videos with Spice. Months later, in June 2023, Kardashian publicized her decision in an interview with Time, explaining that after witnessing North singing along to several of Spice's more provocative lyrics, she made the decision to remove the TikToks. Her ex-husband and North's father, Kanye West, had previously expressed his disdain for their daughter being active on TikTok. Kardashian realized that he may have been right in that instance. However, she still allows North to share with many of the comments turned off.
North West scolded her mom during Beyonce's Renaissance Tour for her photo flop
North waited for Beyoncé to look towards her for 5 minutes so Kim could photograph her with Beyoncé. She was ready to pose the only time Beyoncé turned towards her, and then she noticed Kim was talking with Jay and her camera wasn't open💀 pic.twitter.com/SEd1QT8Qm5

— Maia (@dropfwt) September 6, 2023
In another hilarious yet relatable teenage moment, North West yelled at Kim Kardashian during Beyonce's Renaissance Tour Los Angeles show. North was unhappy when her mother failed to snap a photo of her on the side of the stage as Bey performed. While this doesn't appear to be a huge offense, North, being the rising influencer she is, waited several minutes for Beyonce to turn toward her so she could get the perfect shot. However, Kardashian was busy chatting it up with Bey's husband, Jay-Z. North was seen on video shouting, "MOM!" as Kardashian missed the picture opportunity. This isn't the first time that North lost patience with Kardashian. During an October 2023 episode of "The Kardashians," she decided to no longer listen to Kardashian lecture her about burning sage in the house and conveniently hung up the FaceTime call with the Skims founder.
While her siblings are not as active on social media, North seems to take great pleasure in interacting and showing off her talents, not to mention her fabulous sense of style, which has been highlighted by multiple outlets such as Teen Vogue and Harpers Bazaar. North's all-pink birthday party also served as a stylish event for both her and Kardashian. While it's unknown if she'll gravitate more toward her mother's business ventures or her father's musical creativity, it's clear that North is a kid of many interests and a huge personality.