Lisa Marie Presley's Final Days With Elvis
Before Lisa Marie Presley's untimely death in January 2023, she was very open about growing up with two cultural icons as her parents. As the only child of Elvis and Priscilla Presley, Lisa Marie's childhood experiences were equally rare and fascinating. Growing up on the now-infamous Graceland estate, she recalled precious memories with the King of Rock 'n' Roll before his death. At just nine years old, Lisa Marie found Elvis unconscious on his bathroom floor.
"I just had a feeling. He wasn't doing well," the singer-songwriter told Rolling Stone. "All I know is I had it (a feeling), and it happened. I was obsessed with death at a very early age." Lisa Marie recalled that her father had kissed her goodnight in the early hours before his passing. She shared that while his death was horrifying, Elvis' health struggles had become more frequent and served as forewarnings (via RadarOnline).
Just days before her own passing, Lisa Marie was swept away by the film "Elvis." She praised Austin Butler for his compelling portrayal of her father. In her final public appearance, Lisa Marie attended the Golden Globes alongside her mother Priscilla to honor Elvis' memory.
Lisa Marie noticed her father's declining health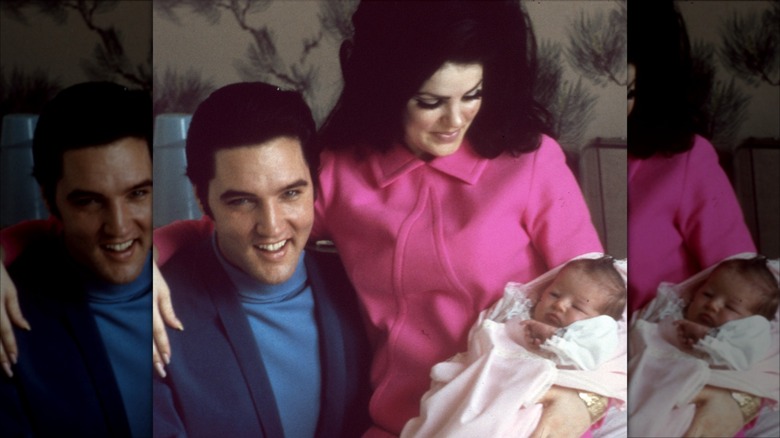 Michael Ochs Archives/Getty Images
In the years leading up to his death, Elvis Presley's poor physical condition was extremely evident to fans and family alike. One of the most visible signs of Elvis's declining health was his significant weight gain. His weight was estimated to be nearly 350 lbs by the end of his life (via HuffPost), which Lisa Marie noted was the first sign that something was wrong. In addition to his weight, Elvis was severely addicted to prescription pills.
According to RadarOnline, a young Lisa Marie noticed her father's steady deterioration. In response, she wrote heartbreaking poems begging for him not to die. "[I'd] find him in these bad states," the "Lights Out" singer said. "Out of nowhere, he would just start falling, and I'd have to go run around and catch him." These recurring incidents eventually took their final toll on Elvis' body.
On August 16, 1977, Lisa Marie awoke to find Elvis' then-girlfriend, Ginger Alden, doting over his lifeless body. The young girl rushed to the phone and called one of her father's ex-girlfriends, telling her: "My daddy's dead! He's drowned in the carpet!" (per Marca). Elvis' cause of death was reported as a heart attack, with high levels of painkillers also present in his system (via HuffPost). There is no doubt that witnessing her father in such a state traumatized Lisa Marie, as she refrained from speaking about the harrowing day in much detail.
If you or anyone you know needs help with addiction issues, help is available. Visit the Substance Abuse and Mental Health Services Administration website or contact SAMHSA's National Helpline at 1-800-662-HELP (4357).
Lisa Marie Presley was haunted by her father's death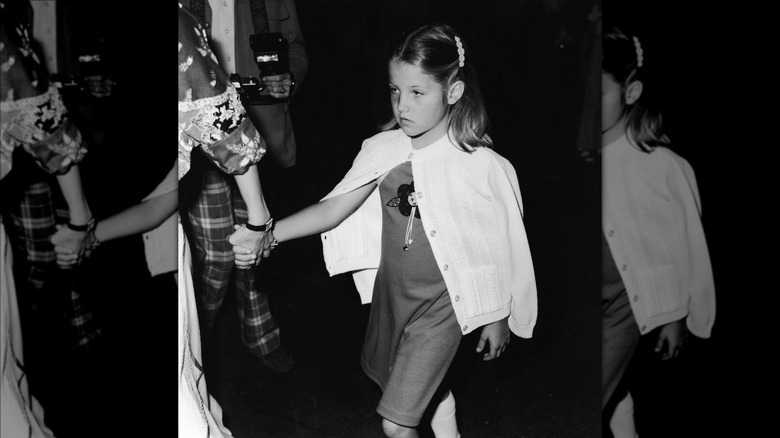 Pictorial Parade/Getty Images
Lisa Marie Presley was a celebrity whose life had truly been full of ups and downs. From four explosive marriages — one of which was with the King of Pop himself, Michael Jackson — to her own struggles with drug use, Lisa Marie was never the same after her father's death. Lisa Marie spoke about Elvis' adoration for her as his only child, as the two were very close. She recounted how he brought a sense of magic to Graceland during her visits, even after he and Priscilla Presley had split.
"What I remember is him waking me up to do things, you know?" Lisa Marie told Good Morning America of her treasured time at Graceland (via ABC News). "Like, get in the golf cart and go take me, you know, for a ride in the middle of the night or in the wee hours of the morning ... when he probably shouldn't have been doing that."
Later in life, Lisa Marie's romantic partners would never live up to the unconditional love she received from her Elvis. "I just knew he was crazy about me ... That's part of the problem with my love life," she admitted to the New York Times. "'I'm looking for someone similar to him, and nobody could ever compare."