The Real Meaning Behind Taylor Swift's Blank Space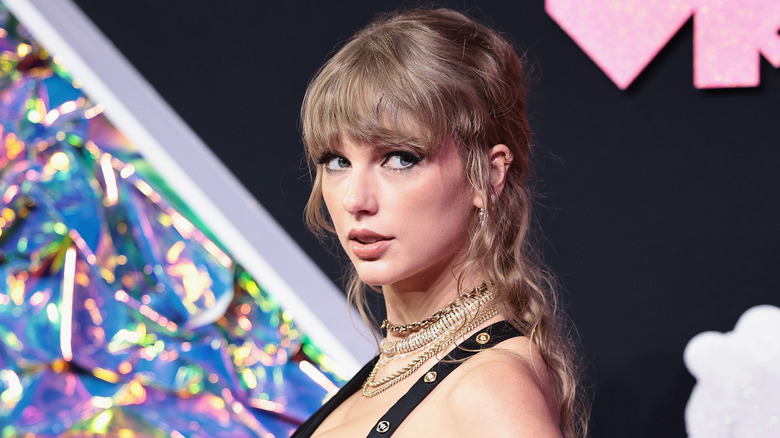 Dimitrios Kambouris/Getty Images
Taylor Swift's complex dating history has always caused too much of a stir for something that's actually pretty straightforward. Throughout her 20s, she was shamed for dating too many men when that wasn't the case. The media constantly called her out for writing songs about her love life but failed to critique male artists similarly. Nonetheless, Swift took everything like a champ and even got some great songs from it, like her mega-hit "Blank Space." 
She wrote the track with Shellback, Max Martin, and she delved into the meaning behind the track before her Grammy Museum performance. She explained, "In the last couple of years, the media have had a really wonderful fixation on painting me as the psycho serial dater girl." As a result, she saw several articles warning men to avoid getting into a relationship with someone like her. Swift added that initially, these articles hurt her because they couldn't be farther from the truth about who she was, yet so many people believed them. 
However, the songwriter in her saw an opportunity to build castles out of all the bricks they were throwing at her. She shared her train of thought from the time, recalling, "'Hey, that's an interesting character they're writing about. She jets around the world, collecting [any man she wants], but she's so clingy that they leave, and she cries, and then she gets another one in her web, and she traps them.'" She began to write from this crazed lover's perspective, and that's how "Blank Space" was born. 
Love is a sport in 'Blank Space'
"Blank Space" starts with the moment the fictional serial dater lays eyes on her new conquest and immediately begins to entrap him. The line "Magic, madness, heaven, sin" describes how Taylor Swift can make the relationship feel enticing when in reality, her partner should be running away from her. He might eventually fall in love, but for her, love is nothing but a game to pass the time.
She knows her beau is already wary when she approaches him because he has heard that she toys with men and discards them. But that doesn't stop the serial dater because she simply offers a friendship and eventually turns into something sinister. The iconic line, "Got a long list of ex-lovers / they'll tell you I'm insane" is a jab at Swift's exes, who shamed her for writing about them. After that, Swift admits that she already knows her beau will join her exes list.
At the start of the second verse, Swift shows how she creates the illusion of a perfect relationship by jet-setting her boyfriends to beautiful places with gorgeous skylines and lies to them with her pretty mouth. But eventually, the facade shatters and her crazed self emerges. "Screaming, crying, perfect storms, I can make all the tables turn" portrays just how quickly Swift turns on her partners. In the bridge, she repeats, "Boys only want love if it's torture," to echo how some young men don't actually want to get into a relationship and only pursue someone because they want to feel powerful.
'Blank Space' was an easy write for Taylor Swift
During her "73 Questions" interview for Vogue, Taylor Swift revealed that "Blank Space" was the fastest song she'd ever written because the lyrics were a collection of cheeky lines she'd thought of in the past. Speaking to NME, Swift elaborated on her songwriting process for "Blank Space," explaining, "I'll come up with a line that I think is clever, like, 'Darling, I'm a nightmare dressed like a daydream.' I just pick them and put them where they fit and construct the bridge out of more lines. It was more like a crossword puzzle." 
To help her craft a better narrative, Swift shared that she also came up with a whole life for the serial dater. On the outside, she lived in a luxurious mansion and walked around in expensive clothing. But on a deeper level, she was an absolute mess that men couldn't get enough of. Her vision for this serial dater came to life in the music video for "Blank Space." Swift concluded her NME interview with a consensus of the public reaction to the track, saying, "Half the people got the joke. Half the people thought I was really owning the fact that I was a psychopath. Either one is fine." 
She added. "It was number one for like eight or nine weeks, so I have no complaints about how things turned out." Swift's past self would be undoubtedly happy to know that in 2022, "Blank Space" became her first solo song to garner 1 billion streams on Spotify.