Donald Trump Jr. Was Once Furious Over His Dad's Gift To Michael Jackson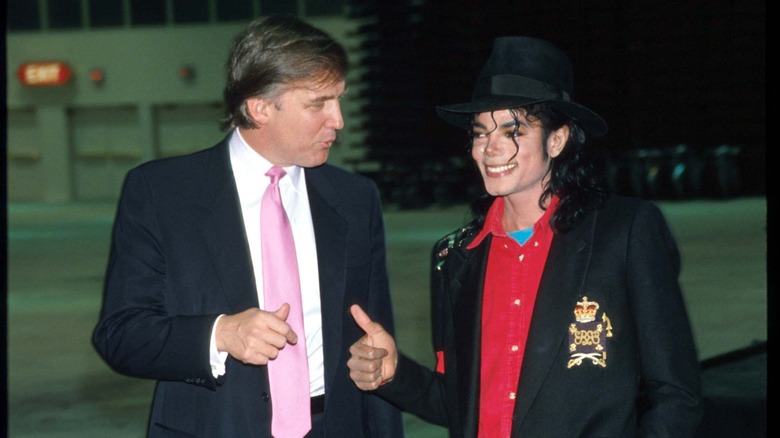 Steve Allen/Getty Images
Former U.S. President Donald Trump and his children have always been in the spotlight, and they've had plenty of celebrity encounters over the years as a result. However, one of their most notable stories involves Michael Jackson, and not everyone in the Trump family recalls the encounter between the former "Apprentice" host and the "King of Pop" fondly. While speaking about his book "Triggered" on Fox News with Jesse Watters, Donald Trump Jr. shared that his dad actually made him pretty mad by offering up one of his most cherished possessions to the "Thriller" star. 
 "Michael Jackson ... was our neighbor in Trump Tower... so I was playing 'Teenage Mutant Ninja Turtles' with Michael Jackson," Trump Jr. recalled. During one such gaming session, his father walked in and, seeing Jackson's keen interest, spontaneously said, "Well, why don't you take the game, Michael?"
Aghast, Trump Jr. silently wondered, "What's going on here?" He added that even though the game had been in his younger brother Eric Trump's room, it was his, and he'd worked a job to pay for it. Yet, the iconic musician left with the treasured video game. Trump Jr. also revealed that the incident became a playful point of contention between himself and Eric, disputing the game's ownership. Unfortunately, this playful memory stirred up some more serious commentary in his book and the comment section of a Twitter post featuring a video of Donald Jr.'s interview: memories of the child abuse allegations against Michael Jackson.
Members of the Trump Family never believed the abuse allegations against Michael Jackson
While many fans were delighted about Donald Jr.'s Michael Jackson anecdote, many online couldn't help but bring up the child sexual abuse allegations against Michael Jackson. One commenter wrote, "Very odd thing to talk about. Heh, I was friends with an accused child molester." Another said, "Does he not realize that this is NOT a good subject?" These comments may have been fueled by Trump Jr.'s statement in his book "Triggered," which said, "The recent revelations about Jackson came as a shock to me. My experience with Michael does not include any of what he's been accused of."
Of course, Donald Jr. isn't alone in his opinions on Jackson. Other members of the Trump family have expressed positive sentiments regarding the singer. Ivana Trump, former wife of Donald Trump, even mentioned in her memoir, "Raising Trump," that the pop star had an "open invitation" for "play dates" at any time. The book, which also gave a peek inside Ivana Trump's relationship with her children during her final years, detailed how he would spend "hours and hours" with their children. She also stated in her memoir that she rejected the claims that Jackson hurt anyone and noted that he was never with their children without nannies present.
Donald Trump himself even stated in a 2016 interview with Anderson Cooper on CNN that Michael Jackson was his good friend. These comments predate the release of the 2019 documentary film "Leaving Neverland," which revisited past child abuse allegations against Michael Jackson and introduced a new one.
Michael Jackson has been accused of child sexual abuse by six alleged victims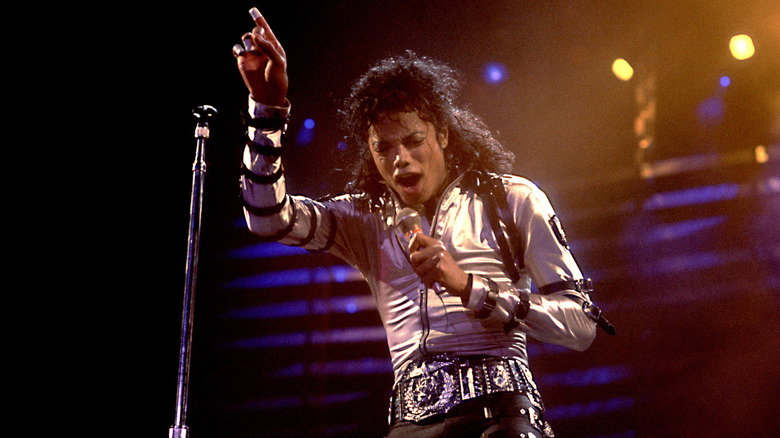 Paul Natkin/Getty Images
The first accusation of molestation against Michael Jackson came in 1993 from Jordan Chandler, aged 13 at the time of the alleged abuse. However, the allegations were dropped following a settlement of $23 million. Then, in 2004, Gavin Arvizo, also aged 13 at the time, made similar allegations. This led to a 2005 trial in which the pop star was acquitted. A few years later, in 2009, Terry George alleged that the musician had engaged in inappropriate phone activity with him when George was 13, back in 1979.
By 2013, dancer Wade Robson asserted that Jackson abused him for seven years during the '80s and '90s. The following year, 2014, James Safechuck claimed that Jackson molested him and even participated in a simulated wedding at Neverland when he was nine. Most recently, in 2019, Michael Jacobshagen accused Jackson of sexually abusing him back in 1997 when Jacobshagen was just 14 years old.
Before he died in 2009, Michael Jackson addressed the topic in a now-infamous 2003 interview. When Martin Bashir asked, "Is it really appropriate for a 44-year-old man to share a bedroom with a child who is not related to him?" Jackson responded, "It's a beautiful thing...I sleep in the bed with all of them. When Macaulay Culkin [was] little, Kieran Culkin would sleep on this side, Macaulay Culkin on this side... We're all just jamming the bed."
If you or anyone you know has been a victim of sexual assault, help is available. Visit the Rape, Abuse & Incest National Network website or contact RAINN's National Helpline at 1-800-656-HOPE (4673).