Hallmark's Ashley Williams Has A Very Famous Brother-In-Law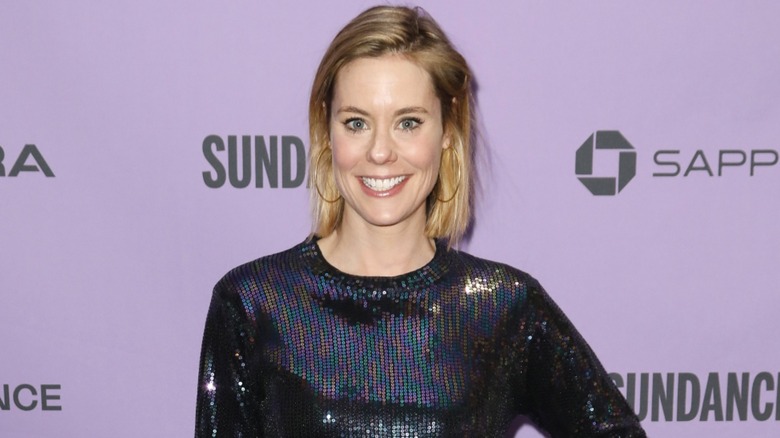 Tibrina Hobson/Getty
Ashley Williams and Kimberly Williams-Paisley are both actors, directors, and Hallmark veterans, but they also have a connection to the world of country music. Williams' very famous brother-in-law (and Williams-Paisley's husband since 2003) is none other than musician Brad Paisley. Paisley asked Williams-Paisley to be in his "I'm Gonna Miss Her" music video in 2001, about a decade after he saw her in "Father of the Bride" with Steve Martin.
Another decade after Paisley and Williams-Paisley officially met (and about eight years after they got married), the couple hosted Williams' wedding at their home. Williams married Neal Dodson, and she spoke with People about what they had envisioned for the ceremony. "We wanted an intimate, farm-inspired wedding," the "Notes of Autumn" star said at the time. "We basically planned an upscale keg party!"
In one of the wedding day photos shared by People, the sisters were all smiles with their respective beaus. However, Williams planned a birthday surprise for Williams-Paisley that involved contacting an old flame of hers ... sort of.
Williams-Paisley's old crush didn't realize who she was married to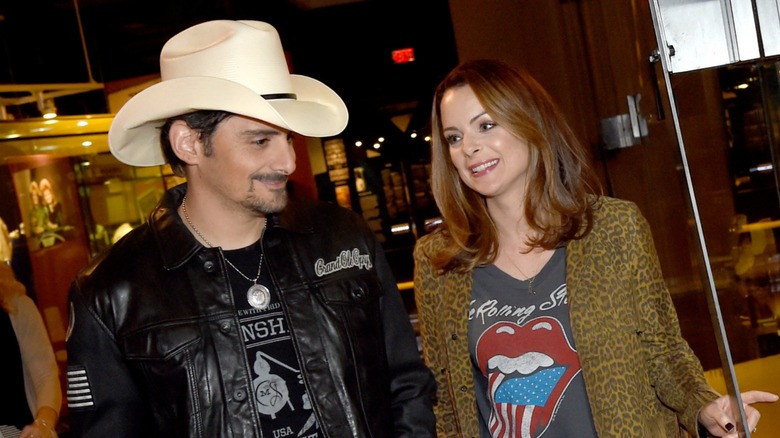 Rick Diamond/Getty
In 2021, Ashley Williams and Kimberly Williams-Paisley sat down on "Late Night with Seth Meyers" to discuss their "Sister Swap" movies at Hallmark. While chatting with the late night host, they told Meyers how Williams-Paisley's former crush was clueless about who her husband was. The "Father of the Bride" actor explained her sixth-grade crush was named Frank "Frankie" Di Bona. As kids, they kissed in sixth grade and Williams-Paisley joked that a quote from Di Bona ("It don't matter!") became an inside joke for her family.
Williams stepped in to explain her idea for her sister's birthday was to contact Di Bona and get him to make a birthday video. The "As the World Turns" actor described contacting many people around the country with the same name before eventually getting the phone number for the correct Di Bona. However, he was hesitant at first.
"And he goes," Williams said, "'Ah, you know what? I don't know. I don't want no trouble. Like, who's her husband? ... I don't wanna make anybody jealous.'" Williams-Paisley then piped up, "Clearly, he's not a fan," referring to the fact that he hadn't kept up with her life or career and didn't realize she was married to the famous Brad Paisley. He ended up making the video after Williams explained there'd be no jealousy.
The sisters worked together on 'Sister Swap' and each work with important causes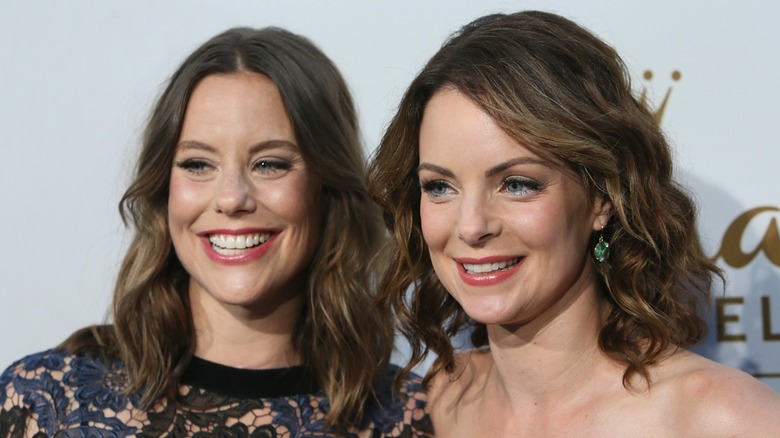 David Livingston/Getty
Brad Paisley, Kimberly Williams-Paisley, Ashley Williams, and Neal Dodson all collaborated on Hallmark's "Sister Swap" movies. Williams came up with the idea, and the sisters and Dodson went into a meeting with Hallmark together to discuss making the duology happen. All three of them executive produced the films, the sisters played the leads, and Paisley used his musical prowess to create a song for one of the movies. Williams and Williams-Paisley told People that they enjoyed working on the "Sister Swap" series together and that collaborating in that way was something they'd also wanted to do.
Off-screen, this family contributes a lot of good to the world. Williams created Hallmark's female-led filmmaking initiative, Make Her Mark. With the program, veteran female directors mentor new female directors while directing a Hallmark movie. After that, the new directors involved in the program get the chance to step into the director's chair for a new Hallmark project, and the veteran director steps back and instead works on the producer side of things.
Williams-Paisley works with CARE International, and she has also donated money toward Alzheimer's research, a cause that's important to both sisters due to their late mother's battle with dementia. Kimberly and Brad also stepped up during the pandemic with The Store, their free grocery store in Nashville, Tennessee.