Kesha's Tragic Real-Life Story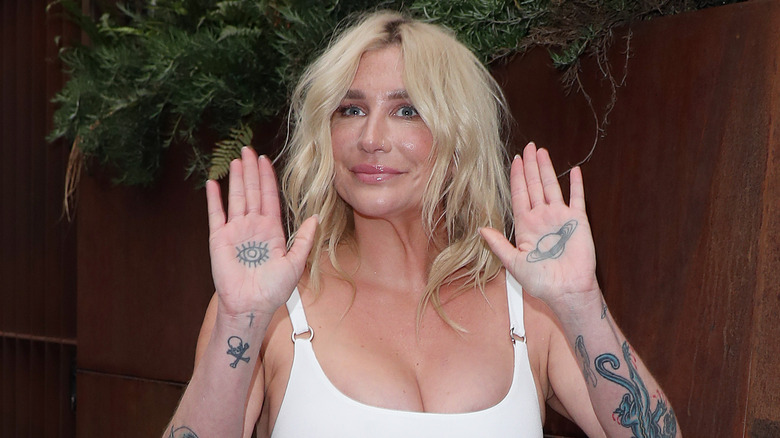 Neil Mockford/Getty Images
Trigger warning: The following article contains mentions of disordered eating, suicide, and sexual assault.
Back in 2009, amid oversized hoop earrings, the breakup of Jon and Kate Gosselin, and Team Edward vs. Team Jacob arguments, there were some songs you just couldn't escape. Among them was Kesha's debut single "TiK ToK," which peaked at number one on the Billboard Hot 100 List for 9 weeks. The song had everyone wondering what it felt like to wake up in the morning feeling like P. Diddy and if brushing your teeth with a bottle of Jack was as horrible as it sounded.
Before she introduced the dollar sign into her name, Kesha Rose Sebert was born in 1987 in Los Angeles to songwriter Pebe Sebert, who eventually went on to co-write 16 of her daughter's songs. In more than 10 years in the spotlight, Kesha has collaborated with countless singers, released five studio albums, and had one of the most stunning transformations of the last decade. Fans watched the pop star evolve from the glitter-loving, autotuned party girl into an equally colorful but doubly talented powerhouse who has become an inspiration to women everywhere.
Tragically, Kesha didn't get to where she is with ease and she has endured some truly devastating life events over the years. From her upbringing in poverty to her near-decade court battle against her former music producer and her near-death experience, Kesha's tragic, real-life story is a whirlwind.
Kesha grew up in poverty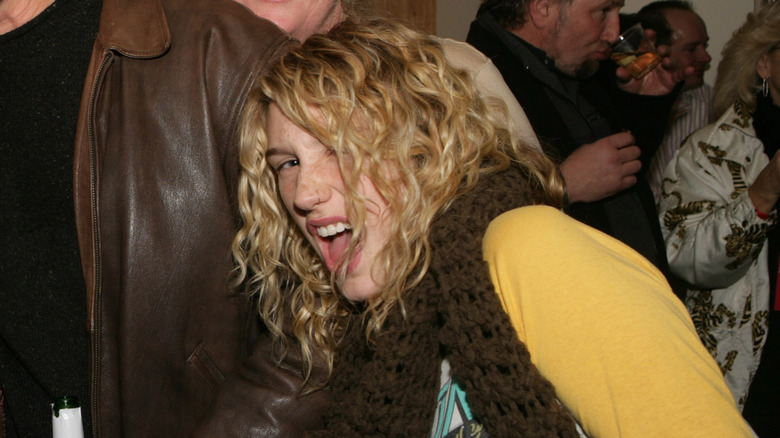 Randall Michelson/Getty Images
The "Animal" singer grew up in Nashville with two brothers and a single mom who, despite writing songs for big names like Dolly Parton, still struggled financially. The family relied on food stamps and, as Kesha said in a 2009 interview with The Guardian, sometimes theft. "One of my first memories was of my mother saying, 'If you want something at Target, you have to take it. It was a Kitty Cat stuffed animal. I don't remember if I took it or not. I was about three or four at the time but I was happy," she remarked.
The family moved around often due to their poverty and Kesha was forced to start a new school every few years. While many would have struggled with the lack of stability and consistency, looking back, it doesn't seem like she would have had it any other way. In her 2012 autobiography, "My Beautiful Crazy Life," the pop star wrote, "I remember it being fun to be broke when I was a kid. I love making something beautiful out of things that others have thrown away." Even after she had been discovered, Kesha still had very little money for years and continued to struggle financially until she released her smash hit "TiK ToK."
She never knew who her father was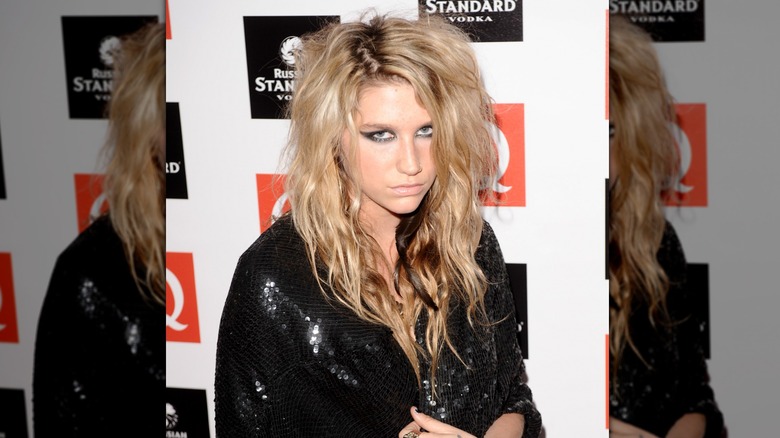 Anthony Harvey/Getty Images
Kesha's mother was the only parent she had growing up, and apparently, the only one she wanted. The "Blow" singer's father had never been a part of her life and she never had any interest in learning who he was because, as she explained to The Guardian in 2009, "[My mom] wanted a child, she had me, she didn't want a man to tell her when and what to do. I think that's badass."
It wasn't until Kesha moved to Los Angeles for her singing career that her mom set up a meeting with a man that might have been her dad. "He said I could stay with him and have this father/daughter thing. Then I met him at the airport and I instantly knew, 'There's no way you're my dad.' I was, like, 'S***'. I mean, you just know if someone is your contributor to your being of life," the singer explained in her The Guardian interview. That said, Kesha moved in with him out of desperation, as she had nowhere else to go at the time. Not long after, she entered into a serious relationship and moved in with her boyfriend instead.
In 2020, Kesha sang about growing up without a paternal figure in her song "Father Daughter Dance," with lyrics that demonstrated her true feelings about it. "Sometimes I wonder, if I'd had a dad / Would he have protected me / From all the bad s***, the bad men?"
Kesha didn't get paid for singing on Flo Rida's single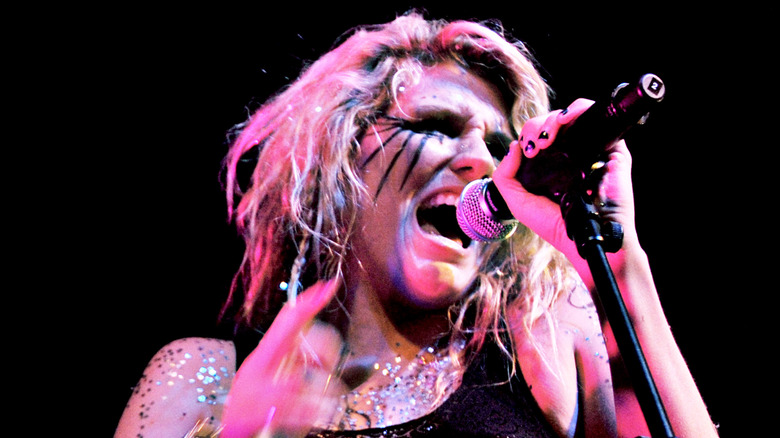 Annabel Staff/Getty Images
We all were familiar with Kesha's voice before "TiK ToK" was one of 2009's biggest hits, as she was featured on Flo Rida's 2009 single "Right Round." In speaking with Vibe in 2010, Kesha explained that it was practically by chance that she ended up on the track. "I walked into the studio one day — because Flo Rida was working with the same producer as me — and I kinda sat down and started singing along. He liked my voice and in five minutes he was just like, 'Put it down,'" she said.
It became a smash success and was played endlessly, but unfortunately, Kesha never received any money for her contribution. In fact, her lack of credit played a part in the dollar sign she used in her name, as it became ironic that she had no money, despite hearing "Right Round" play wherever she went. "I'd walk into a movie and it would be playing. I'd walk into Walgreens, the grocery store, and it was playing, at a time when I didn't even have enough money to buy my groceries in, like, the dollar store," she told The Guardian.
Kesha ended up working with Flo Rida again on "Touch Me" and again received zero compensation, but at that point, she had been grateful for the experience. Luckily, Kesha soon established herself as a successful pop star and was able to make money from her own songs.
Perez Hilton destroyed her relationship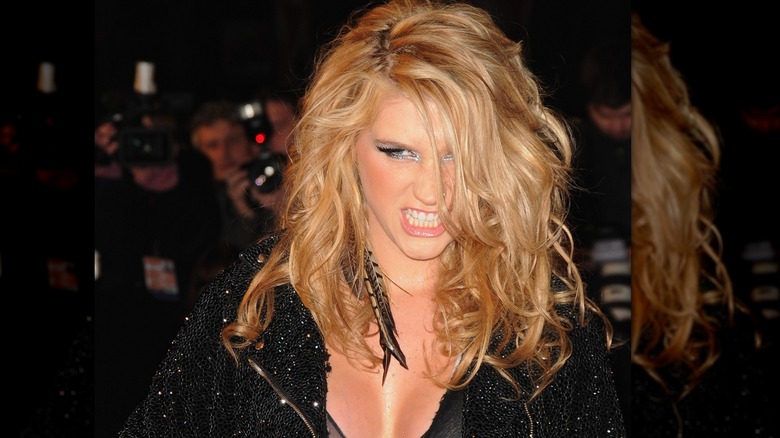 Francois Durand/Getty Images
Back in 2010, celebrities were torn apart by the tabloids and gossip columnists relentlessly, and Kesha received some seriously brutal publicity from one infamous writer in particular. Perez Hilton published intimate photos of the pop star on his website, and he had captioned the post, "Ch-ch-check out an EXCLUSIVE, NSFW and VERY XXX photo of the pop star with her mouth full of more than just rhymes and glitter." Unfortunately, this created issues within Kesha's relationship with her then boyfriend, Harold Karsenty, and the couple broke up soon afterward.
In an interview with Spin, she spoke about "The Harold Song," which she had written about the end of their relationship and how she was dealing with the heartbreak. "'Harold' is about the only guy I've ever been in love with — and our relationship didn't work out, obviously. ... I can't even listen to it." she remarked. Kesha didn't divulge the details of their breakup, but she later made it crystal clear that the published photos were largely to blame.
Speaking about Hilton years later in her 2013 docuseries, "Ke$ha: My Crazy Beautiful Life," she expressed her true feelings about the columnist, saying, "He single-handedly ruined the only relationship that's ever meant anything to me. My family doesn't have to deal with this. He stands for everything I hate. Everything I'm against."
She almost ended her own life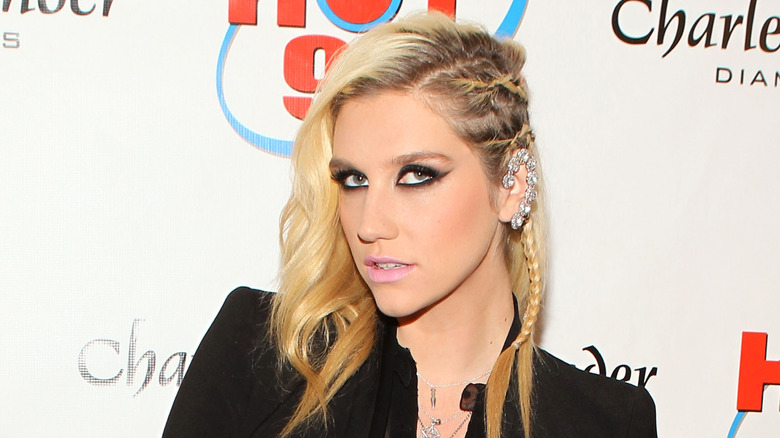 Paul Morigi/Getty Images
As she became more popular following the release of "TiK ToK," Kesha began struggling more with her self image, and her producer Dr. Luke had reportedly become verbally abusive, particularly about her weight. The "Backstabber" singer developed an eating disorder and, as she explained in a 2016 New York Times interview, "I was under immense pressure to starve myself. And I tried to and almost killed myself in the process."
Thankfully, Kesha was resilient and she later sought help for her mental health. In 2017, while introducing Logic at the 2017 MTV Video Music Awards, the pop star took the opportunity to address the themes of suicide in his latest song and remind the audience of the national suicide prevention hotline. "Whatever you are going through, however dark it may seem, there is an undeniable truth and strength in the fact that you are not alone. ... As long as you never give up on yourself, light will break through the darkness," she said.
If you or someone you know is struggling or in crisis, help is available. Call or text 988 or chat 988lifeline.org
She grew tired of her party girl persona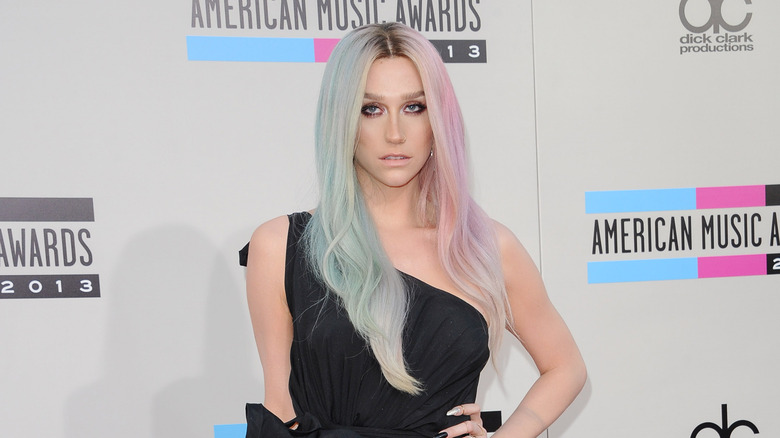 Axelle/bauer-griffin/Getty Images
Before Kesha was releasing heart-wrenching ballads and branching out into new genres, she was known as the glitter-covered party girl who sang about drinking, having sex, and not giving a damn. Kesha's provocative image brought a lot of public shaming and backlash over the years, but at the time, she was just being herself and celebrating all of the same themes in music that men had done without judgment for decades. In an interview with the Independent in 2019, the singer explained, "I was a wild child, and I wasn't ashamed or embarrassed about it. And I did get an exceptional amount of s***. But I wasn't that surprised. I expected people to have a stick up their a** about me talking about drinking and having sex, because, societal norms, women can't talk about that. ... But I also wasn't gonna let that stop me."
Eventually, like many artists do, Kesha grew tired of the persona she began her career with. Playing up the party girl had been selling albums and her concert goers anticipated a wild show, as she explained to Self in 2023, "My fans came to me for joy, and I didn't want to disappoint them." Over the years though, Kesha had a beautiful transformation, began exploring deeper themes in her music, and her fanbase evolved with her.
Kesha checked into rehab for an eating disorder in 2014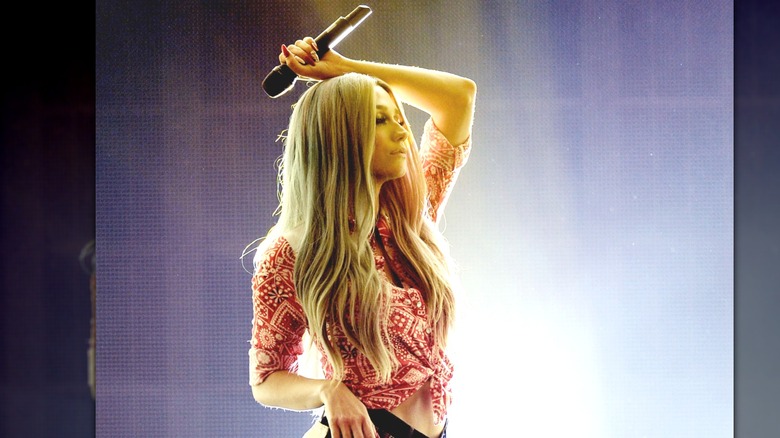 Kevin Winter/Getty Images
Celebrities often struggle with their self image, especially when the media draws so much attention to their looks. In a 2017 article penned for Teen Vogue, Kesha described the body image issues she had been dealing with as her eating disorder progressed. "Seeing paparazzi photos of myself and the accompanying catty commentary fueled my eating disorder. The sick irony was that when I was at some of the lowest points in my life, I kept hearing how much better I looked," she wrote.
In January 2014, following the first year of her "Warrior" tour, Kesha checked herself into rehab to finally address her eating disorder. The singer spent two months in treatment where she received therapy and continued writing music with a toy piano. Upon exiting the treatment center, a recharged and empowered Kesha promptly removed the dollar sign from her name, as she explained to The New York Times Magazine in 2016, "I was taking back my strength, and I was taking back my voice, and taking back my power, taking back my body. I'm just taking back my f***ing life."
If you need help with an eating disorder, or know someone who does, help is available. Visit the National Eating Disorders Association website or contact NEDA's Live Helpline at 1-800-931-2237. You can also receive 24/7 Crisis Support via text (send NEDA to 741-741).
She sued Dr. Luke in 2014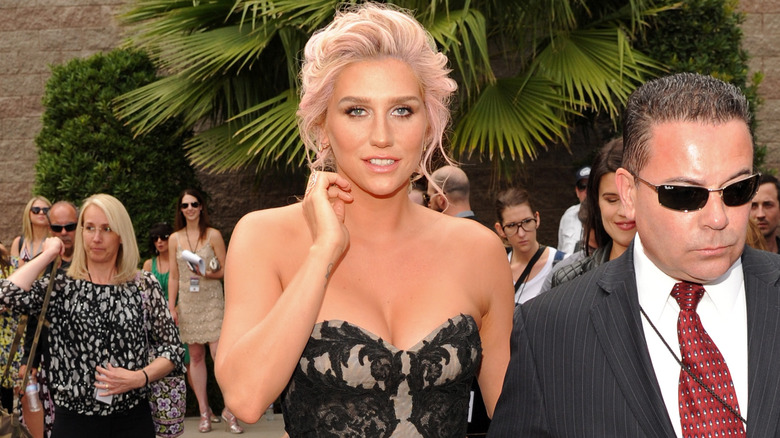 Kevin Mazur/billboard Awards 2014/Getty Images
In October of 2014, months after the "Blah Blah Blah" singer left rehab, Kesha filed a lawsuit against her longtime music producer, Lukasz Sebastian Gottwald (aka Dr. Luke), in an attempt to exit her contract. They had worked together for 10 years, and throughout their decade-long relationship, Kesha's lawsuit claimed that Dr. Luke had "sexually, physically, verbally, and emotionally abused [Kesha] to the point where [she] nearly lost her life." One incident in particular was highlighted, as the popstar claimed that Dr. Luke had drugged and sexually assaulted her on one occasion in 2005.
In response, Dr. Luke countersued for defamation and breach of contract, resulting in a lengthy legal battle. In 2017, Kesha spoke about the trial on Viceland's show "Noisey" (via Billboard) saying, "When you work really hard at something, then to have it taken away from you is pretty devastating. I worked my ass off for a lot of years to be able to do it."
If you or anyone you know has been a victim of sexual assault, help is available. Visit the Rape, Abuse & Incest National Network website or contact RAINN's National Helpline at 1-800-656-HOPE (4673).
Kesha lost her creative freedom during the trial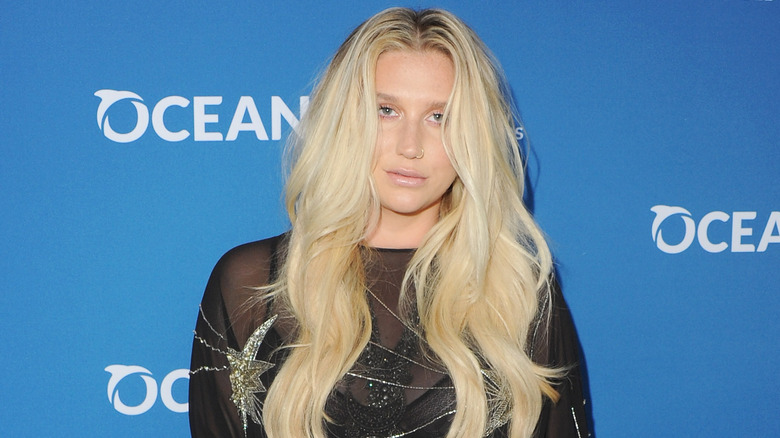 Jon Kopaloff/Getty Images
Once Dr. Luke countersued, Kesha's creative freedom was put on hold. In November 2015, a representative for the singer released a statement that read, "Kesha Rose Sebert wants nothing more than to be able to record an album. Her only condition is that she be allowed to record with a record label that is not affiliated with someone who has emotionally and sexually abused her."
To most, it sounded like a reasonable request but sadly, Kesha wasn't able to renegotiate or void her contract with Dr. Luke and Sony Records, which prohibited her from working with any other label. In response, the "Your Love Is My Drug" singer's mother tweeted, "If someone signs a contract to become someone's slave, is slavery then legal?"
The case began before the #FreeBritney or #MeToo movements came to be, but the public rallied around the singer and #FreeKesha began trending on Twitter. Her fans supported her as the blatant power dynamic and Kesha's lack of protection from her alleged abuser became known. Celebrities showed their support as well and Taylor Swift even donated $250,000 to Kesha, as she was still under contract and hadn't released any music for five years.
She was pressured to recant her assault allegation in 2016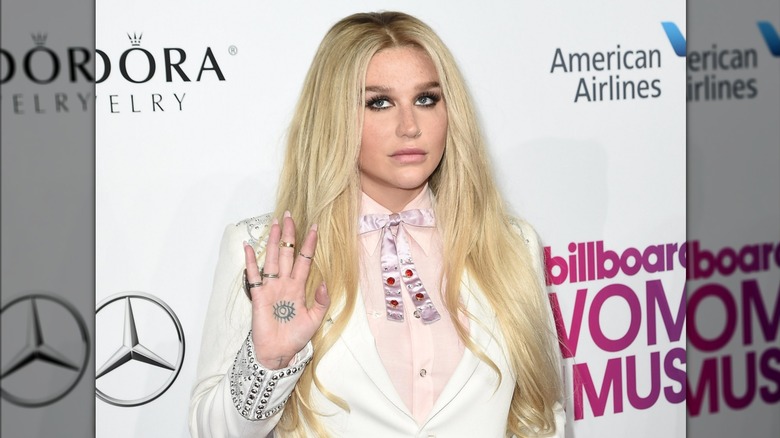 Nicholas Hunt/Getty Images
In April 2016, Kesha revealed a shocking plot twist in her lawsuit against Dr. Luke in an Instagram post. "So. I got offered my freedom IF i were to lie. I would have to APOLOGIZE publicly and say that I never got raped. THIS IS WHAT HAPPENS behind closed doors. I will not take back the TRUTH. I would rather let the truth ruin my career than lie for a monster ever again," the post read. Of course, we all know hush money, career advancements, and other forms of bribery are common in sexual assault cases, but this being before the #MeToo movement, these tactics were perhaps less spoken about.
Kesha showed bravery in refusing to recant her assault allegation, especially while standing up against the producer so publicly, but Dr. Luke never flinched. He vehemently denied all allegations throughout the lawsuit and, when Kesha dropped this news on Instagram, his representative released a statement denying any wrongdoing. "Kesha's Instagram posting is false. The Court repeatedly stated Kesha is already free to record without Dr. Luke, and that she had not presented any facts supporting her claims," it read. After years of legal battles and delays, they thankfully reached a settlement in June of 2023 and avoided taking the case to trial.
Kesha nearly died in 2023 after a fertility treatment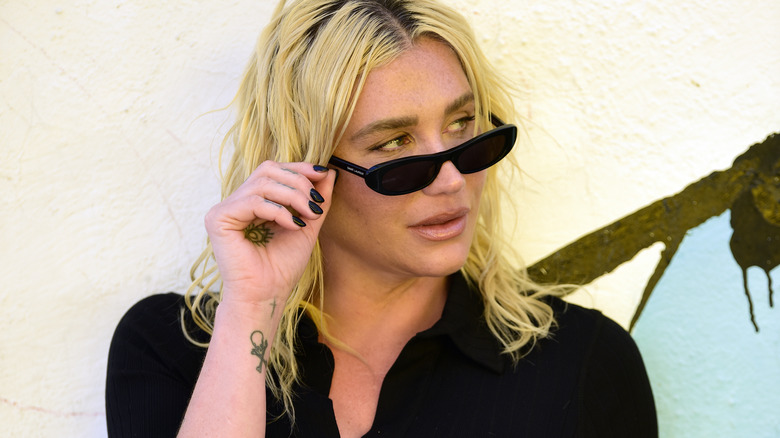 Mega/Getty Images
Now that she's back to making music and redefining her career, it seemed like relatively smooth sailing for Kesha. But tragically, in a June 2023 interview with Self, the "Praying" singer revealed that her year had begun in a terrifying way. "I almost died in January. ... I finally feel recovered, but it took a couple months. It was horrifying," she remarked.
Kesha had decided to freeze her eggs in late 2022 and, a few weeks after the procedure, she found that she was very weak. Without going into specifics, the star explained that she had a weakened immune system and the fertility treatment had caused some issues, so she had been admitted to hospital for over a week. Now that she's thankfully regained her health, Kesha explained why she struggled to discuss the experience, in fear of being judged. "Everyone probably has some semblance of feeling like you share what you're going through, and, at the same time, it's almost inviting people to have an opinion about it," she said.